Photos courtesy of Jon Staton
By Bridget Bauer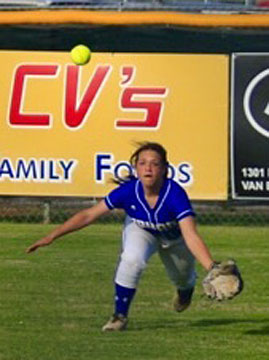 Uncharacteristically, the Bryant Lady Hornets made five errors Tuesday in their 7A matchup at Van Buren. The result was a 2-1 setback.
"We emphasized defense the day before," Bryant Coach Debbie Clark said. "We told the girls how a throwing error can lead to two extra bases. Their pitcher also did a great job and did a great job of keeping us off-balance. We didn't see her the first time."
The contest went into extra innings with Van Buren scoring the winning run in the bottom of the eighth on an error. Extra innings rules are that a runner is placed at second base so the Lady Hornets' miscue gave Van Buren two extra bases and the winning run.
Both Bryant (15-3, 11-1 6A/7A-Central) and Van Buren have one loss in the 7A division of the conference. Because the Lady Hornets defeated the Pointerettes in their first meeting, 5-1, they get the number seed into next week's 7A State tournament at Rogers starting May 14.
"I asked the girls how they felt right after the loss," Clark said. "They didn't want to talk about it, and I told them to remember this. Then I told them we were still the number one seed, and they had a look of relief."
Hits were not abundant as Bryant tallied three hits to Van Buren's four. The glaring statistic was the Lady Hornets' five errors to the Pointerettes' zero. In the addition to the four hits, pitcher Raven Loveless struck out seven batters and walked two. Van Buren's pitcher Tori Stafford fanned five batters and walked none.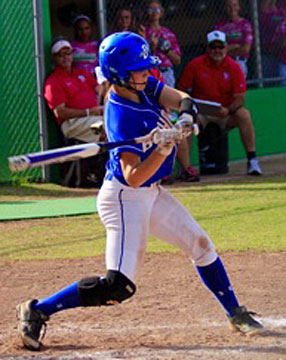 "Raven pitched well enough to win, and we know that," Clark said. "Their pitcher hit her spots, and we got frustrated."
The Lady Hornets scored first in the top of the third after Shayla McKissock and Regan Ryan had back-to-back singles. McKissock scored on Macey Jaramillo's sacrifice fly. Van Buren knotted the contest in bottom of the fourth after scoring on errors with two outs.
What is good is the Lady Hornets know and are ready to work on their mistakes.
"It was one of those nights, but also a great game for the people in the stands watching," Clark said. "One of the girls said after the game that we have a lot of work to do and not a lot of time."
Bryant will host Lake Hamilton on Thursday, May 7, for Senior Night festivities. They play a conference doubleheader against Class 6A Greenwood on Friday.