By Rob Patrick
Photos by Kevin Nagle and Rick Nation
With six minutes left to play in Friday's 7A/6A-South Conference opener against the rival[more] Benton Lady Panthers, the Bryant Lady Hornets were an uncharacteristic 5 of 15 from the free-throw line. At that point, they trailed 33-25.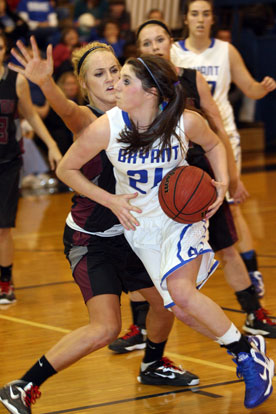 Though they wound up losing, 49-33, the whole dynamic of the final six minutes would've been different had they even made half of the free throws they'd missed by then. Instead of scrambling to get back in the game down the stretch, they probably would've been scrambling for the lead, a whole different mindset — less desperation, more calm, time to work for better shots, no need to take risks on defense.
But, as it was, the Lady Panthers, spurred by 15 second-half points, mostly in the post, by sophomore Braylee Landreth, pulled away at the end, hitting more free throws in the fourth quarter (when they were 10 of 12 from the line) than Bryant converted the whole game (as they finished 8 of 20).
Benton's switch to a zone defense made a difference too. Midway through the third quarter, the Lady Panthers' lead was just 22-19. But an 11-2 run that included 6 points by Landreth and a three-point play by sophomore Braxton Chumley produced the first double-digit lead of the game.
And Bryant could never whittle the margin back that close again.
"I thought their zone gave us a little trouble but after a while we were able to get the ball in some space," stated Lady Hornets coach Brad Matthews. "We've got to be able to score more than we did tonight. I thought our kids played hard. We competed. We've got to finish some free throws, finish some offensive possessions a little bit better. We're not too far away from being a good team. We've just got to finish better.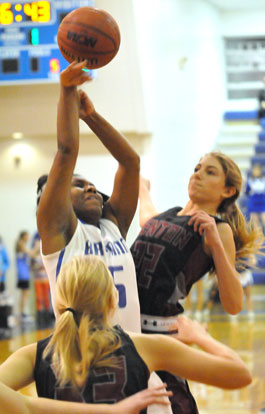 "Benton made some plays down the stretch and we couldn't match them," he added. "You tip your hat to them and we'll go back to work. We've got a tough game at Pine Bluff on Tuesday so we'll have to put this one behind us quickly and move on."
Madi Brooks finished with 8 points and 11 rebounds, unofficially, for the Lady Panthers, who got scoring from all seven players that got into the game. Landreth wound up with 17 in the game.
Bryant was led by Dezerea Duckworth and Logan Davis with 11 apiece. Courtney Davidson added 7. Duckworth led the team with eight rebounds, Davidson had six as the Lady Hornets finished with a 31-27 rebounding edge.
Bryant gained an early lead of 9-5 by the end of the first quarter, which was punctuated by a steal and bucket from Duckworth. But the Lady Hornets had converted just 1 of 5 free throws in the period so the lead could've easily been bigger.
Then Bryant was only able to add a free throw (by Whitney Meyer) in the first 6:30 of the second quarter. The Lady Panthers took advantage with what proved to be a 13-1 run before Davis buried a 3 to make it 18-13 at the half.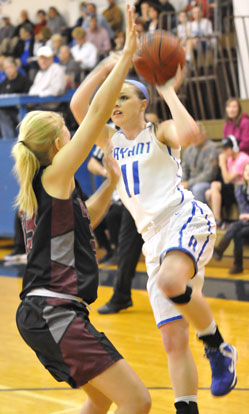 Duckworth drove for a basket to start the second half and the margin was down to 3. The teams traded points for the first half of the period before Chumley's three-point play sparked the run that put the Lady Panthers in control.
It was 31-21 before Davis drained another 3 just before the end of the third quarter to make it a 7-point game. Brooks converted a pair of free throws to start the final period and, after Davidson hit a free throw, Landreth hit a 12-footer to push the lead back to 10.
The Lady Panthers had two chances to extend the margin. But the second opportunity was foiled by Duckworth who made a steal and drove for a layup with 5:18 left. Bryant took a timeout, trailing 35-27. They had a chance to get closer when Meyer took a charge on a move by Landreth but a turnover cost them and the Lady Hornets were never that close again.
Duckworth's was Bryant's only field goal of the final period until Davis drained a 3 in the final seconds.
LADY PANTHERS 49, LADY HORNETS 33
Score by quarters
Benton 5 13 13 18 — 49
BRYANT 9 4 11 9 — 33
LADY PANTHERS (10-4, 1-0) 49
Player fg-fga ft-fta reb fls pts
o-d-t
Chumley 2-5 2-3 0-1 1 2 6
Reynolds 1-4 5-6 0-2 2 3 7
Parker 1-2 4-4 1-2 3 3 6
Dintlemann1-2 0-0 0-2 2 0 2
Brooks 1-6 6-6 0-11 11 4 8
King 1-3 0-0 0-0 0 1 3
Landreth 7-10 3-6 1-5 6 3 17
Team 1-1 2
Totals 14-32 20-25 3-24 27 16 49
LADY HORNETS (6-9, 0-1) 33
Player fg-fga ft-fta reb fls pts
o-d-t
Duckworth 5-13 1-4 1-7 8 4 11
Davis 4-11 0-0 1-1 2 1 11
Davidson 2-11 3-9 2-4 6 5 7
Smith 0-2 1-2 1-2 3 4 1
Meyer 0-1 1-3 2-1 3 4 1
Scarlett 0-0 0-0 0-0 0 0 0
Weaver 0-3 0-0 0-1 1 2 0
Murphy 0-0 0-0 0-0 0 0 0
Anderson 0-0 2-2 2-0 2 0 2
Team 2-4 6
Totals 11-41 8-20 11-20 31 20 33
Three-point field goals: Benton 1-6 (King 1-3, Chumley 0-3), Bryant 3-16 (Davis 3-5, Duckworth 0-5, Davidson 0-3, Weaver 0-3). Turnovers: Benton 9, Bryant 10.