By Rob Patrick
Photos by Kevin Nagle and Rick Nation
Already holding a healthy lead, the Benton Panthers spread the floor on offense to start the[more] fourth quarter and put on a clinic against the rival Bryant Hornets in the 7A/6A-South Conference opener for both teams on Friday night.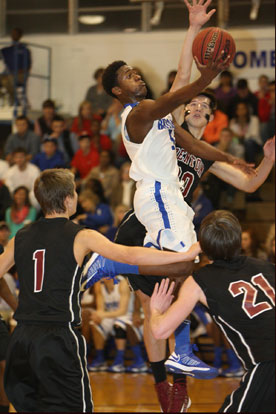 The Panthers not only ate clock with every possession, they only had two possessions that didn't produce points, one on a missed free throw in a bonus situation and another time on a turnover for an illegal screen. They hit all three of their field goals — layups, all — and their other four free throws on the way to a 62-44 win.
Benton's rotation included seven players that were involved in last season's games against the Hornets, which Bryant swept. The Hornets, meanwhile, returned two players that got into those games. The experience showed in a gritty, determined effort by Benton.
Size made a big difference too as the Panthers out-rebounded the smaller Hornets by a whopping 37-13. In fact, Benton had as many offensive boards as Bryant had all together.
The game turned at the end of the first half and start of the second. The Hornets were down just 27-25 after a free throw by Brian Reed. But a reverse layup by Zach Stuckey started what proved to be a 15-2 blitz in which the Panthers converted seven consecutive shots.
It's noteworthy that, after Stuckey's basket, the Hornets held for a last shot only to turn the ball over with :05 left. Benton's Quin Allen rushed to the other end for a buzzer-beating layup to make it 31-25 at the half.
Stuckey and Rickey Gipson got inside for the first two hoops of the third quarter. Bryant's K.J. Hill interrupted with a baseline drive to the rack but Allen scored off a drive and Stuckey hit a free throw and Bryant had to have a timeout as the lead was suddenly 39-27.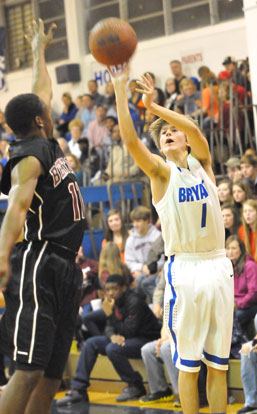 When play resumed, the Hornets' C.J. Rainey got an open look for a 3 but the shot rattled out and, at the other end, Bryan Torres drained a 3 to complete the run with the Panthers up 42-27.
Hill drove for a basket and, after a Benton turnover, Greyson Giles fed him for a layup to cut it to 11 but that was as close as the Hornets could get. It was still just 46-34 going into the final three minutes of the quarter but Benton finished with baskets by Stuckey, Graham Gardner and Blake Bowlin to push the lead to 52-34 going into the final period.
"I just give (Benton) credit," stated Hornets coach Mike Abrahamson. "They're very experienced. They're very hungry. You can tell that and not just tonight. I've seen them play a few times this year and they're just a very good team. They execute, they're experienced and they're obviously big. Big and strong is always a challenge for us. I think all those things together just kind of overwhelmed us there in the second half.
"We've had a hard time putting 32 minutes together, even in the games that we've won," he added.
The margin of victory was notable too because Benton's leading scorer Josh Bowling didn't play much due to early foul trouble. He wound up with 6 points before fouling out. Stuckey came off the bench to lead all scorers with 16. Bowlin scored 13 off the pine. The 6-8 Gardner added 11 to go with 13 rebounds.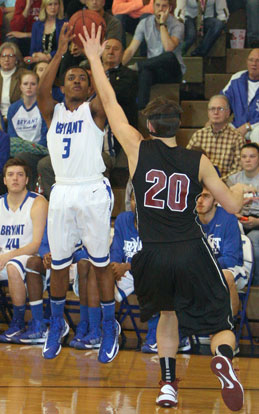 Hill led Bryant with 14 points. Tyler Simmons had 11, Giles 7 and Rainey 5.
Asked what he told his team after the game, Abrahamson said, "I told them that I don't think Benton won this game tonight. I believe they won this game every day in the spring, the summer and the fall. They're a hungry team and they do everything they're supposed to do very well. They execute and they play like they're on a mission.
"We've had trouble with the way we practice," he said. "We just need to up our commitment level on an individual basis, if we want to do anything special. If we want to be mediocre, we can keep doing what we're doing. Even though we've won some games and we have a decent record, we're not playing at a high level."
The Hornets are now 10-4 overall with three losses in their last four games, reminiscent of a stretch during the 2011-12 season in which they dropped four of five conference games. Of course, that team bore down, toughened up and got on a run in the post-season that reached the Class 7A State semifinals where they ran into eventual champion Little Rock Hall.
That's the kind of "special" Abrahamson was referring to.
The first half of Friday's game was tight throughout yet the Hornets only led briefly. Bowling scored off the opening tip for Benton and Hill answered with a three-point play that had Bryant up 3-2.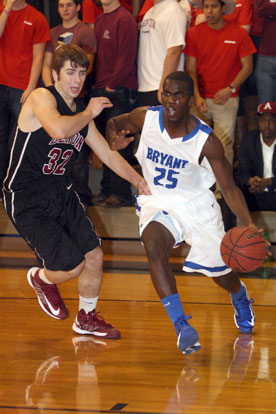 But when Bowling scored inside moments later, the Panthers held the upper hand, though they never led by more than 5 in the opening half and the game was tied a couple of times at 18 and 20 in the second quarter.
Simmons scored all 11 of his points in the first half including a trio of triples. The third of those tied the game at 18. The Hornets had a chance to take the lead them but Giles couldn't get the front end of a one-and-one to go down while, at the other end, Stuckey drained both ends of a bonus opportunity.
Giles came back with two free throws to tie it again but Gardner tipped in his own miss with 5:21 left in the half to give the Panthers the lead for good.
The Hornets were within 3 when Simmons hit a driving jumper after pump-faking a Benton defender out of position at the 3-point line. Rickey Gipson scored for Benton then Rainey's hit a jumper in the lane off a drive and a spin move.
It was 27-24 and both teams had a couple of chances to change the score. Finally, Graham grabbed an offensive rebound and, on a move to the hoop, ran over Giles who absorbed the charge. That led, eventually, to Reed's trip to the line that made it a 2-point game before Benton's game-breaking hot streak.
The Hornets welcomed back guard Skylar McKissock who had been out since being injured in an auto accident on Nov. 20. During warmups, he wore a shirt with the number five on the back and the name "Melton" in memory of Drew Melton of Benton who was killed in the accident. Hornet teammate Caleb Strain continues to be hospitalized with the injuries he suffered in the event. Allie Beech of Benton and Hayden Lessenberry of Bryant were also injured.
McKissock hit a 3 for the last points of the contest Friday night.
The Panthers improved to 12-2 on the season. They'll play their second conference game at home on Tuesday against Little Rock J.A. Fair. Bryant travels to Pine Bluff on Tuesday.

BENTON 62, BRYANT 44
Score by quarters
Benton 16 15 21 10 — 62
BRYANT 15 10 9 10 — 44
PANTHERS (12-2, 1-0) 62
Player fg-fga ft-fta reb fls pts
o-d-t
Torres 1-4 0-0 1-2 3 2 3
Allen 3-6 0-0 2-4 6 4 6
Gipson 3-6 1-3 0-3 3 2 7
Bowling 3-4 0-0 0-1 1 5 6
Gardner 5-9 1-3 7-6 13 4 11
Stuckey 6-8 4-4 0-5 5 1 16
Bowlin 3-7 7-9 3-2 5 1 13
Vincent 0-0 0-0 0-0 0 0 0
Team 0-1 1
Totals 24-44 13-19 13-24 37 19 62
HORNETS (10-4, 0-1) 44
Player fg-fga ft-fta reb fls pts
o-d-t
Hill 5-11 4-5 1-1 2 4 14
Rainey 2-8 0-0 0-2 2 0 5
Simmons 4-8 0-0 0-1 1 2 11
Giles 1-6 4-5 1-3 4 2 7
Reed 0-1 1-2 0-2 2 4 1
Cambron 1-2 1-2 0-1 1 3 3
Rayburn 0-1 0-0 1-0 1 0 0
Davis 0-0 0-0 0-0 0 2 0
McKissock1-2 0-0 0-0 0 1 3
Team 0-0 0
Totals 14-39 10-14 3-10 13 18 44
Three-point field goals: Benton 1-6 (Torres 1-3, Gipson 0-2, Bowlin 0-1), Bryant 6-18 (Simmons 3-7, Rainey 1-4, Giles 1-3, McKissock 1-2, Cambron 0-1, Rayburn 0-1). Turnovers: Benton 14, Bryant 10.