For more photos of this event by Rick Nation, go here
By Chris Morgan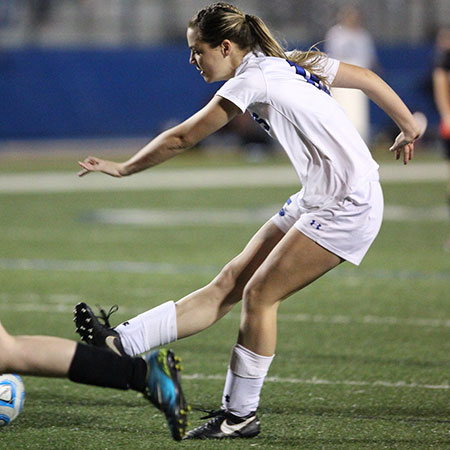 On a chilly night at Bryant Stadium, the Lady Hornets continued their winning streak with a 5-1 win over the Russellville Lady Cyclones.
The game started off in normal Lady Hornets fashion, dominating the mid field, and plenty of shots by the forwards. Substitutes proved to be a focus of the match, the first change happening in the first 10 minutes of the game.
"My promise for the girls is that they would be developed this year," said Bryant head coach Nicole Inman. "I wanted to give every girl the opportunity to play and develop through playing."
The first goal for the Lady Hornets came when senior Jessica Butler scored with 24:27 left in the first half, just three minutes after coming on as a sub.
It would not be long after Butler's goal that the Lady Hornets struck again. The Lady Cyclone keeper came too far out of the 18-yard box and, attempting to save a goal, picking up a handball. That set up junior Mary Catherine Selig to score a short goal kick only a few feet off the 18-yard box.
It would be some time until the Lady Hornets scored again. But freshman Ashton Inman scored inside the keeper box after a long cross from junior Madison Humbard.
That gave the Lady Hornets a solid 3-0 lead going into halftime.
The second half was slightly more chaotic for Bryant. At the start, the Lady Hornets continued to control the Lady Cyclones in the midfield. Junior Alyssa Fason took a cross from junior Abbie Patton, and scored with 38:46 left to play.
At that point, momentum seemed to shift in the mid field. The Lady Cyclone mid field had control, giving their striker's multiple opportunities. The Lady Hornet back line of defenders held their ground, however, stopping the Russellville pressure.
The Lady Hornets regained composure with a goal by Humbard after a length-of-the-field cross by Fason, with 29:44 left in the game.
With 10:52 left in the match all signs pointed to a Lady Hornet victory, which was only furthered by senior Jad'n Lewis with a long run, out dribbling five different Lady Cyclone players.
"We have four defenders that can attack off the back," Inman said. "It is a dynamic a lot of teams don't have."
The Bryant defense allowed only one long run out. The Lady Cyclones scored with 5:52 left in the game.
Now 2-0, the Bryant team travels to play in the Fort Smith Invitational tournament, taking on Fayetteville in the first round at 5:30 p.m.