Lady Hornets retain share of first with dramatic win over Cabot
EDITOR'S NOTE: In this time of COVID-19, with no sports action, BryantDaily.com will be posting past stories of Bryant athletics either posted on BryantDaily.com (from 2009 to the present) or published in the Bryant Times (from 1998 to 2008).
For more photos from this event by Rick Nation, go here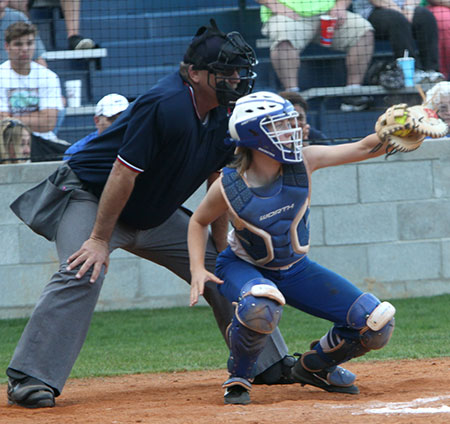 Meagan Chism may have gone 3-for-3 at the plate but it was a defensive play that surely made her night.
And it may have saved the Bryant Lady Hornets' 3-1 win over the Cabot Lady Panthers in a showdown of first-place teams in the 7A-Central Conference.
That lead was in jeopardy in the top of the seventh inning. Cabot had loaded the bases with one out. Rylie Hamilton opened the inning with a hard-hit grounder that second baseman Sarah Evans knocked down with a diving attempt but not in time for a play at first.
With one out, Leah Gerald was hit by a pitch, bringing up the top of the line-up. Riley Walthall drilled a 1-2 pitch to left that was misplayed but, because of the threat of a catch, the runners had to hold up, leaving the bases full.
With Bethany Knowles at the plate, Raven Loveless, in her second stint in the pitcher's circle, induced a roller that she came in to field, flipping to Chism, her catcher, for a force at the plate. But no sooner had Chism caught the ball, she whipped a throw to Brooklyn Trammell at first just in time to nab Knowles to end the game.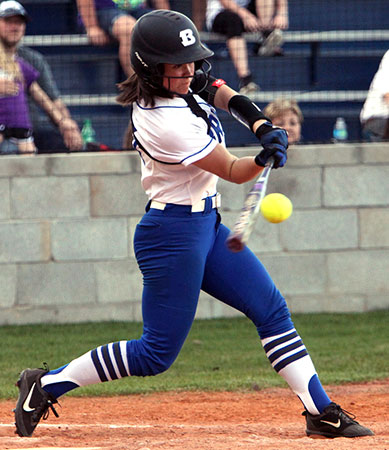 "It's a play she works on every day," said Lady Hornets head coach Lisa Dreher. "Over and over again."
Even in pre-game warm-ups, the sophomore backstop practices taking a throw at the plate and firing it to first, just for such an occasion.
The win improved the Lady Hornets to 15-3 overall this season and 5-0 in conference play. It was Cabot's first league loss. The Lady Panthers are 13-2 overall. Bryant faces another first-place set-to with North Little Rock this Thursday at Burns Park. The Lady Charging Wildcats remained unbeaten in conference play with a 10-1 romp over Fort Smith Northside on Tuesday.
"That was a big win," Dreher acknowledged. "We were tied and we'd played similar opponents. It was a big deal. I know a lot of people were looking to see who was going to win this game. I think the right team did."
The coach acknowledged there was still a lot of work to do.
"We have to stay focused and do what got us here," she asserted.
It was a scoreless duel going into the fourth. In the bottom of the inning, Gianni Hulett ripped a home run into the wind to center. Chism followed with a single, advancing to second on a passed ball. Evans bounced a single up the middle to get her home.
Macey Jaramillo burned Knowles in center for a double, sending Evans to third. Trammell picked up the RBI with a groundout to short to make it 3-0.
The Lady Hornets threatened to get more but Cabot pitcher Lauren McClusky worked out of the jam. And she held the Lady Hornets to those three runs despite Bryant collecting nine hits.
"A lot of them had played against that pitcher in summer ball," Dreher said of her hitters. "So they knew what she was going to do against them and it was obvious that she knew our hitters and was throwing to their weaknesses. But, in the end, it worked out. I thought we hit well against her and we were patient at the plate, which was good to see."
Meanwhile, for Bryant, it was Hulett, Loveless, Hulett, Loveless against Cabot's hitters. Hulett, the sophomore lefty, pitched the first two innings, retiring all six batters she faced including three on strikes.
In the third, Loveless, who started as the Lady Hornets' designated player, entered and kept the shutout going, pitching around a two-out single by Gerald and a double by Walthall. In the top of the fourth, the Lady Panthers were set down in order.
Hulett returned to the circle in the top of the fifth. A one-out double by Hamilton and a two-out single by Gerald made it 3-1. Walthall beat out an infield hit but Hulett struck out Knowles to end the inning.
She pitched around a one-out error in the sixth then turned it back over to Loveless in the dramatic seventh.
"They both have their strengths," Dreher said of the strategy. "There's no reason we shouldn't take advantage of having two good options. It worked out well. I think it kept their hitters off balance and the defense did well with it."
Bryant had threatened in the first. Hulett singled but was caught stealing second. Chism singled, took second on a wild pitch, but was thrown out at the plate when she tried to score on Evans' lined single to Walthall in left.
In the fifth, Chism singled and Evans walked with two out but McCluskey worked out of the jam.
Trammell led off the sixth with a single to center then Madison Lyles made a bid for a homer but the win held it up for Knowles to track down at the fence.