For more photos of this event by Kevin Nagle, go here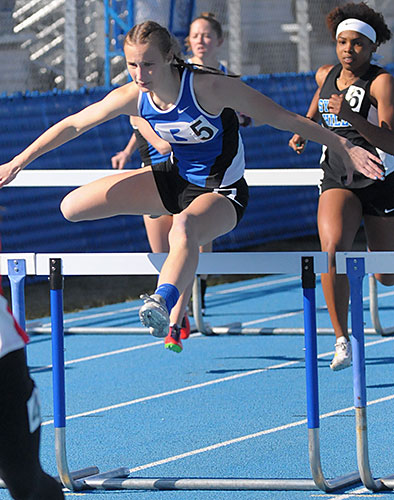 Deborah Shaw scored in four events including one of five in which Bryant Lady Hornets athletes finished second at the annual Hornet Relays on Tuesday. And, in the end, the Lady Hornets were second overall with 104 points.
Fayetteville won the meet with 131. Russellville was third among the 13 teams with 85 points. Sylvan Hills (75) and Cabot (61) completed the top five.
Shaw was second in the 100-meter hurdles with a time of 15.80, just off the pace of Maumelle's Luallen Claire at 14.97. Bryant's Cassie Ray was fifth in 17.04.
Megan Lee and Kristen Garner each produced an individual second-place finish. Lee ran a 1:01.58 in the 400, finishing less than half a second behind Aliya Hatton of Sylvan Hills (1:01.29). Amanda Burt was eighth in 1:05.64.
Garner cleared 9'4" in the pole vault to finish second. Fayetteville's Kristen Gibbs got over at 10'8". Ray was fourth in the event at 8'6".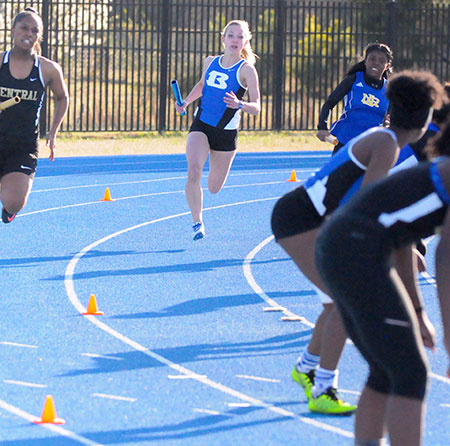 The Lady Hornets were also second in two relays. In the 4×800, Libby Majors, Zhania Hall, Olivia Orr and Natasha Hobby turned in a 10:57.44 creating a very close finish for a long race. Russellville won in 10:55.28.
In the 4×400, Burt, Hall, Majors and Lee teamed up on a 4:15.63 to finish just behind Cabot (4:13.13).
Shaw was third in both the long jump and triple jump. Her leap in the former covered 16'9.5" with teammate Yonni Allen finishing fifth at 15'10". In the triple jump, Shaw went 34'9" with Lee finishing eighth at 33'6".
Shaw added an eighth-place finish in the high jump, getting over at 4'8".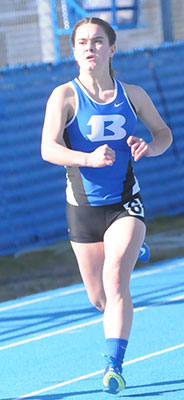 Taylor McKinney scored in both throwing events. She was third in the discus with a toss of 102'0. Kaycee White was sixth at 92'0". In the shot, McKinney throw went 33'0" to garner sixth place.
Bailey Brazil scored in two of the distance events. She was fourth in the 3200 with a time of 13:30.75. The Bryant scoring contingent also included Hobby (7th, 14:15.63) and Rebekah Hargis (8th, 14:41.14).
In the 1600, Brazil was sixth with a time of 5:55.92.
Hall was fifth in the 800 with a time of 2:34.81 and Malori Pendergrass ran 53.93 to take fifth in the 300 hurdles.
The team of Garner, Burt, Ebony White and Allen combined on a 54.27 clocking to place fourth in the 4×100.
The Lady Hornets were without hurdler Kayla Scott (a UCA signee) and sprinter Zeia Robinson (a Harding signee) for the meet.
"I think we did really well," said Lady Hornets head coach Keith Dale. "The girls have shown great progress. We have a little over a week off. This will help those that have little muscle or joint issues get back to full strength."
Bryant is scheduled to return to competition on Thursday, March 29, at the Ram Relays at Hot Springs Lakeside.