Photos by Kevin Nagle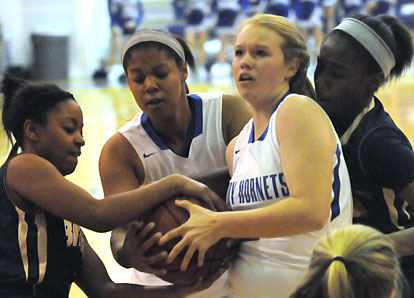 Playing like they were in midseason form, the Pulaski Academy Junior Lady Bruins rushed to a 19-2 lead before the first quarter was over Thursday night against the Bryant Lady Hornets freshmen.
It was partly because they kind of are in midseason form. Like some teams, PA's players play lots of AAU ball in the summer. Add that to that work in team camps and it's no surprise they're out to a fast start to the new school season.
Playing aggressive, well-organized defense in a variety of approaches — three-quarter and half-court trap, full-court man, half-court run-and-jump — they forced 24 turnovers, nine in that first-quarter outburst on the way to a 45-25 win in the fifth-place game of the Bryant Invitational Tournament.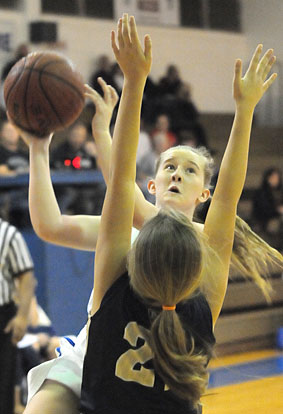 Noting that it's difficult to duplicate in practice what his team faced against the Lady Bruins, head coach Nathan Castaldi indicated it was really good practice for what his team will see in its next outing at Cabot North on Monday, Nov. 24, and from other Central Arkansas Junior High Conference teams down the line.
For now, his team is gradually gelling. Though they too worked out at team camps in the summer, they haven't spent a comparable amount of time as teammates. Some of them played at Bryant Middle School last year and other played at Bethel Middle School. Every year, it takes getting some games under their proverbial belts to develop the kind of team play they'll need in conference play (starting Jan. 15, 2015) and the post-season tournament (starting Feb. 25).
Of course, every team improves as a season goes along but, because of those circumstances, Bryant freshman teams often make particularly great strides before the end of a season.
Actually, the Lady Hornets trailed 22-4 at the end of the first quarter. That means, over the final three periods, they stayed within 23-21 of the Lady Bruins.
Castaldi used three timeouts during the first-quarter blitz. His team managed only free throws by Danielle Singleton and Kelly Williams.
Maddie Miller came through with the first field goal for Bryant less than a minute into the second quarter and the Lady Hornets outscored the Lady Bruins 8-3 in the period. They trailed 25-6 with 3:31 left in the half but held Pulaski Academy scoreless the rest of the period.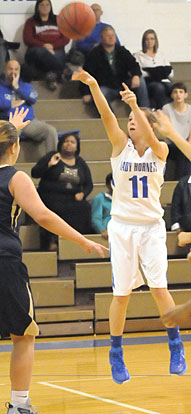 Though they didn't make up as much ground as they might've wanted to during that stretch, the Lady Hornets whittled the lead with four free throws by Jalen Sparks and a layup off a steal by Williams.
It was 25-12 at the intermission but when the second half started, spurred by a 3-pointer by Mattie Hatcher to start the scoring, the Lady Bruins made it tough on the Lady Hornets' attempts at a comeback. They showed a knack for hitting jumpers and, if the Bryant defenders came out aggressively on defense, the Lady Bruins were skilled enough to drive around them and get to the basket.
Hatcher would lead all scorers with 22 points including three 3-pointers in four tries. Emily Leding added 11 points.
Singleton, who paced Bryant with 10 points, seven rebounds and three steals, scored 6 in the quarter to keep the Lady Hornets within 32-18. But Hatcher drained a 3 in the final 30 seconds to make it a 17-point game going into the fourth quarter.
Raven Loveless scored all 5 of her points in the fourth quarter as the Lady Hornets got the margin back to 14 but that's as close as Bryant could get. In the final two minutes Leding and Grace Harris added 3's to push the lead out to 22 before Singleton's jumper set the final score.
LADY BRUINS 45, LADY HORNETS 25
Score by quarters
Pulaski Academy       22       3          10       10 — 45
BRYANT                      4          8          6          7 — 25
LADY BRUINS 45
Leding 5-7 1-2 11, Hatcher 8-12 3-3 22, DeMott 0-1 0-0 0, Yager 0-3 0-0 0, Engskov 1-2 2-4 4, Guess 1-4 0-0 3, Harris 1-2 0-0 3, Woods 0-4 0-0 0, Otwell 1-2 0-0 2, Krisit 0-0 0-0 0, Griffith 0-1 0-0 0. Totals 17-38 6-9 45.
LADY HORNETS 25
Singleton 4-10 2-4 10, Williams 1-5 2-6 4, Adams 0-2 0-0 0, Loveless 1-3 3-6 5, Cullen 0-0 0-0 0, Miller 1-4 0-0 2, Rowton 0-0 0-0 0, Evans 0-0 0-0 0, Sparks 0-1 4-4 4, Benton 0-0 0-0 0, Cooper 0-1 0-0 0, Hope 0-0 0-0 0. Totals 7-26 11-18 25.
Three-point field goals: Bryant 0-1 (Singleton 0-1), Pulaski Academy 5-8 (Hatcher 3-4, Guess 1-3, Harris 1-1). Rebounds: Bryant 23 (Singleton 7, Loveless 5), Pulaski Academy 21 (Yager 4, Leding, Hatcher 3). Turnovers: Bryant 24, Pulaski Academy 19. Team fouls: Bryant 9, Pulaski Academy 17.