Photos courtesy of Julie Shelby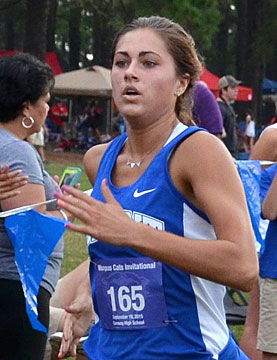 CONWAY — A trio of Bryant Lady Hornets garnered top 20 medals as the team finished second at the Wampus Cat Invitational cross country meet Saturday. The Lady Hornets finished with 94 points. LR Christian won the meet with 43 points followed by Conway with 92. Cabot was fourth with 107. There were 13 teams and 182 total runners in the race.
Bryant was led once again by senior Hannah Shelby who took one of the top 20 medals finishing fifth place in a time of 20:19. Sisters Haley Hood (16th, 22:24) and Bree Hood (20th, 22:32) also garnered medals.
Reagan Smith finished 32nd with a time of 23:22. Lauren Hart finished out the scorers for Bryant in 42nd place with a time of 23:54.
Completing the top seven were Kaylin Watts (43rd, 23:56) and Melissa Barrientos (50th, 24:18).
"Overall, I was proud of our effort today," said head coach Danny Westbrook, "but we have to close down our time gaps between runners if we want a chance to contend for meet titles."
Junior Girls.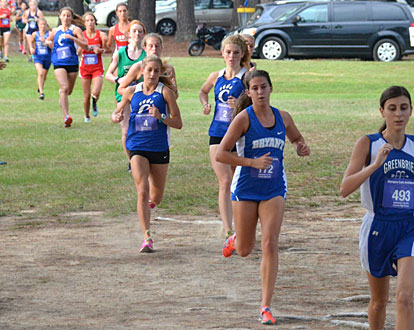 The Junior Lady Hornets took fourth place in the team standings behind Vilonia (56), Russellville (96), and LR Christian (96). Bryant scored 118 points. There were 16 teams and 229 individual runners in the race.
Bailey Brazil led Bryant with her sixth place finish in 12:45. Sydney Dettmer was close behind in seventh place with a time of 12:50. Olivia Orr also took a top 20 medal with her 19th place in 13:23. Maribeth Mead (47th, 14:09) and Mika Johnson (49th, 14:12) closed out the scorers for Bryant.
Completing the top seven were Jillian Colclasure (50th, 14:13) and Mackenzie Moore (63rd, 14:39).
"I thought Bailey Brazil and Sydney Dettmer both had outstanding performances today," Westbrook said. "Just like the high school team, we need to close down the time gaps in order to contend for team championships."
Bryant is scheduled to run at the Russellville Invitational next, on Saturday, Sept. 26.