For more photos of this event by Kevin Nagle, go here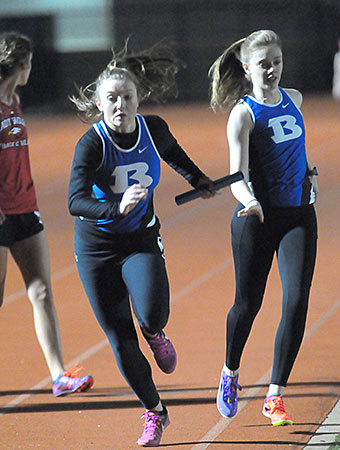 BENTON — The Bryant Lady Hornets opened their outdoor track season on Thursday at the McCauley Services Benton Panther Relays, placing third with a total of 64.5 points. Sylvan Hill won with 108 points over Conway's 100 points in the 15-team field.
"Deborah Shaw gave us an exciting Triple Jump of 36'6″ followed closely by Megan Lee to give us 12 points quickly," noted Lady Hornets head coach Keith Dale. "Taylor McKinney's throw of 34'1/2″ placed third for 6 points and pole vaulters Kristen Garner (9'0″ placing 4th) and Cassie Ray (tying for 6th place at 7'6″) contributed 7.5 point to get the Lady Hornets off to a good start.
Others who scored for the Lady Hornets were:
Kayla Scott, 2nd place 100 hurdles (15.85) & 6th place 300 hurdles (52.29)
Magan Lee, 2nd place 400 (61.42)
Taylor McKinney, 3rd place discus (107'2″)
Zhania Hall, 4th place 800 (2:33.56)
Yonni Allen, 8th place long jump (15'8″)
4X100 relay (Kristen Garner, Deborah Shaw, Cassie Ray, & Yonni Allen), 7th place finish (54.16)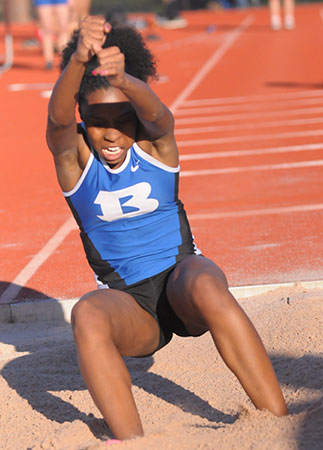 4X400 relay (Yonni Allen, Zhania Hall, Libby Majors, & Megan Lee) 3rd place finish (4:24.28)
"This meet was an experiment," said Dale. "We have many girls out for various reasons and I was curious how well we would be able to manipulate different girls throughout the meet, loading many of them up beyond what I typically do and so we could observe how well the girls respond if we needed. All in all, I was very impressed with the determination of the team throughout the meet.
"We have placed more emphasis on field events this year with the hiring of assistant track coach Cindy Jones," he added. "She is an excellent coach and brings a plethora of knowledge to our program."
The Lady Hornets run again on Tuesday when they host the annual Hornet Relays at Bryant Stadium.