By Rob Patrick
Photos by Kevin Nagle
PINE BLUFF — After falling behind by 12 points at halftime, the Bryant Lady Hornets scrapped[more] and hustled and clawed their way all the way back to not only catch the Pine Bluff Fillies but, with 3:45 left in the game, to take the lead when Jayla Anderson took a feed from Dezerea Duckworth and hit a layup.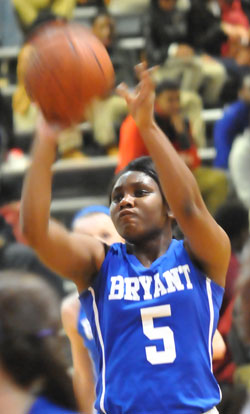 The teams traded the lead the rest of the game with neither able to manage more than a 1-point lead. With :10 left, Bryant's Courtney Davidson drove the baseline and hit a short jumper that gave her team a 39-38 edge. Back on defense, the Lady Hornets made Pine Bluff used most of the rest of the clock, to the point that they were just :02 away from pulling off a stunning 7A/6A-South Conference victory on the road against the 12-3 Fillies.
At that point, Victoria Broady, who had attempted just four shots in the game and made none of them, was forced to launch a desperate, off-balance jumper from 15 feet or so on the right wing. Somehow, it banked in and the Fillies celebrated.
Bryant head coach Brad Matthews was furiously trying to get a timeout and the officials, after time had run out, recognized it, instructing the clock operator to put :01.3 back on the clock.
During the timeout, the Lady Hornets huddled with their coach as he drew up a play. The Fillies came over toward the Bryant bench to listen in. Bryant assistant Trina Williams tried to get between the Fillies and the huddle, and the officials got around to making them back away about the time Matthews was finishing up.
Despite that, and the fact that they had to go the length of the court, Bryant came inches away from getting a last-second shot from around the 3-point line. Davidson heaved a long pass down the left side as Logan Davis, who had cut diagonally across the court then broke deep. She'd gotten a couple of steps behind the last Pine Bluff defender but the Fillies player got back just enough to tip the pass and Davis wasn't able to adjust to get to it as the buzzer sounded.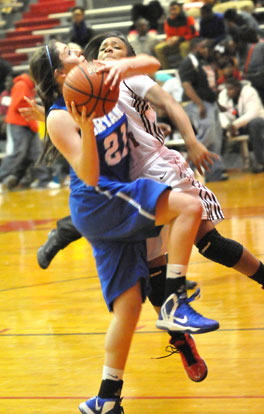 It was gut-wrenching loss for the Lady Hornets who dropped to 0-2 in conference play but Matthews tried to stay positive.
"If we can play like we did from the third quarter on, I think we'll have a chance to have some success as we move through conference," he said. "The second half, especially from the middle of the third quarter on, I thought we played really well. We made a play with 10 seconds to go, then their kid made a play to beat us. Hopefully, we can take the positives out of this and build on the consistency we had there in the second half and take that forward.
"We made some shots and I think that helped our defense, helped our rebounding," he continued. "I thought we did a much better job keeping them off the boards in the second half. We knew coming down here we needed to keep them off the boards and keep them out of transition. The first half, they made some shots and they got a couple of offensive rebounds."
In fact, the Fillies out-rebounded the Lady Hornets 34-26 with 11 of those boards on the offensive end. The result was 46 shots from the field for Pine Bluff while Bryant was taking just 27, though the Lady Hornets made a lot of those few attempts by shooting over 50 percent.
The Lady Hornets got behind in the second quarter when the only basket they were able to muster was a 3-pointer by Davis three minutes in. Duckworth had hit a 12-footer to beat the clock at the end of the opening period that had Bryant within 11-10. But the Fillies scored the first 5 points of the second quarter and, after Davis' 3, finished with a 9-0 run that produced a 25-13 halftime advantage.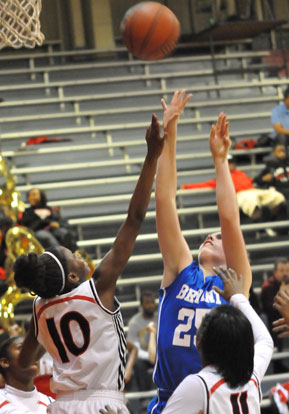 Bryant was just 1 of 10 from the floor in the period. Pine Bluff was sparked by Jalen Williams off the bench who scored all 8 of her points in the first half, including 6 in the second quarter. Jada Taylor added all 5 of her points in the period.
The second half started with an 11-2 run by the Lady Hornets that whittled the lead down the 3. Davis got it started with a driving jumper. Moments later, she made a steal and fed Davidson who was fouled. Her free throws made it 25-17.
Davidson would lead all scorers with 19 points to go with nine rebounds. Duckworth and Davis finished with 9 each.
Ajia Richardson, who paced her team with 11 points, interrupted the run at the 5:31 mark and it stayed 27-17 for nearly two minutes before Davidson, relentlessly following her own miss, was fouled again. She converted twice once more, part of an 8 for 10 performance at the line, to get the surge going again. Duckworth rained down a 3 and, after Richardson misfired, Davis hit a layup to make it 27-24.
Pine Bluff's Marquita Seageant got a basket inside and later added a free throw to push the margin back to 6 but a driving jumper by Davidson had Bryant within 4 going into the final stanza.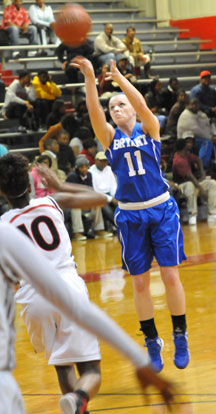 Duckworth drained a 10-footer to make a 2-point game as the fourth quarter unfolded. After a free throw by Pine Bluff's Chasity Moore, Davidson drove for a layup and the lead was down to 1.
Fillies coach Loy Moore called a timeout and it seemed to help his team offensively. Richardson hit the offensive glass for a bucket but Davis came back with a drive and kickout to Davidson, who buried a game-tying 3 at the 4:23 mark.
A free throw by Johneice Tate snapped the tie as Davidson picked up her fourth foul and had to come out. But Duckworth's drive and dish resulted in Anderson's layup giving Bryant its first lead of the game, 35-34.
Richardson put Pine Bluff back on top but Duckworth answered to put Bryant back up at the 1:46 mark.
The Fillies had to use timeouts to get out of jams induced by the Lady Hornets' defense on their next two possessions, one with 1:16 left and another at the :53.4 mark. With :38 to go, Jasmin Eckermann scored off a drive as the lead dramatically continued to seesaw.
After a Bryant timeout with :24.4 to go, the Lady Hornets patiently worked for an open look. Davidson took a pass from Duckworth in the right corner, drove the baseline and pulled up for a lean-in jumper that found the bottom of the net at the :10 mark as the Bryant bench came to its feet.
Broady's prayer at the end, however, was answered and the Fillies survived.
Bryant will return to action this Friday at Little Rock J.A. Fair.
FILLIES 40, LADY HORNETS 39
Score by quarters
BRYANT 10 3 13 13 — 39
Pine Bluff 11 14 5 10 — 40
LADY HORNETS (6-10, 0-2) 39
Player fg-fga ft-fta reb fls pts
o-d-t
Duckworth 4-10 0-2 1-6 7 2 9
Davis 4-9 0-0 0-2 2 1 9
Davidson 5-11 8-10 2-7 9 4 19
Smith 0-2 0-0 0-0 0 0 0
Meyer 0-0 0-0 1-3 4 1 0
Scarlett 0-1 0-0 0-0 0 1 0
Murphy 0-0 0-0 0-1 1 0 0
Weaver 0-3 0-0 0-1 1 2 0
Anderson 1-1 0-0 0-0 0 0 2
Team 0-2 2
Totals 14-27 8-12 4-22 26 11 39
FILLIES (13-3, 2-0) 40
Player fg-fga ft-fta reb fls pts
o-d-t
K.Richardson 2-4 0-0 0-0 0 2 4
A.Richardson 5-12 0-2 3-2 5 2 11
Eckermann 1-7 0-0 0-1 1 2 2
Moore 0-1 1-2 2-5 7 3 1
Tate 0-2 1-2 0-4 4 1 1
Broady 1-5 0-0 1-2 3 0 2
Sergeant 2-2 2-4 1-4 5 0 6
Williams 4-8 0-0 2-1 3 2 8
Taylor 2-4 1-1 2-3 5 0 5
Team 0-1 1
Totals 17-46 5-11 11-23 34 12 40
Three-point field goals: Bryant 3-15 (Davis 1-6, Duckworth 1-3, Davidson 1-2, Weaver 0-3, Scarlett 0-1), Pine Bluff 1-7 (A.Richardson 1-2, Williams 0-3, K.Richardson 0-1, Eckermann 0-1). Turnovers: Bryant 13, Pine Bluff 10.