By Rob Patrick
Photos by Kevin Nagle
MALVERN — Sometimes — most of the time, actually — the best team wins. Just ask the Notre[more] Dame Fighting Irish (42-14 losers to Alabama in the BCS college football championship Monday night).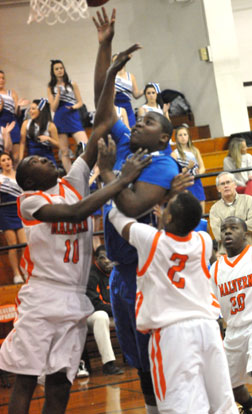 Or the Malvern Leopard Cubs.
Roaring to a 20-point lead by halftime, the Bryant Hornets freshman team eased to a 56-28 win over the Cubs as both teams resumed play in the new year on Monday night at Malvern High School gym.
Ten of the 13 players that got into the game for the Hornets contributed to the scoring led by Kris Croom with 14 and Cameron Murray with 13. That duo combined for 23 points in the first half, sparking a 10-0 run in the opening quarter and an 11-2 surge in the second.
The lead was 29-9 at the half and never less than 19 in the second half. In the end, the Hornets reserves pushed the lead to their largest margin, the final difference.
It was Bryant's third win in its last four games, a strong stretch as they commence play in the Central Arkansas Junior High Conference this Thursday when Cabot North visits.
"We're finally starting to play a little bit more solid in every phase of the game," stated Bryant coach Mike Simmons. "The kids are a lot less nervous on the floor right now. Early in the year, it seemed like every pass was a nervous pass. They're just now starting to settle in, starting to play and it just looks a lot more comfortable out on the floor. Hopefully, we'll give the teams in our conference a good game every night that we play. I think we're capable of doing that."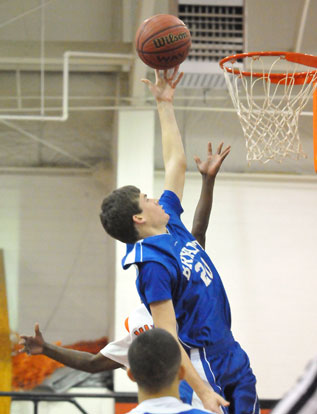 During the non-conference portion of the schedule, the Hornets were 2-6 against teams in the CAJHC.
"We have several of those teams that we lost to by one or two points, close games, that we're going to have at our place, which is going to help a whole bunch," Simmons noted. "I really think that we can play with everybody in our conference right now and, on a given night, we can beat anybody. Early in the year, I don't think we could've done that."
Against Malvern, the Hornets did a good job of establishing Murray, their big man inside, at the outset. Murray scored the first 5 points. Croom came through with a three-point play then Simeon Watson made a nice feed to set Murray up for another bucket.
Off a Malvern turnover, Kevin Hunt sliced for a layup. When Croom and Jaelynn Jones combined on a steal that resulted in a pair of free throws for Croom, the lead was 14-2.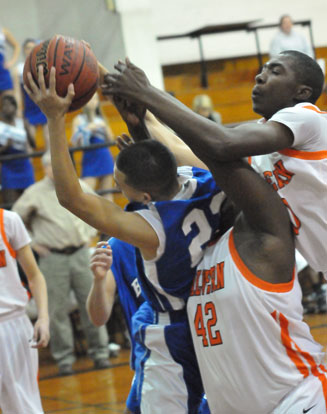 A free throw and a late basket allowed Malvern to cut it to 14-5 going into the second quarter but the Hornets opened the second with Jones knocking down a jump hook and Croom driving for a bucket. Croom then answered the Cubs' first basket of the period with a 3. Murray made a steal that eventually led to another layup by Croom. Jones swiped a pass and took a feed from Watson again for a jumper in the lane that made it 25-7.
After a timeout by Malvern coach Donnie Derfler, a former Junior Hornets' coach, the Cubs scored again. But before the half ended, Murray hauled down offensive rebounds on consecutive trips and scored to make it a 20-point lead.
Watson had a couple of more assists early in the second half, feeding Murray and Croom, the latter off of a steal. In between, Hunt and Jones added baskets and, with 2:35 left in the third quarter, Simmons pulled the starters for good.
Trey Harris and Jordan Gentry scored before the quarter was over with Bryant up 41-20.
Harris and Kameron Guillory pushed the advantage to 25 early in the final period. Jordan Walker hit a layup, Guillory added a basket and was fouled with 1:28 left. He missed the free throw but Detavious Moore rebounded and scored to make it 51-25.
In the final minute, Moore drained a 3, Walker made a steal and Rickie Allen drove for a layup to set the final score.

JUNIOR HORNETS 56, LEOPARD CUBS 28
Score by quarter
BRYANT 14 15 12 15 — 56
Malvern 5 4 11 8 — 28
JUNIOR HORNETS 56
Watson 0-2 0-0 0, Hunt 2-7 0-0 4, Croom 5-12 3-3 14, Jones 3-6 0-0 6, Murray 6-7 1-2 13, Lee 0-3 0-0 0, Gentry 1-1 0-2 2, Harris 2-4 0-0 4, Oneal 0-4 0-0 0, Walker 1-7 0-4 2, Allen 1-1 0-0 2, Guillory 2-4 0-1 4, T.Moore 2-2 0-0 5. Totals 25-60 4-12 56.
LEOPARD CUBS 28
McCollum 0-5 0-0 0, Moore 0-1 0-0 0, Smith 0-3 1-2 1, Florence 1-7 2-4 4, Lock 2-6 0-0 4, Buckley 1-4 0-0 2, Goshien 1-3 0-0 2, Wright 0-3 2-4 2, Homane 1-3 0-0 2, Brownlee 5-9 1-4 11, Bailey 0-0 0-0 0. Totals 11-44 6-14 28.
Three-point field goals: Bryant 2-14 (Croom 1-3, Moore 1-1, Walker 0-4, Oneal 0-3, Hunt 0-1, Watson 0-1, Harris 0-1), Malvern 0-5 (Florence 0-2, Smith 0-1, Buckley 0-1, Goshien 0-1). Rebounds: Bryant 44 (Murray 8, Walker, Guillory 6), Malvern 38 (Brownlee 7, Florence 6). Turnovers: Bryant 8, Malvern 21. Team fouls: Bryant 11, Malvern 9. Fouled out: Malvern, Smith.