As thrilling as they are, comebacks take their toll on a team. They take energy and emotion.
In a three-game match with Conway Blue's Lady Kittens on Monday night, the Bryant Lady Hornets freshman volleyball team came back once all the way to a win and a second time all the way to tie before absorbing a tough loss. The rubber game of the match was nip-and-tuck most of the way but, in the end, Conway Blue put together a surge to win the game and the match.
The Lady Kittens survived 17-25, 27-25, 25-19.
The Lady Hornets include Jenna Acheson, Aubree Allen, Ashlea Brazil, Ashlee Caton, Stormi Chaloner, Kaley Coppock, Hannah Crouch, Dezarea Duckworth, Kaitlyn Greer, Nicole Guyett, Kayla Jolley, Jacie McMahan, Mekaylah Muhammad, Breanna Sanders, Courtnie Schultz, Becka Shaddon, Erica Smith and Katy Stillman.
"We hit better than we had been hitting," noted Lady Hornets coach Monica Parish. "Our first passes were better. (Conway Blue) just found some holes and we never did adjust and cover them."[more]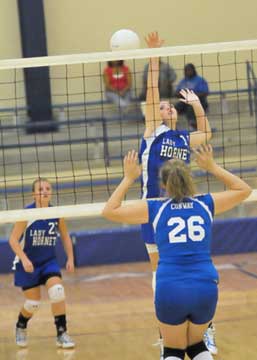 Smith contributed eight kills and three blocks during the match. Allen finished with eight kills and a block while Acheson had seven kills and contributed an ace as a server. Guyett had six kills and Greer two.
"Erica and Nicole are my middle blockers and they not really hitters but, man, they were placing them where they should," Parish mentioned.
In the opening game, the Lady Hornets found themselves down 6-13 early on and Parish noted that all four points Conway Blue scored after that came on side-outs.
Bryant chipped at the margin until putting together a rally behind Duckworth's serves for points 10 through 13. The teams traded side-outs then Stillman took it from 15 to 19 starting with an ace.
"That was a good roll we were on," Parish acknowledged. "And I think it really hurt (Conway)."
Allen finished it out after the Lady Hornets picked up a point on the side-out at 22. She served for 23 through 25 capping off the win with an ace.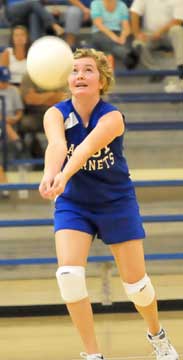 The second game started with Conway scoring the first six points before the Lady Hornets could force a side-out. They scored another point but couldn't hold the serve and Conway built the lead on up to 11-3 before Bryant, once again, rallied.
"After that early deficit, we were with them point for point," Parish said. "We had a great service roll with A.C. (Caton). Side-out was 7 then she served for points 8 through 16."
Duckworth took over for points 19 through 21 with an ace. Smith contributed five of her kills during the game.
Bryant caught up but couldn't manage to take the lead. The game was extended but Conway escaped.
"That one hurt," Parish allowed.
So when the third game began, the back-and-forth continued. Neither team led by more than two until, at one point, Bryant trailed just 16-17. That's when Conway got a roll going out to 22 points.
"That third game was real exciting," Parish noted. "Either team could've won it. They just found some holes that we're going to have to fix."
Bryant is set to play at a tournament in Conway on Saturday before hosting Cabot North in a conference match on Monday, Sept. 20.
Photos by Kevin Nagle