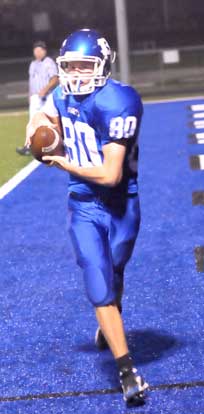 Lane Ricardo hauled in a pass from Austin Powell with less than two minutes to play as the Bryant Hornets junior varsity defeated the Little Rock Catholic Rockets JV, 13-10, in thrilling fashion Monday night.
The winning score came from the 4-yard line after the Hornets had driven down the field in answer to a Rockets' touchdown earlier in the fourth quarter.
Caleb Thomas sealed the victory with an interception.
Josh Lowery accounted for Bryant's first 6 points with a pair of field goals.
The game was tied 3-3 at the half. Lowery's second 3-pointer had Bryant up 6-3 going into the final period.
The Rockets took the lead with just under eight minutes left in the game.
The Bryant JV is now 2-0. They'll host the Cabot JV on Monday, Sept. 20.
Photos by Kevin Nagle [more]