For more photos from this event by Rick Nation, go here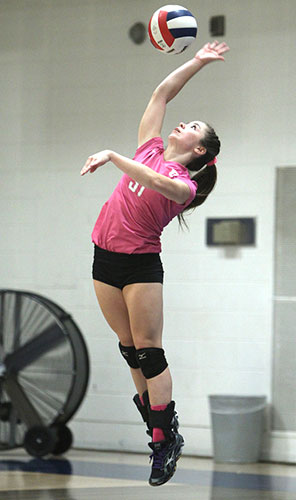 The Bryant Lady Hornets honored seniors Ashlyn Lee, Macey Loudon, Raven Loveless, Reagan Dabbs and Kyla Baker on Thursday night in their final home match of the 2017 season and, in their honor, the Lady Hornets gave the rival Benton Lady Panthers, champions of the 6A-West Conference, a royal tussle for three sets.
Their bid for an upset and a great win to vault them into the Class 7A State Tournament was turned back, however, 20-25, 24-26, 31-29, 7-25.
Bryant opens play at State in Conway next Tuesday at 4 p.m., against Fayetteville, the No. 3 seed from the 7A-West Conference.
Loveless led the Lady Hornets with 13 kills and two solo blocks while Lee posted a team-high 23 assists. Loudon was one of three Bryant servers with aces. Baker had one as well. So did junior Erin Thompson.
Faith Stone finished with four kills while Truli Bates added three kills and two blocks. Ivory Russ had three kills and a block. Grace Camferdam contributed a pair of kills and Louden one.
Cassie Ray led with seven digs. Loudon had two with Baker, Ashley Davis and Thompson adding one each.