By Rob Patrick
Photos by Kevin Nagle
PEARCY — Bryant Lady Hornets senior Logan Davis is averaging more than three 3-pointers per[more] conference game this season. She's a dead-eye shooter from long range. On Friday night at Lake Hamilton, she had drained four in six tries and had a fifth perfectly on line. But it hit the back of the rim and refused to fall.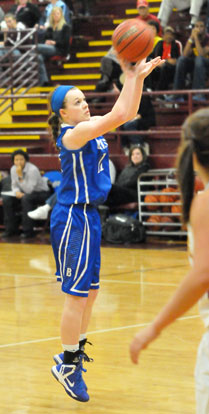 The shot came with :02 left to play and would've made Bryant a winner over the Lake Wolves, who saw the Lady Hornets erase as much as an 8-point lead in the second half, then pulling even twice in the final 1:10.
A run-out layup by Lake Hamilton's Kylie Frazier with :20 left snapped a 49-49 deadlock and, with :11.2 left, Bryant head coach Brad Matthews called a timeout to set up a play to get his best shooter an open look at a game-winner.
And that's by the proverbial book: Go for the tie at home, for the win on the road.
The loss made the Lady Hornets 5-8 in the 7A/6A-Central Conference and the sixth setback by less than 6 points.
Heartache by the numbers: By 1 at Pine Bluff; by 1 to Sheridan; by 5 at El Dorado; by 2 at Benton; by 6 at Sheridan.
"We got one of our good shooters an open look," acknowledged Matthews. "But the game shouldn't have come down to that. Logan's really played well for us all year and she shoots it well almost every night out."
Bryant had defeated Lake Hamilton at home easily, 50-26, on Jan. 22. But this wasn't the same Lady Wolves team. They'd added the outside shooting of freshman Alex White and, this time, had their best player available, senior Kori Bullard, who missed the previous meeting because of a concussion.
Bullard scored 20 points, gathered five rebounds and blocked four shots. But, more than just the blocks, she forced the Lady Hornets to alter far more.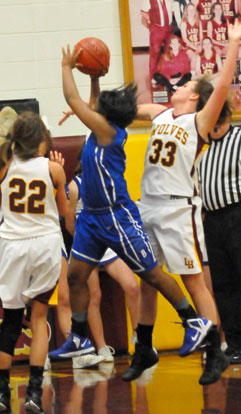 Matthews indicated the team had drilled on cutting their drives short instead of taking it all the way to the basket where Bullard was waiting. Instead, they worked on pulling up for short jumpers.
In the game, they were eventually convinced and starting doing just that. And they were able to kick passes out to the perimeter for 3's. Along with Davis' four, Courtney Davidson, Kristen Scarlett and Peyton Weaver found the range from distance as the Lady Hornets hit 7 of 11 as a team. Weaver's triple was dramatic, tying the game at 47 with 1:07 left in the game.
They actually should've had another but it was ruled that Scarlett was on the line for one of her baskets.
"Offensively, it wasn't bad," Matthews stated. "We were pretty balanced with Logan, Courtney and Dezerea (Duckworth) in double figures. And Scarlett hit some big shots."
Davis led with 14 points. Duckworth added 13, Davidson 12 and Scarlett 5.
Some uncharacteristic defensive breakdowns were what the coach pointed to.
"They beat us in transition," he said. "They probably made 8 to 10 points on transition and we haven't given up transition baskets all year. I think that's something we've really done a good job of, something we've really emphasized all year: Don't give up easy stuff in transition. Tonight, we gave it up. I mean we didn't give it up to Pine Bluff or El Dorado but tonight we had some breakdowns in that area.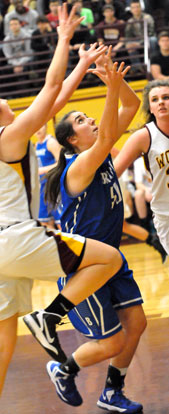 "I thought that and some defensive breakdowns in the half court cost us," Matthews concluded. "I mean, when we score 49 points, we've got to win."
Indeed, it was just the third time this season they'd scored that much or more and suffered a setback.
Despite struggling to adjust to Bullard's defense, the Lady Hornets led most of the first half. Davis' first triple with :36 left in the opening quarter gave them an 11-7 edge.
Free throws by Hailey Humphries and a drive by Bullard evened the score early in the second quarter but Davis kept Bryant ahead with another trey. Bullard added a free throw but then Davis rained down another triple to make it 17-12.
Bullard and Duckworth traded baskets then Jayla Anderson scored and was fouled. Though she was unable to complete the three-point play, it gave the Lady Hornets their largest lead of the game, 21-14.
The Lady Wolves, however, rallied to within 21-20 at the half. (Actually, the scoreboard read 20-20 at the break because they'd written down a 2 for one of Davis' 3's. It was corrected before the second half commenced, however.)
Lake Hamilton opened the second half with a 12-3 run that included 3's by Frazier and White. Midway through that stretch, Scarlett canned her first shot from right at 3-point range but was ruled to have had a toe on the line.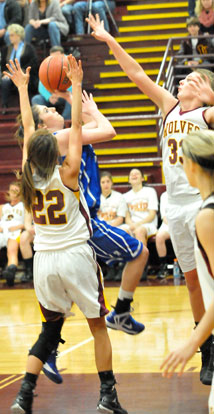 Trailing 32-24 with 2:40 left in the third quarter, Matthews got a timeout and his team responded, led by another 3 from Davis off an assist by Anderson. The Lady Hornets forced a turnover and Duckworth hit a running jumper in the lane to cut it to 32-29.
Lake Hamilton's Karli Herron drove for a basket but, with :36 left, Scarlett drilled a 3 to make it a 2-point game.
Bullard scored the last basket of the quarter and the first one of the fourth as the Lady Wolves retained the lead. Bryant, however, kept the pressure on. Davidson hit a free throw and, after a turnover, scored inside off a drive-and-dish by Duckworth that took Bullard out of the picture.
Duckworth followed her own miss with 6:35 left, scoring to make it 38-37.
Lake Hamilton pushed it back out to 45-39 with a pair of baskets inside by Humphries and a 3 by little sister Kayla Bullard.
A 3 by Davidson kept the Lady Hornets going. Bullard hit a layup and Davidson added a pair of free throws. The Lady Wolves missed two chances to extend the lead again before Weaver, covered by Kori Bullard who lay back too much, sank the game-tying 3.
Free throws by Bullard with :55.2 to go broke the deadlock but Duckworth evened it with :26.1 showing, with a pair of clutch free throws.
Bryant jumped into its press but lost track of Frazier.
The Lady Hornets, who clinched a spot in the Class 7A State Tournament in Fayetteville on Tuesday, are still hoping to move up to a fifth seed but that prospect took a hit with the loss.
They'll try to get it back on Tuesday, Feb. 19, when they'll celebrate Senior Night against El Dorado. The Lady Wildcats will come to Bryant after handing the league-leading Benton Lady Panthers their first conference loss on Tuesday.
LADY WOLVES 51, LADY HORNETS 49
Score by quarters
BRYANT 11 9 11 17 — 49
Lake Hamilton 7 13 16 15 — 51
LADY HORNETS (11-16, 5-8) 49
Player fg-fga ft-fta reb fls pts
o-d-t
Duckworth 5-13 3-4 1-5 6 2 13
Davis 5-19 0-0 0-1 1 3 14
Weaver 1-1 0-0 0-2 2 1 3
Davidson 4-11 3-4 0-3 3 1 12
Meyer 0-2 0-0 3-1 4 0 0
Scarlett 2-2 0-0 0-0 0 2 5
Smith 0-1 0-0 1-1 2 1 0
Anderson 1-1 0-1 0-1 1 1 2
Team 0-3 3
Totals 18-50 6-9 5-17 22 11 49
LADY WOLVES (14-11, 5-8) 51
Player fg-fga ft-fta reb fls pts
o-d-t
Herron 1-4 0-0 0-4 4 3 2
Frazier 4-8 0-0 0-5 5 2 9
Ka.Bullard 1-5 0-0 1-2 3 0 3
Ko.Bullard 9-13 2-2 0-5 5 2 20
Humphries 2-2 2-4 3-3 6 1 6
White 2-6 0-0 0-4 4 2 6
Sorrell 1-2 0-0 0-0 0 0 2
Vinyard 0-0 0-0 0-1 1 0 0
West 0-0 0-0 0-0 0 0 0
Scott 0-0 0-0 0-0 0 0 0
Team 2-3 5
Totals 21-44 5-8 6-28 34 12 51
Three-point field goals: Bryant 7-11 (Davis 4-7, Weaver 1-1, Davidson 1-1, Scarlett 1-1, Duckworth 0-1), Lake Hamilton 4-17 (White 2-6, Ka.Bullard 1-5, Frazier 1-4, Herron 0-1, Crone 0-1). Turnovers: Bryant 8, Lake Hamilton 12.