Editor's note: This is a regular feature profiling senior athletes at Bryant High School.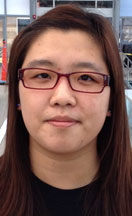 NAME: Jinson Kang
PARENTS: Sookkyung Chong (mom) and Se-Hwan Kang (dad)
SIBLINGS: Minki Kang (17)
FAVORITE SUBJECT IN SCHOOL: Foreign languages (English, also)
FAVORITE SPARE TIME ACTIVITY: Watching TV
FAVORITE FOOD: Chicken and Italian food
FAVORITE MOVIE: Pirates of the Carribean
FAVORITE TV SHOW: Grey's Anatomy[more]
WHAT WAS YOUR FAVORITE TOY WHEN YOU WERE A KID? Barbie
WHAT ARE YOUR PLANS AFTER HIGH SCHOOL? Probably I will go to the U of A at Fayetteville and major in International Relations.
OTHER THAN YOUR PARENTS, WHO'S HAD THE BIGGEST INFLUENCE ON YOUR LIFE? HOW? Swim coaches, because they know me very well and I learned a lot from them.
WHAT'S YOUR FAVORITE THING ABOUT SWIMMING? IM (Individual medley).
WHAT IS/ARE YOUR EVENT(S): IM and fly but I'm a manager this year.
WHAT'S BEEN THE HIGHTLIGHT OF THE SEASON SO FAR? Helping teammates.
WHEN YOU'RE THROUGH SWIMMING FOR BRYANT HIGH SCHOOL, WHAT DO YOU THINK YOU'LL LOOK BACK AND REMEMBER MOST FONDLY ABOUT THE EXPERIENCE? After I cam here, we won South District and became a champion. Also, I always look back at the State meet unsatisfied.