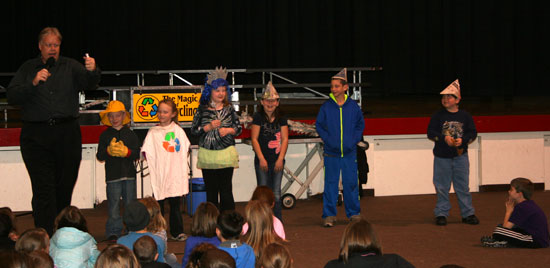 The Saline County Regional Solid Waste Management District brought the Magic of Recycling[more] show to Saline County schools. The show was designed to help educate and entertain the students about recycling. It incorporated student participation from each school. Through magic, Greg Allen taught students the importance of recycling.
Amber Crenshaw with Bryant's Hill Farm Elementary School said, "Our students really enjoyed the Magic of Recycling show. The magician was great with interacting with the students and kept them on the edge of their seats ready for his next trick. Thanks so much for allowing our school such a nice treat and helping educate them on such an important issue."
Schools we visited included Westbrook Harmony Grove, Hill Farm Elementary, Ringgold Elementary, Howard Perrin Elementary, Davis Elementary, East End Elementary, Bryant Elementary and Hurricane Creek Elementary.
Visit RSWMD on Facebook or the website www.salinecountyrswmd.com for pictures from each school.