By Rob Patrick
Photos by Kevin Nagle
The Lake Hamilton Junior Wolves eighth grade team went on a 10-0 spree in the final[more] 2:35 of the first half to break open a one-point game on their way to a 29-20 victory over the Bryant White Hornets at Bryant Middle School gym Monday.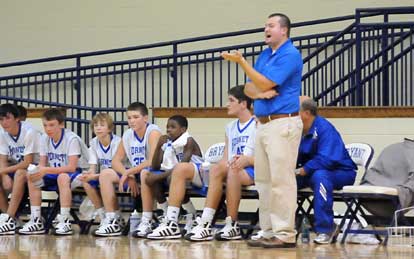 A free throw by Jake Scoggins and a basket by Cameron Murray off a nice feed from Simeon Watson had the Hornets ahead 3-1 early but missed opportunities allowed the Wolves to tie it going into the second quarter.
After Lake Hamilton scored the first basket of the second period, Kameron Guillory hit a free throw to make it 5-4. Moments later, Scoggins countered a Lake Hamilton basket to keep the Hornets within 7-6 at the 2:54 mark.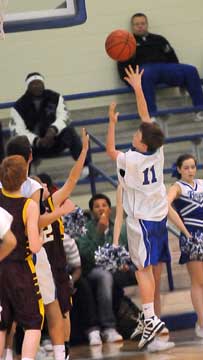 But Bryant White was unable to score the rest of the half as the Wolves built a 17-6 lead at the break. And, with the first basket of the third quarter, they led 19-6.
An offensive rebound basket by Dylan Hurt broke the Hornets' dry spell but the Wolves surged to a 25-10 lead going into the fourth quarter.
The Hornets whittled on the margin on free throws by Watson and Guillory and a jumper in the lane by Dagin Carden. And when Guillory blocked a Lake Hamilton shot on the defensive end, the Wolves took a timeout with 2:55 left to play and their lead down to 25-16.
When play resumed, however, they forced a Hornets turnover and took advantage by scoring with 2:05 left.
Scoggins fed Murray for a basket, then blocked a shot on the other end. With 1:04 to go, Trey Harris fed Scoggins for a bucket that had Bryant White within 7 but a late basket by the Wolves set the final score.
Murray finished with 6 points to lead the Hornets. Scoggins had 5, Guillory 3 with Watson, Hurt and Carden finishing with 2 each.
The Hornets are scheduled to play at Bauxite tonight.