Photos by Kevin Nagle
The Bryant White Lady Hornets of Bryant Middle School finished off a 10-1 season with their[more] 10th straight win on Thursday night, a 29-21 decision over the crosstown rival Bryant Blue Lady Hornets of Bethel Middle School.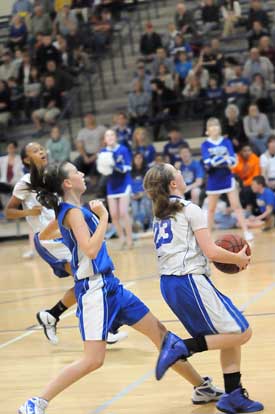 "Wow! What a great way to end our season," declared Bryant White coach DeAnna Ward. "The girls did a fantastic job."
The game was tight throughout with Bryant White taking control late. After the first quarter ended with the teams tied 6-6, Bryant White managed an 11-8 edge by halftime. But Bryant Blue countered with a strong third quarter, which ended with the teams tied 17-17. But Bryant White put together a 12-4 fourth quarter to secure the win.
"Our eighth grade girls were a great group of kids and I enjoyed being around them every day," stated Bryant Blue coach Rhonda Hall. "I hope to see them all in a Lady Hornets basketball uniform in the years ahead. They played extremely hard in the game and left it all on the floor, which is all I can ask for."
Skylar Davis led Bryant White with 13 points and five steals. Faith Brown added 8 points, five rebounds and a steal with Julianna Ward scoring 5 points, gathering seven boards and making a steal. Lara White pitched in with 3 points, six caroms and three thefts.
For Bryant Blue, Jordan McKnight paced the scoring with 8 points to go with four rebounds and two steals. Britney Sahlmann finished with 6 points and three boards with Ashlyn Taylor contributing 4 points and five rebounds. Anna Turpin and Kailey Nagle scored 3 points apiece with Turpin coming up with three thefts.