Editor's note: This is a regular feature profiling senior athletes at Bryant High School.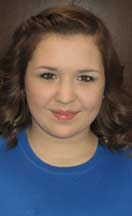 NAME: Jordan Martin
PARENTS: Terry and Melinda Martin
SIBLINGS: Preston Martin, 20; Emily, 6
FAVORITE SUBJECT IN SCHOOL: History
FAVORITE SPARE TIME ACTIVITY: Talking and making people laugh
FAVORITE FOOD: Steak quesadillas
FAVORITE MUSIC ARTIST OR GROUP: Coldplay
FAVORITE MOVIE: The Help[more]
FAVORITE TV SHOW: Beyond Scared Straight
WHAT WAS YOUR FAVORITE TOY WHEN YOU WERE A KID? Play-Doh
WHAT ARE YOUR PLANS AFTER HIGH SCHOOL? I will be attending Oral Roberts University and majoring in early childhood education.
OTHER THAN YOUR PARENTS, WHO'S HAD THE BIGGEST INFLUENCE ON YOUR LIFE? HOW? Racers coaches Patrick Bass and Onat Tunga because they encourage me non-stop to keep swimming and they are like big brothers.
WHAT'S YOUR FAVORITE THING ABOUT SWIMMING? It's the time I get to think about things and spend with my best friends.
EVENT(S): 500 and 50 free
APPROACH TO YOUR EVENTS? I listen to a fast beat song and stretch.
WHAT DO YOU THINK OF THE SEASON SO FAR? Our team has been really supportive of each other so it's been great.
WHAT'S BEEN THE HIGHLIGHT TO THE SEASON SO FAR (team)? The girls coming in fourth at the Hendrix meet.
WHAT'S BEEN THE HIGHLIGHT TO THE SEASON SO FAR (personal)? Getting to get back in the water after I healed from my broken hand from October.
WHAT'S IT GOING TO TAKE FOR THE TEAM TO BE SUCCESSFUL THE REST OF THE SEASON? To continue to support each other.
TALK ABOUT YOUR SWIMMING NOW; WHAT ARE YOU MOST CONFIDENT IN YOUR ABILITY TO DO? I'm really good at distance. I could swim for hours and never get tired.
WHAT DO YOU WORK HARDEST TO IMPROVE ON IN PRACTICE? My stamina for sprint events.
WHEN YOU'RE THROUGH SWIMMING FOR BRYANT HIGH SCHOOL, WHAT DO YOU THINK YOU'LL LOOK BACK AND REMEMBER MOST FONDLY ABOUT THE EXPERIENCE? Hanging out with my team at the meets and all the inside jokes we created.