Photos by Kevin Nagle
Caylin Allen converted a pair of clutch free throws in overtime as the Bryant Blue[more] Hornets of Bethel Middle School edged the Bryant White Hornets of Bryant Middle School 27-24 in a seventh grade battle on Thursday.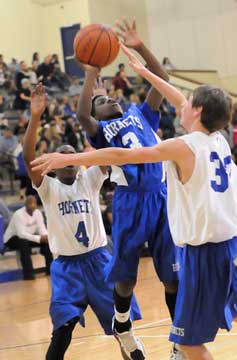 "This was a very good game," declared Blue coach Derek McGrew. "It was loud, a great atmosphere."
"It was a tremendous atmosphere and a great ballgame," concurred White coach Heath Long. "Unfortunately, we came out on the losing end. Both groups played hard and we have to give Bethel credit since they were able to make the plays in the end."
Blue led 8-6 after a quarter but it was tied 10-10 at the half. White held a 19-17 edge going into the fourth period which concluded with the teams knotted at 23.
"This was our second overtime game of the week," noted McGrew. "This team has played 16 games and the experience of those is showing. They've averaged almost 40 points a game.
"I wasn't happy with our shot selection and we struggled from the free-throw line going 7 of 16," he added. "Bottom line, we found a way to make plays down the stretch. Caylin made those two huge free throws in overtime and we got some important stops on defense."
Calvin Allen led all scorers with 18 for Bryant Blue. Desmond Duckworth added 5 with Caylin Allen and Jeffrey Hastings finishing with 2 apiece.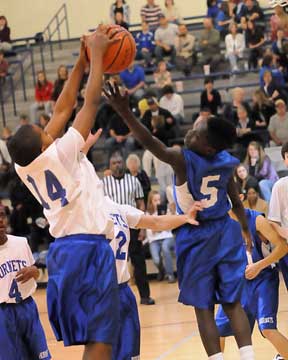 Bryant White was paced by Romen Martin with 8 points. Quinten Nimmer added 5 and Jake East 4.
"We are going to work hard this offseason," Long said. "And hopefully we can have some more great games with Bethel next year."