Photos by Kevin Nagle
Cameron Murray and Simeon Watson combined for 23 points to lead the[more] Bryant White Hornets of Bryant Middle School to a 36-18 win over the Bryant Blue Hornets of Bethel Middle School in an eighth grade showdown on Thursday night.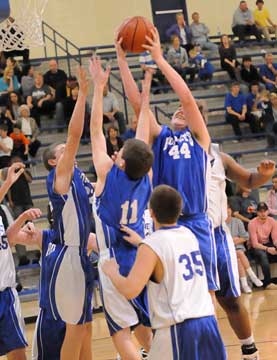 Bryant White put together a second-quarter surge to take control of the game. The run turned a 7-6 edge after the first period into a 21-11 advantage at the half. It was 32-17 going into the fourth quarter.
"I was glad that we could send these guys out with a win," stated Bryant White coach Heath Long. "Most of them have been here for two years and they have worked hard along the way."
Murray finished with 12 points, Watson 11 for Bryant White.
Bryant Blue was paced by Evan Lee's 6 points. Jason Gentry added 4, Tanner Ezell 3 with Logan Allen and Jacob Pipken scoring 2 each. Aaron Orender had 1.
"We shot very poorly," said Bryant Blue coach Derek McGrew. "You cannot win a game scoring 18 points. We shot 5 of 21 from the free-throw line."
Long added, "This group has improved tremendously from where we started. I'm looking forward to seeing what these two groups can do when they come together next year."