By Rob Patrick
With team success, individual success follows.
On Friday, three prime contributors to the Bryant Hornets' second 7A-Central Conference football[more] championship in a row, signed letters of intent to continue their educations on football scholarships in college at Love Auditorium.
Mr. Do-it-all, Dillon Winfrey, a receiver, kick return and cornerback, signed with the University of Central Arkansas in Conway; 1,000-yard rusher Karon Dismuke signed with Southern Arkansas University in Magnolia; and linebacker Marshall Everett signed with the University of Arkansas-Monticello.
"When you look at all three of them, if you go to our weight room and watch us work out, you're going to see those three in there longer, working harder than anybody else we have," stated Hornets head coach Paul Calley. "I think they all thought they could play at the college level. I know they dreamed of playing college football and that's what drove them. They understand what it takes.
"They didn't always have the direction," he added. "They didn't always understand but they were always quick to ask how to do this, how to do that, how can I get here, what else can I do to help me be where I want to be. And I think, having the goal of going to college and playing football, they never wavered and they all got it done."
In pre-ceremony remarks, the coach noted, "The Bryant football program is represented on the football field and in the classroom in every Division II college in Arkansas except for Harding. I think it's a great accomplishment. It speaks volumes about our program and about our kids."
Bryant High School principal Jay Pickering opened the ceremony, saying, "We're here to celebrate three wonderful young men. Marshall, Dillon and Karon are all signing to play college football, which means that all the years of hard work and dedication both in the classroom and on the football field and in the weight room finally paid off.
"This week on Wednesday, I'm sure all of you focused in on the big signing day," he mentioned. "They talked about a gentleman that wound up not signing with Arkansas and they talked about a five-star rating. I'm sure that that young man, and the other young men that signed around the country that were four or five stars, are great athletes but these young men right here are five stars because they have the ultimate character. I'm so proud of them for their accomplishment, of their leadership here at Bryant High School."
All three players wore the colors of their respective schools, Everett in green, Dismuke in blue and yellow, and Winfrey in purple.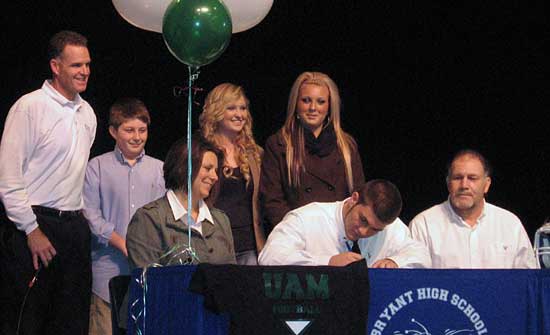 Everett, the new UAM Boll Weevil, signed first.
"Marshall was only with us for one year," Calley told those assembled for the event. "He came to us from Pulaski Robinson and we're certainly glad he did. He was voted team captain by his teammates. He was a leader on defense and he will make a wonderful addition to the University of Arkansas-Monticello's football program."
"I've been talking to UAM since I went to their camp in the summer," Everett said. "I went down for a game this year. They told me there they could probably guarantee they were going to offer me. I've been waiting it out, working hard, training hard, hoping they were going to offer me. I went down there Saturday, the 28th (of January) and they did. And I committed.
"I'm just blessed to be in this position," he added. "I want to give all the glory to God."
"Marshall is a natural leader," Calley said later. "He's always upbeat. He's always pushing himself. He's very intelligent in the classroom and, likewise, he's football smart. He was dedicated to make this happen."
"I talked to Arkansas Tech, talked to UCA a little bit and Henderson," Everett said. "But UAM, they've been there since day one, since before the season."
Asked what the coaches told him their plans were for him, he related, "I'm going to be their number one linebacker signed and, hopefully, I can come in there and I won't have to redshirt and I can contribute to the team as a freshman. That's my goal."
Regarding his move from Robinson to Bryant, Everett added, "It was hard for me coming to a new school my senior year but, when I left (Robinson), my coach didn't really think I was going to succeed on this level, coming from 4A to 7A. I just used that to fuel my fire. I just work as hard as I can every day. I don't regret coming here at all."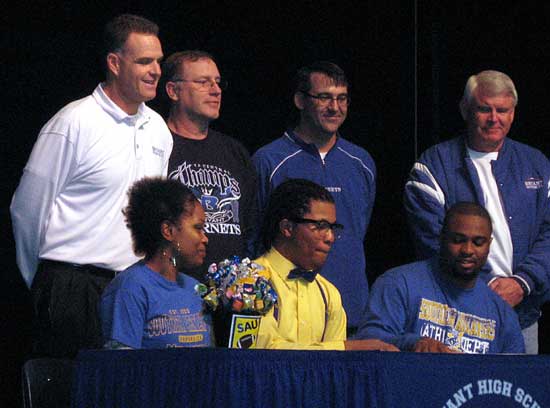 In introducing Dismuke, Calley said, "Karon was paid the ultimate compliment by Southern Arkansas coach Bill Keopple. He said he watched film on running backs from four different states and the best running back that he saw on film was Karon. He said he reminded him of Dennis Johnson. He plays for the Razorbacks and help lead Texarkana to three State championships in Class 6A."
"I visited Henderson, I visited UAM, I visited SAU," Dismuke said later. "I went to all of them. But SAU, I felt I needed to go there. It was like a family down there. They talked about rings and they work hard. I saw one of their practices. I stayed the night with them and I felt like it was family, that I was supposed to be down there."
The Muleriders already have a stable of backs but their latest addition is undaunted.
"They have six running backs but they said I have the potential to come in and get some playing time," he said. "I'm going to come in and work hard and I'm going to try to start as a freshman."
"Karon is one of the most naturally talented kids I've ever had, as far as vision and hands," Calley commented. "He can throw, he can run, he can tackle. We looked at him a lot on defense during the spring and we never really felt like we had to use him but he could've played there. He's just so versatile and he's so physical, getting yards after contact and not running out of bounds and getting those extra two and three yards.
"I've never considered myself a gambler on offense but, if you look back over the last two years, I've probably gone for it on fourth down more than I ever have in my previous seven years combined, because I had him," the coach stated. "I knew he was going to get that tough yard. He was always going to take a hit but he was not going to get hit solid. He was going to slide off and get that extra couple of inches that you need."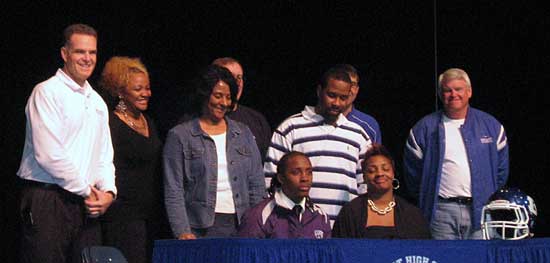 Winfrey and his family were next on stage as he became a new UCA Bear.
"We've never had the University of Central Arkansas come after one of our players like they came after Dillon," Calley said in introduction. "(UCA) Coach (Clint) Conque saw him first hand when we played Catholic. Coach Conque's son was the quarterback for Catholic.
"Dillon visited UCA and loved it," he added. "And they loved him. They said he would be able to play as a freshman, be a punt and kickoff returner and, most likely, start at corner. Once they see him play, he'll probably be playing on both sides of the ball just like he did for us."
After signing, he gave an emotional talk.
"I want to give honor to God first," he told the crowd. "Coming into ninth grade, I was five-feet-even and weighed 130 pounds. This time last year, I was out in the audience just like y'all, looking up here and I got teared up and said, 'One day I'm going to be up there.' So many people said I would not make it but we grinded and we grinded and we grinded. Now, I'm 5-7 and 160 pounds.
"I just want to say thanks to all my coaches," he continued. "My coaches put up with me. I know that was hard sometimes with all I did. They were like dads to me. I love them all. To my teammates, every practice, just keep trying hard. Keep God first.
"I told God if he'd get me this scholarship and I'd get my college paid for, I'd be on my Tebow status and I'll be all about making him look good," Winfrey concluded. "I'd cry myself to sleep many nights saying, 'God, why couldn't I have been six-foot? Why couldn't I weigh just a little bit more, be a little bit faster?' And He told me because then He wouldn't be doing His job. He wouldn't be letting others know that He is God and me making Division I football is showing Himself. So, thank you, Jesus."
Asked whether Winfrey was better on offense or on defense, Calley said flatly, "I can't answer that question. He's got such a burst breaking on the football from a corner position. He can tackle. You can blitz him from the corner. He plays the ball well in the air. He catches the ball well. As a receiver, yards after contact. He's one of the best return men I've ever seen. I can't say that he's better at one than the other. I don't know. I think he'll end up playing both some for UCA."
When asked which he liked to play more, Winfrey answered, "I like receiver more but I'm a better corner."
He has a knack for tackling too, often cutting the legs out from under much bigger players.
"I got run over in a little league game by a big fullback," he recalled. "The coach brought me to the sideline. He said you've got to chop them. He can't go anywhere without his legs. From then forward, if you weren't my size, I hit you low."
Winfrey chose UCA over Henderson, Harding and UAPB.
"I went on an official visit and I fell in love with the campus," he said. "They just got a new weight room. It was nice. The coaches made me feel at home. I just loved UCA. Everything's nice about it."They want me to get in as soon as possible. They're going to bring me up at the end of June. They're going to try to get me bigger. They want me to play corner, kick return and punt return. They say after I develop, gain a little weight and get some years under me, they're going to put me on offense."
Winfrey has been a stellar sprinter for the Hornets track team as well. He provided one of the legs of a school record 4×100 relay team. He plans to run track again this spring.
"I'll be lifting weights trying to get bigger but I'll be running every day so I'm going to grow a little slower," he related. "I'm 5-7 so I need to keep my speed."
Calley recalled when Winfrey first arrived."When he walked through our doors, he knew what he wanted to do," he recalled. "He put in the extra time and he deserves the attention he's gotten. He deserves to play Division I college football."