Photos courtesy of Nikki Funk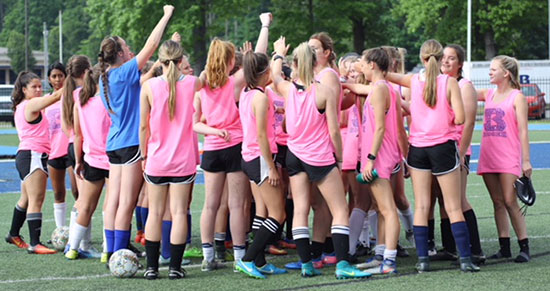 The Bryant Lady Hornets soccer team was struggling a bit when they went to Cabot on April 3. They'd lost two of three matches, heartbreakers against Mount St. Mary Academy and Fort Smith Southside, both at home. To top that off, in the loss to Southside, senior all-conference defender Jad'n Nichols had been injured and it looked like she'd be out for the season.
At Cabot, Bryant suffered a 6-1 loss, by far their worst of the season.
"And we really depended on (Jad'n) in the back," noted Bryant's first-year head coach Nicole Inman. "So, I think, going in against Cabot — then also in that game, MC (midfielder Mary Catherine Selig) was not here either because her plane got delayed. So, she couldn't come in.
"So, it was the first time — we'd been pretty steady on, here's who plays," she explained. "You know, people sub in at certain spots, things go a certain way. Then we also had to maneuver and switch people around. It was just a mental toll a little bit."
The next match, the Lady Hornets drubbed North Little Rock 5-0 and it started a string of 10 wins in the next 11 games, with the lone loss a suspended game at Little Rock Central in which the first half was played on a Friday and, after the lights went out, concluded on Monday.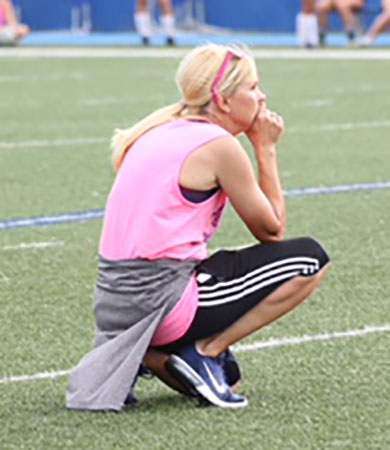 "MC came back and then we kind of realized, 'Okay, we can do this,'" Inman related. "Jad'n's an exceptional player but, we've got four players back there that can do this. So, they just had to kind of get into that adjustment a little bit."
Freshman Jillian Colclasure stepped in for Nichols, joining defenders Rachel Studdard, Abbey Inman and Ashlynn Thompson.
"I'm glad she started getting more playing time just because, next year, she'll be able to be here but, obviously, you didn't want to have to do that at the expense of — I wanted Jad'n to play," Coach Inman said. "She's part of the reason I came here to coach."
That ensuing run of victories has carried the Lady Hornets all the way to the Class 7A State championship game at the University of Arkansas in Fayetteville on Friday morning at 10 o'clock. They'll battled the Rogers Lady Mounties for a State title.
"Rogers, they're going to be a fun team to play just because they are more of a possession-based team, which is what we do," Inman said. "I think they have a coach that knows what he's doing. I don't know that much about him. I've talked to him a couple of times, but he coaches club and does a lot of stuff. They have one play (Skylurr Patrick) who's committed to Purdue next year. They like to feed balls into her and she's kind of their outlet when they get the ball. So, I'm expecting them to continue to do that."
Asked about her own team's development, Inman said, "What they do exceptionally well is just their effort and, finally, an understanding of their positions. We have players who all have good skills and that makes a big difference just individually. And we work so much on skills because I'm a big believer in that. They've bought into what we're doing here and every game we talk about it.
"There were games we didn't do it well," she acknowledged. "There have been games we've won and we didn't play well or we lost and we're like, 'You guys should've come away with this,' but what we worked on didn't come onto the field.
"I believe players play if they know their coach believes in them," the coach stated. "And they know I care about them. At the end of the day, I want them to remember me in 20 years as a person that cared about them and not necessarily this coach that helped them learn how to do X, Y and Z."
Offensively, the Lady Hornets are led by Alyssa Fason, who leads the team in goals. Madison Humbard and Ashton Inman have also scored well, with Humbard leading in assists
Regarding preparations for the finals, Inman said, "Every experience is different. Every game is different. But, you try to just focus on the things that you do well. And the girls know what you're talking about because we've done it and talk about it all the time. So, it's not really a new game, it's really helping them to be able to relax especially when it's a big game like this. But they get nervous a lot. Every time we have a game, they're nervous. So that's good. It won't be anything out of the ordinary."
The Lady Hornets are deep, and the starting group has players from every class, freshman to senior. In fact, when senior keeper Brittney Warner was out with a concussion, freshman Addison Funk stepped in and stepped up.
"I shared with the girls yesterday (Tuesday) — and today I brought in my (medal) when I won State as a high school athlete," Inman related. "Just talking to them about my high school experience and how the year before I played my high school was like 3-12 or 3-18. I mean, we were not good. That was my eighth-grade year.
"My freshman year, we got a new coach and he came in and was like, 'I'm going to play whoever can play and seniority doesn't matter.' The next year we got second in State then we won State. We got third in State. We got second in State. Since then, he's built an exceptional program.
"It's just that belief and understanding that all the girls I picked on this team are capable of getting to the varsity level or I would not have picked them," she continued. "And they have all developed. I'm so proud of them. They have gotten so much better this year. Each player, I can look at them and say they are so much better than they were when we started.
"And, we play soccer, which is so important, especially at the high school level. The game itself gets lost a lot because of just inexperienced players and inexperienced coaching. The girls have just come along a lot and there's a great future for this program because I'm seeing these girls who, at the beginning of the year, it's like they're so far away from being able to play varsity. But, now I'm looking at them and saying, it's so close, they're so close.
"So, I just look at every game and think, who's going to help us as a team," Inman said. "It's not about what year you are but, it's as a team. We have 35 players and we're all in this together. So, if we win, we all win."
And, as far as the State championship game is concerned? "I just want them to enjoy the experience and just take it in and be able to look back and remember the experience that they had and the steps that led up to this point."