CONWAY — When Maggie Hart got a long kick from the left sideline into the net 12 minutes into the second half of the Tuesday's 7A-Central Conference soccer match, the Bryant Lady Hornets had pulled even with the Conway Lady Wampus Cats, 2-2.
A perennial State tournament entry, the Lady Wampus Cats, who made it to the quarterfinals at State last spring, took over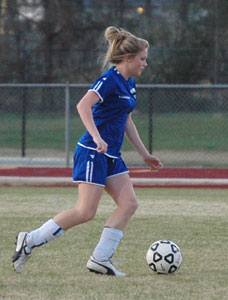 the match at that point, scoring four times down the stretch for a 6-2 win.
Bryant was without starting forward and leading scorer Lindsai Arceneaux due to an injury suffered in the previous match at Russellville, and starting defender
Serenity Gomez, who received a red card at Russellville. The Lady Hornets' starting forward Amber Moskow was at about 70 percent, according to head coach Doug Maxwell, due to an ankle injury suffered at Russellville. And, during Tuesday's contest, they lost defender Grace Oxley to an ankle.
"Unfortunately, several defensive breakdowns in coverage and communication cost us," Maxwell said. "Our youth on the field showed several times when we didn't maintain our composure on the field. There were a couple of times when we had five or six freshmen on the field together, which bodes well for the future."
Amber Moskow scored Bryant's first-half goal off an assist from Haley Montgomery.
"Unfortunately, though, we were out-shot 12-1 in the first half and went into halftime down 2-1," Maxwell mentioned. "We really struggled to find our touch on the ball. It didn't matter how hard we pushed, we were just not able to settle the ball to our feet and find the open player.
"The first half, we battled back and forth on our defensive end and with two starters out on defense we struggled on the back line," continued the coach. "We were only able to make one strong offensive push and we took advantage of it.
"During the second half, our control of the ball didn't improve even though we were able to tie it on Maggie Hart's goal."
The Lady Hornets, 4-3 overall and 1-2 in conference, were set to play at Cabot on Thursday, March 12, before finally getting their second match at home on Tuesday, March 17, against North Little Rock.
"We're hoping to get our first conference road win when we travel to Cabot to play a talented and well-coached Lady Panther team," Maxwell said.