Photos by Andrew Schroeder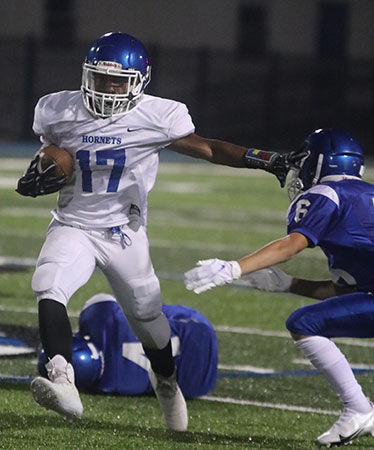 In one of the most thrilling, most hotly contested Hornet Bowls, both Bryant Junior High eighth grade teams scored in the final four minutes. With 1:26 left to play, quarterback Jordan Walker scored from 6 yards out to give the Bryant Blue Hornets a 14-12 lead. The Bryant White Hornets made a bid to answer but penalties and too little time undermined their bid.
White had scored with 3:42 left on a 17-yard run by quarterback Daniel Anderson to take a 12-8 lead.
With the win, Blue remains unbeaten on the season, improving to 5-0 going into next Thursday's game against El Dorado.
Bryant White, which hadn't played a game since Sept. 15, dropped to 2-2. They'll play Little Rock Horace Mann on Tuesday, Oct. 13.
Part of the hotly contested nature of the game was penalties and turnovers. The two teams combined for 19 penalties. White had three turnovers with two fumbles. An interception by each team set up a touchdown apiece.
"First off, Coach (Russell) Wortham and his team played a fantastic game against us," said Bryant Blue head coach Josh Akers. "We weren't able to do much on offense until late in the game."
"I'm proud of how the boys played," Wortham said. "We gave everything we had and just came up short. We are going to watch film and continue to get better."
"My hat goes off to (Blue) Coach (Adam) Belcher and Coach (Eric) Ryan for their efforts on defense," Akers added. "Our defense kept us in the game all night.
"I was very proud of our run game with Jaysean Robinson and J.T. Allen," the coach mentioned. "Those guys ran hard tonight.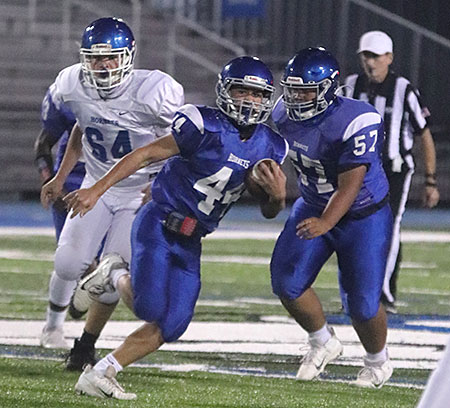 "Bryant White has a great defensive plan and it was one of the best games I've been able to coach in," Akers concluded. "Very proud of our entire team and their persistence and determination to win."
The White Hornets stunned Blue early with a 68-yard touchdown pass from Anderson to Tristan Knox. A try for two failed but with 2:25 left in the first quarter, White had a lead.
It came after White had stalled in its first possession and, when a bad snap on the punt occurred, Knox had to run for it, coming up just shy of a first down.
So, Blue took over just 33 yards away from paydirt. A false start penalty hampered their effort. Then Anderson tackled Robinson for a loss. On a fourth-and-14, Allen was only able to pick up 6 so Blue turned it over on downs.
After scoring the touchdown, Knox nearly intercepted a pass from Walker. The drive resumed and behind the running of Robinson and Walker, Blue reached the White 31.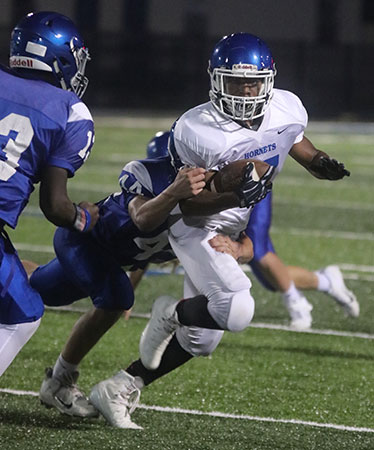 But another penalty knocked them off schedule. White's Cairo Terry stopped Walker for a loss on third down and Blue wound up punting.
From their own 14, White picked up a first down but suffered a holding penalty then a false start that had them in a third-and-17 hole at the 20. Anderson's pass was intercepted by Karter Ratliff at the 39 and returned to the 11. With a horse-collar tackle penalty added on, Blue set up shop on the 5. Robinson scored from there.
And when Walker threw to Ryan Reynolds for the two-point conversion, Blue led 8-6.
As it turned out, that conversion proved to be the difference in the game. It was the only one either team would make.
Late in the half, Robinson broke a 39-yard run to get Blue to the White 15. A holding penalty a play later and clutch tackles by Myron Thrash and Derrick Jones sent the game to halftime.
Both teams benefitted from 15-yard penalties on their initial drives of the second half, but both stalled out. Reynolds and Allen made key stops for Blue, one of many in the game by Allen.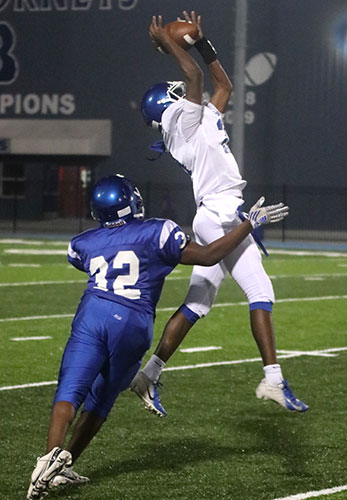 Still, the White reached the 10 thanks to strong runs by Anderson and Thrash. Facing a fourth-and-seven at the 10, White went for it only to have fumbled snap that Braxton Speer covered for Blue with a minute left in the third quarter.
But the White defense stepped up. Both teams benefited from penalties on the next Blue drive, which concluded with a punt.
But the kick by Walker was touched by a White player at the 18 and recovered by Bryant Blue.
A play later, however, Knox intercepted a Walker pass and returned it to the Blue 33.
Thrash crashed for 16 yards then Anderson scored from 17 yards out. A try for two failed leaving White ahead 12-8 with 3:42 left in the game.
A short kick gave Blue possession at its 40. To that point, it had been a rugged night for Walker throwing the ball. He had completed just one of 11 throws. But, on first down, he completed a 35-yard pass to Allen to get his team in scoring position.
From the 25, Allen ran for 9 yards but a second-down pass from Walker to Ratliff lost 3 yards thanks to Darrell Moore. A third-down pass fell incomplete, setting up a fourth-and-4 at the 19.
Walker kept, broke outside and picked up a first down at the 11 with 2:04 to play. Robinson powered to the 6 and Walker took it in from there. A try for two failed but Blue had the 14-12 lead.
With just one timeout left, White started its final possession at its 27. Anderson threw to Nick Baker for 5 yards then Baker, running from quarterback, scrambled for 16 yards to the 48.
A false start with :30 to go was followed by a bad snap to Baker, who scrambled once again, for just 4 yards only to have a holding penalty cost White. With time for one more play, Baker threw incomplete and Blue held on for the victory.