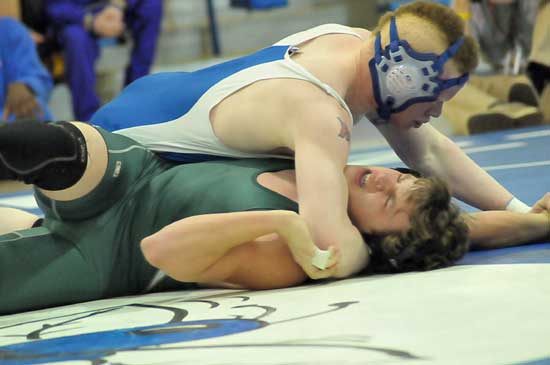 Photos by Kevin Nagle
O'Dell Lee earned top honors in the 189-pound division to lead the Bryant Hornets wrestling team to[more] a fourth-place finish at the first Central Arkansas 7A Conference Wrestling Classic at the Bryant Middle School gym.
Conway took top team honors with 233 points followed by Cabot with 123, Little Rock Central (119) and Bryant (102). Van Buren was fifth (100) followed by Catholic (70), Russellville (69) and North Little Rock (24).
Bryant's Brandon Powell finished second in the 112 Division. The Hornets' Brett Blend (135), Conner Goshien (140) and Levi Brady (160) each took third in their respective divisions with Alex Hughes (125), Harley Burks (145) and Austin May (171) each finished fourth in their weight classes.Zach Simmons (119) and Chris Baldwin (130) also competed for the Hornets.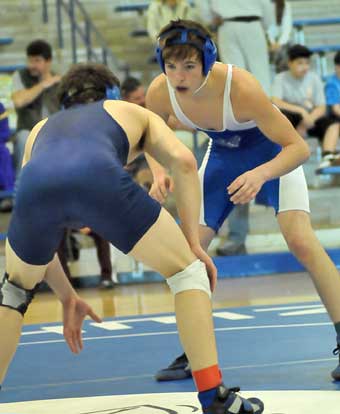 A total of 86 wrestlers participated in the event in preparation for the third annual State High School Tournament being held next Friday and Saturday at the UALR Jack Stephens Center.
Lee won his division over Cabot's Nick Ramsey in the final with a pin at the 5:17 mark. To get to the final after receiving a first-round bye, Lee defeated Lucas Ardemagni of Van Buren with a pin at the 5:32 mark.
Powell also had a bye in the first round before ousting Dylan Watts of Conway. In the final, Si Nhamouane of Van Buren prevailed three falls to two.
Blend pinned his first-round opponent Marlin Cuevas of Russellville at the 3:48 mark but then was pinned in the semifinals by Kyle Wheeler of Cabot at 5:37. He cam back in the consolation bracket to knock out John Traylor of North Little Rock and T.J. Ruth of Conway to earn third place. Wheeler wound up second after falling to Dylan Arnall of Little Rock Central in the final.
Goshien defeated Clifton Egle of Catholic before running into Jaxson Myers who went on to lose to Henry Reyes of Russellville in the finals. Goshien came back to best Jeremy Stiffle of Central and Sean Palmer of Cabot to take third.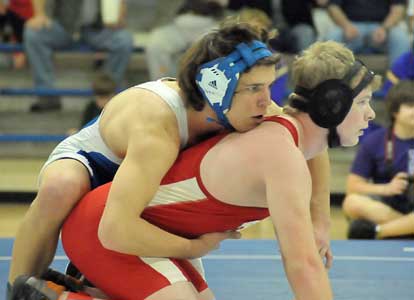 Brady started with a pin of Ke'air Powell of North Little Rock before running into Dakota Lewis of Van Buren. While Lewis went on to fall to Seth Bell of Cabot in a three overtime final, Brady defeated Marcus Williams of Central and Skyler Thompson of Conway to finish third.
May opened competition by defeating Brice Wall of Central. He then was knocked into the consolation round by eventual champion Camaran Azumara of Conway. Azumara outlasted Hunter Cox of Catholic in the championship bout. May returned to oust Jason Yount of Cabot but was pinned by Cholile Campbell of North Little Rock in the third-place bout.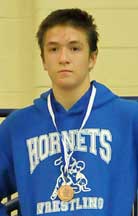 In the 145 weight class, Burks defeated North Little Rock's Cortez Miles in the first round. Tyler Mann of Little Rock Central, however, sent him to the consolation bracket. Mann would go on to lose to Corven Alexander of Conway in the final. Burks beat Cordell Casey of Russellville but lost to Seth Roberts of Cabot in the third-place match.
The 125 weight class only had four entries. Hughes lost to eventual champion Elliott Lusby of Conway in the semifinal then fell to Ben Mendillo of Central in the third-place match.
Baldwin fell to Cabot's Kyle Wilson then to Van Buren's Jonathan Haywood who went on to take third in the 130 class. Simmons won his opening bout with Catholic's Joseph Flowers but then ran into eventual champion Conner Lusby of Conway in the second round. In a consolation round match, Simmons was derailed by Michael Coliron of Van Buren.
By weight division, here were the winners:
285-pounds
1. Hal Hoggard, Conway
2. Keidrick Usifo, LR Central
3. Dillon Kinsey, Van Buren
4. Heath Pledger, Cabot
215-pounds
1. David Fulford, Conway
2. Kyle Stugeon, Cabot
3. Matt Brumett, Van Buren
4. Lamar Miller, North Little Rock
189-pounds
1. O'Dell Lee, Bryant
2. Nick Ramsey, Cabot
3. Trent Schulthies, Conway
4. Lucas Ardemagni, Van Buren
171-pounds
1. Camaran Zaumara, Conway
2. Hunter Cox, Catholic
3. Cholile Campbell, North Little Rock
4. Austin May, Bryant
160-pounds
1. Seth Bell, Cabot
2. Dakota Lewis, Van Buren
3. Levi Brady, Bryant
4. Skyler Thompson, Conway
152-pounds
1. Bryant Cuevas, Russellville
2. Morgan Shiew, Conway
3. Chris Baldwin, Van Buren
4. Chris Novaek, Cabot
145-pounds
1. Corven Alexander, Conway
2. Tyler Mann, LR Central
3. Seth Roberts, Cabot
4. Harley Burks, Bryant
140-pounds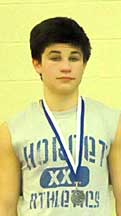 1. Henry Reyes, Russellville
2. Jaxson Myers, Conway
3. Conner Goshien, Bryant
4. Sean Palmer, Cabot
135-pounds
1. Dylan Arnall, LR Central
2. Kyle Wheeler, Cabot
3. Brett Blend, Bryant
4. T.J. Ruth, Conway
130-pounds
1. Tanner Mann, LR Central
2. Tanner Branscum, Conway
3. Jonathon Haywood, Van Buren
4. Kyle Wilson, Cabot
125-pounds
1. Elliott Lusby, Conway
2. Jack Farrara, Catholic
3. Ben Mendillo, LR Central
4. Alex Hughes, Bryant
119-pounds
1. Conner Lusby, Conway
2. John Luken, LR Central
3. Michael Coliron, Van Buren
4. Douglas Pherson, Russellville
112-pounds
1. Si Nhamouane, Van Buren
2. Brandon Powell, Bryant
3. Dylan Watts, Conway
4. Tanner Elmore, Catholic
103-pounds
1. Colin Chamber, Catholic
2. Jesse Johnson, Russellville
3. Conner Aist, Conway
4. Drake Johnson, LR Central