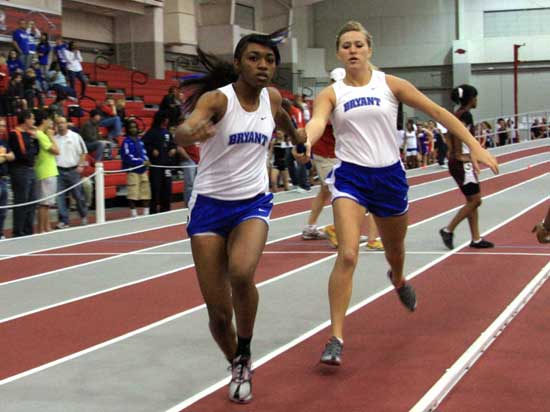 FAYETTEVILLE — Junior Brianna White, a volleyball standout running track for the first time for Bryant High School, and sophomore Alexis Royal combined for[more] 19 points to lead the Bryant Lady Hornets to a seventh-place finish in the 2011 State Indoor Track championship Saturday.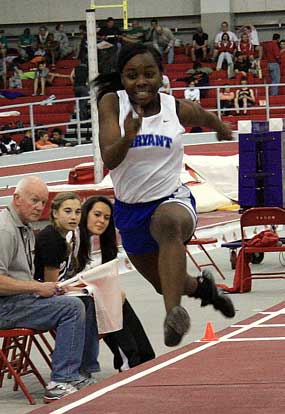 Bentonville was the repeat champion at the meet, which featured 25 teams, held at the Randall Tyson Track Center on the campus of the University of Arkansas. Cabot, a 7A-Central Conference squad, finished second, beating out Fayetteville. Bentonville finished with 95 points, Cabot 75 and Fayetteville 74. Bryant finished with 28 points.
Royal earned All-State recognition for her third-place finish in the triple jump. Her coverage of 35 feet 3 inches fell just short of the Bryant school record of 35-4 ½ held by Jessica Norris Bollen.Royal was also sixth in the 60-meter hurdles with a time of 9.94.
White and freshman Leah Ward each had fourth-place finishes, narrowly missing out on All-State status. Ward leapt 16-7 ½ to finish fourth in the long jump. White, meanwhile, took fourth in the 200-meter sprint with a time of 26.5. She was sixth in the 60-meter dash in 8.16 and joined Lauren Stiles, Melinda Murdock and Bailee Seelinger on the 4×400 relay, which finished sixth in 4:26.3.
"I thought Brianna White and Alexis Royal had a really good State meet," stated Lady Hornets coach Danny Westbrook. "Leah Ward, one of our many freshmen competing today, really looked good as well in the long jump."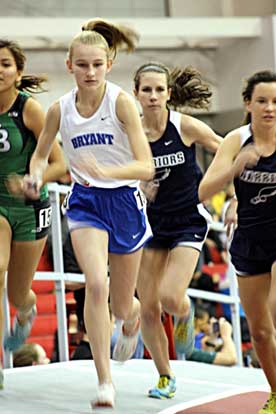 Hannah Raney also earned a medal for finishing in the top 8. Her 12:20.8 in the 3200 meter run was good for eighth. She also contributed a leg to the 4×800 meter relay team which finished seventh in 10:44.1. She was joined by Marley Adams, Stacy Emmerling and Stacie Waite.
"With the youth and inexperience we have this year, I am pleasantly surprised with our seventh-place team finish," Westbrook stated. "Going into the meet, I thought a top 10 finish would be good for us. We have a huge amount of good, young talent on this team and I feel like next year we can contend for the title in this meet."
The Lady Hornets will open the outdoor season on March 8 with a practice meet at Conway. Their official opener will be March 17 when they host the annual Hornet Relays. The freshmen will open their season on March 8 with a meet at Greenbrier then host a meet on March 15.