Editor's note: This is a regular feature profiling senior athletes at Bryant High School.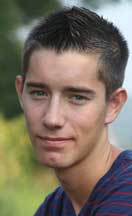 NAME: Jordan Combs
PARENTS: Jeff and Julia Combs
SIBLINGS: Justin, 14
FAVORITE SUBJECT IN SCHOOL: All Science classes
FAVORITE SPARE TIME ACTIVITY: Anything to do with water (wake boarding, swimming, scuba diving, boat riding)
FAVORITE FOOD: Chicken Enchiladas.
FAVORITE MUSIC ARTIST OR GROUP: None
FAVORITE MOVIE: I like too many to have a favorite
FAVORITE TV SHOW:[more] Castle
WHAT ARE YOUR PLANS AFTER HIGH SCHOOL? Attend the University of Arkansas, major in Animal Sciences and continue to vet school
OTHER THAN YOUR PARENTS, WHO'S HAD THE BIGGEST INFLUENCE ON YOUR LIFE? HOW? Many people have influenced my life, and it's not fair to choose one.
WHAT'S YOUR FAVORITE THING ABOUT SWIMMING? The ability to be under water so you can't hear people yelling and cheering for you during your race.
EVENT(S): 1 meter diving, 200 IM, and 500 free.
APPROACH TO YOUR EVENTS? Don't stress about it. I know as long as I try my hardest, everyone is happy.
WHAT DO YOU THINK OF THE SEASON SO FAR? It has gone good.WHAT'S BEEN THE HIGHLIGHT TO THE SEASON SO FAR? Becoming a diver, moving to our new pool at Bishop Park
WHAT'S IT GOING TO TAKE FOR THE TEAM TO BE SUCCESSFUL THE REST OF THE SEASON? Everyone to continue to keep working hard and keep doing their best.
TALK ABOUT YOUR SWIMMING NOW; WHAT ARE YOU MOST CONFIDENT IN YOUR ABILITY TO DO? Any of the strokes. I have the ability and proper technique to excel in any stroke.
WHAT DO YOU WORK HARDEST TO IMPROVE ON IN PRACTICE? My dives.
WHEN YOU'RE THROUGH SWIMMING FOR BRYANT HIGH SCHOOL, WHAT DO YOU THINK YOU'LL LOOK BACK AND REMEMBER MOST FONDLY ABOUT THE EXPERIENCE? All the wonderful friends I have made through the years, and all the things we have accomplished as a team.