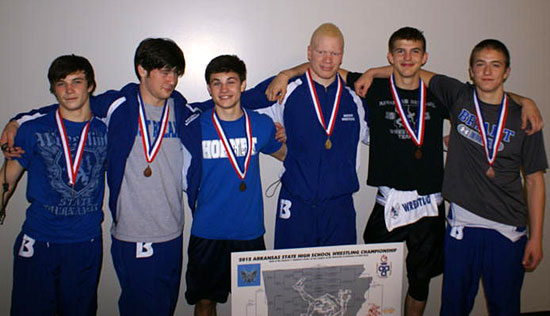 LITTLE ROCK — Bryant senior O'Dell Lee repeated as State champion in the 195-pound weight[more] class at the 2012 Arkansas High School Wrestling championship held at UALR's Stephens Center on Saturday.
In addition, senior Brandon Powell finished as runner-up in the 120-pound division. Zach Simmons, Brett Blend and Levi Brady finished fourth in their respective weight classes and Connor Goshien finished fifth in the 160-pound division.
Springdale Har-Ber won the Class 7A/6A team title with Little Rock Central second, Bentonville third, Rogers fourth and Cabot fifth. Bryant was sixth among the 20-team field.
Lee had reached the semifinals on Friday. On Saturday, he defeated Justin Eakes of Jonesboro to advance to the finals where he won by a pin at the 2:59 mark over Har-Ber's Nick Smith.
Powell qualified for the finals on Friday but then ran into Rogers' Jake Humphries in the title match on Saturday, losing a heartbreaker in overtime.
Brady, competing in the 170-pound category, had reached the semifinals on Friday as well. Returning Saturday, he was defeated by decision by Bentonville's Andy McDowell. Brady came back in the consolation round to win in overtime against Fort Smith Southside's Khalil Kimble. But, in the third-place match, Har-Ber's Luke Hanson prevailed by decision.
Blend, who lost in the quarterfinals of the 145-pound division on Friday, defeated Colton Stewart of Rogers Heritage by decision in his first consolation match on Saturday. He reached the third-place match by injury default as Russellville's Andrew Elam had to withdraw. By decision, Nick Mulcahy of Rogers defeated Blend for third.
A similar scenario unfolded for Simmons who had lost in the quarters of the 132-pound class on Friday. On Saturday, he won by technical fall over Jonesboro's Beau McCarty then decisioned Bentonville's Logan Visser and Conway's T.J. Ruth to reach the third-place match. He fell there by decision to Russellville's Douglas Pehrson, the same foe he had faced unsuccessfully in the quarterfinals.
Goshien (160-pound class) had been knocked into the consolation round on Friday after losing in the quarterfinals but he pinned Kali Marty of Springdale and Deontae Murphy of Jonesboro to reach the consolation semifinals. There he lost a decision to Catholic's Seth Segovia. He came back to win the fifth-place match over Fayetteville's Evan Daly.
Blake Parker, in the 285-pound weight class, didn't wrestle until Saturday. He was pinned by Van Buren's Derrick Woosely after receiving a first-round bye. In the consolation round, he was pinned by Springdale's Drake Kendrik.
Chris Baldwin, who had won a consolation match on Friday in the 138-pound class, came back on Saturday only to fall to Bentonville's Austin Rull-Cochrane.
Drew Allen, Colton Caviness, Matt Mears, and Ben Freeman completed their State competition for the Hornets on Friday.