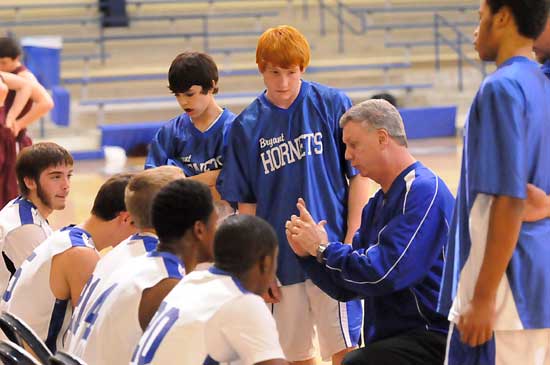 By Rob Patrick
Photos by Kevin Nagle
Through three quarters and half of the fourth, the Benton Panthers freshman team[more] managed just one field goal against a stifling Bryant Hornets defense on Saturday in the first round of the Central Arkansas Junior High Conference tournament.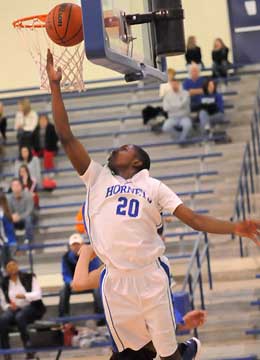 The Panthers didn't reach double digits in scoring until Stone Paul hit a 3 pointer with 3:20 left in the game. By then the top-seeded Hornets had built a 29-9 lead on the way to a 38-15 victory.
The Hornets advance to the tourney semifinals to play Little Rock Catholic, a team they lost to twice in the regular season.
"We really played good defense tonight, holding them to 15 points," acknowledged Hornets coach Jim Pennington. "That's what we've been stressing this week. We have really worked hard on it and we played with a lot more intensity I think, for the most part. We rebounded better. The offense might've suffered some because of that because we did stress defense all week because of how we've been playing lately.
"It's a good win," he added. "You've got to win the first one before you get to play again this time of year. We're looking forward to playing Catholic. It's hard to beat a good team three times in a year and we are a good team. Our guys, I promise you, will be ready to play against Catholic. They're ready to go."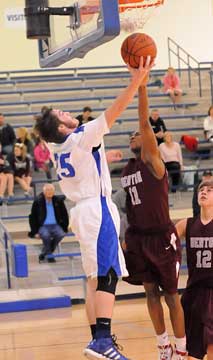 J.C. Newborn led all scorers with 17 points but the Hornets' leading scorer on the season, K.J. Hill was limited to 3, though he assisted on many of his teammates' baskets. Brandan Warner and Ryan Hall finished with 6 each. Hall collected a game-high 12 rebounds including five on the offensive end as the Hornets out-boarded the Panthers 32-26.
Paul finished with 11 of Benton's 15 points with two late 3's and 5 of 7 free throws.
For the game, the Panthers converted just 3 of 31 shots from the floor (10 percent).
Both teams got off to a halting start. On free throws by Newborn and Hill, it was 4-0. A free throw by Paul with 1:31 left in the opening quarter, however, proved to be the only point the Panthers would get before the first break.
John Winn knocked down a 3-pointer and Hill added two free throws to make it 9-1 going into the second quarter.
Neither team scorched the nets in the second quarter. Benton's only points came on that lone field goal, a baseline jumper by Nathan Humble. But the Hornets only added three free throws, one by Newborn and two by Hall to take a 12-3 lead into the locker room.
"We missed a lot of opportunities early, missed some layups and things and misread some things offensively," Pennington noted. "The third quarter, we got going. But when you hold someone to 3 points in the first half even though your offense isn't clicking very well, you've still got a shot."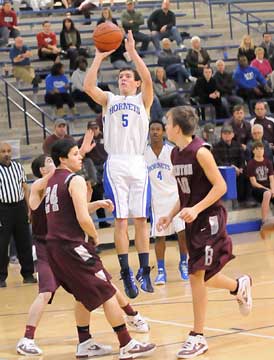 A 15-3 run by the Hornets produced their 20-point lead. It was 14-6 when the run began. Newborn made a steal and drove to the other end, scored and was fouled. Though he missed the mark on the free throw, another Panther turnover resulted in Newborn converting a reverse layup.
Moments later, Hill fouled Newborn for a layup and a 20-6 lead.
After a Benton timeout, Paul got to the line and converted twice but before the quarter was through Warner drained a 3 to make it 23-8 going into the fourth.
Braden Warhurst hit a free throw for the Panthers to start the final period but Hall scored inside and, after Newborn converted a pair of free throws, he took advantage of a Benton turnover by hitting an off-handed scoop shot to make it 29-9.
After Paul ended Benton's field goal drought with a 3, Warner answered in kind. Two free throws by Brett Fisher gave the Hornets their largest lead of the game at 36-12.
Paul hit another trey and Hall followed his own miss for a final bucket.
JUNIOR HORNETS 38, JUNIOR PANTHERS 15
Score by quarter
Benton 1 2 5 7 — 15
BRYANT 9 3 11 15 — 38
JUNIOR PANTHERS 15
Hart 0-0 1-2 1, Spivey 0-5 0-0 0, Warhurst 0-2 1-2 1, Kirby 0-3 0-0 0, Patterson 0-5 0-0 0, Paul 2-7 5-7 11, Jones 0-4 0-0 0, Humble 1-1 0-0 2, Baker 0-3 0-0 0, Smith 0-1 0-0 0. Total 3-31 7-11 15.
JUNIOR HORNETS 38
Hill 0-6 3-4 3, Winn 1-3 1-2 4, Warner 2-8 0-0 6, Newborn 6-12 5-9 17, Hall 2-7 2-2 6, Withers 0-0 0-0 0, Green 0-0 0-0 0, Fisher 0-0 2-2 2. Total 11-36 13-19 38.
Three-point field goals: Bryant 3-8 (Warner 2-4, Winn 1-3, Hill 0-1), Benton 2-14 (Paul 2-7, Patterson 0-3, Spivey 0-3, Jones 0-2, Baker 0-1). Rebounds: Bryant 32 (Hall 12, Newborn, Hill 5), Benton 26 (Patterson 8). Turnovers: Bryant 8, Benton 13. Team fouls: Bryant 7, Benton 16.