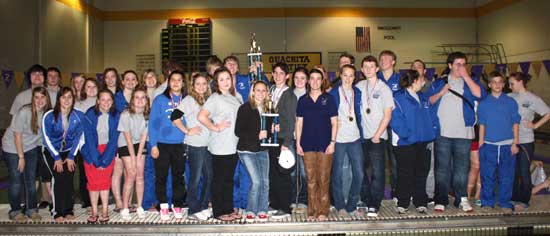 ARKADELPHIA — For the third year in a row, the Bryant High School swim team took team honors at[more] the South District championship swimming and diving meet at Ouachita Baptist University Saturday.
The Lady Hornets accumulated 520 points to top the field of eight teams. El Dorado was second with 284.
The Hornets totaled 430 points with Magnolia second with 291.
"I am very proud of my Hornets and Lady Hornets," said Bryant coach Angel Dale.
Jinson Kang won two events for the Lady Hornets and supplied a leg on another on a relay. Lindsey Butler and Alise Heavrin also won individual events with Butler joining Kang, Courtney Wells and Emily Dabbs in the 200 yard medley relay which won with a time of 2:08.39.
Kang captured the 200 yard freestyle in a time of 2:06.98 and the 500 free in 5:40.91. Butler's win came in the 100 backstroke in 1:04.41 while Heavrin captured the one-meter dive competition with a score of 247.0.
For the boys, Spencer Qualls won an individual event for the boys with a 7:02.03 in the 500 free. In addition, the quartet of Dylan Rogers, Jake Tipton, Hayden Stewart and Casey Ball won the 400 freestyle relay with a time of 4:05.01.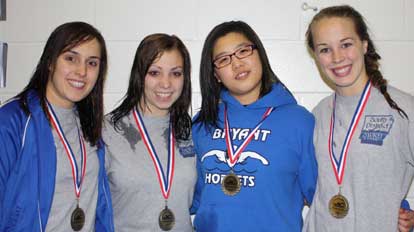 The Lady Hornets cleaned up in the diving competition, taking the top four spots. Along with Heavrin, Courtney Buthius was second, Morganne Gillespie third and Tiffany Robinson fourth.
Butler added a second-place finish in the 100 butterfly with a time of 1:09.13. Dabbs was fourth (1:14.93) Devin Hester sixth (1:23.76) and Lauren Wood seventh (1:33.59).
Joining Kang in the 500 free, the Lady Hornets had Wells finishing third in 6:53.32. Jordan Martin was fifth (6:53.81) and Shelby Burchfield seventh (7:34.08).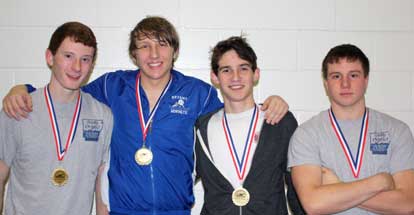 The Lady Hornets were second in the 400 free relay. Burchfield, Deidra Reeves, Mikayla Douglas and Hester combined on a 5:36.01.
With Kang in the 200 free, Burchfield was sixth in 2:44.50, Douglass seventh at 2:45.72 and Reeves 11th with a time of 3:37.49.
In the 100 back scoring behind Butler were Mollie Robinson who was ninth in 1:29.68 followed by Catarena Falco in 10th with a time of 1:32.88 and Reeves 11th in 1:46.11.
Dabbs and Sarah White added to the Bryant score in the 50 free. With a time of 28.73, Dabbs placed fourth. White's 30.11 was good for 11th.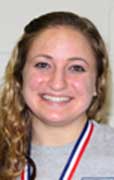 Hester led a group of four Lady Hornets who scored in the 200 individual medley. She was fifth, finishing in 3:00.46 with Lauren Wood sixth (3:05.56), Mollie Robinson eighth (3:17.09) and Falco nine (3:23.95).
White led a Bryant foursome in the 100 free. She was fifth in 1:08.67 with Douglas ninth in 1:14.82 followed by Kaitlin Howey (12th, 1:18.11) and Jordan Tarvin (13th, 1:21.92).
In the 100 breaststroke, Wells led a quartet of scorers for the Lady Hornets. She was sixth in 1:32.47 with Gillespie eighth in 1:34.53, Tiffany Robinson ninth in 1:34.69 and Jordan Martin 10th in 1:37.55.
To cap off the Lady Hornets' scoring, White, Mollie Robinson, Wood and Wells combined on a time of 2:25.46 in the 200 freestyle relay. They finished in 2:06.21 to place fifth.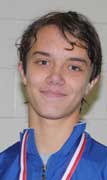 Hornets' swimmers finished second in five events including the 200 IM relay. Ball, Rogers, Stewart and Tipton combined on a 2:01.31.
The individual second-place finishes were turned in by four different Hornets, Nick Hoffpauir in the 200 free (2:21.96), Rogers in the 200 IM (2:27.01), Scott Mead in the 100 back (1:15.07) and Justin Combs in the one-meter dive (250.70).
Hornets were also third in three of those events. In the 200 free, Hoffpauir was followed by Ross Grant in third with a time of 2:24.31. Qualls was fourth (2:29.79) and Ryan West sixth (2:45.36). West was third behind Mead in the 100 back (1:25.93) and Mead finished third behind Combs in the one-meter dive (226.0) with Lucas Reitenger fifth (145.50).
Following Rogers in the 200 IM was Stewart, who was fourth in 2:45.44, and Jim Dellorto, who was fifth in 2:51.09.
Andrew Ball, Hoffpauir, Dellorto and Grant also combined to finish third in the 200 freestyle relay. Their time was 1:55.66.
Individually, Grant picked up fourth-place points in the 100 free (1:00.46) with Tipton sixth (1:00.91). Stewart, Rogers and Dellorto finished fifth, sixth and seventh, respectively in the 100 butterfly. Stewart's time was 1:04.81, Rogers turned in a 1:05.31 and Dellorto finished in 1:21.71.
Andrew Ball was fifth and Combs eighth for the Hornets in the 100 breaststroke. Ball's time was 1:24.23 with Combs touching in 1:28.70.
Casey Ball led a four-man scoring contingent in the 50 free, finishing fifth in 25.82. Tipton was 10th in 26.29 with Andrew Ball 14th (27.29) and Reitenger 16th (30.19).
The Bryant teams will wrap up the season with the State competitions. The diving meet will be held on Feb. 24 with the swim meet the next day. Both will be held at UALR.