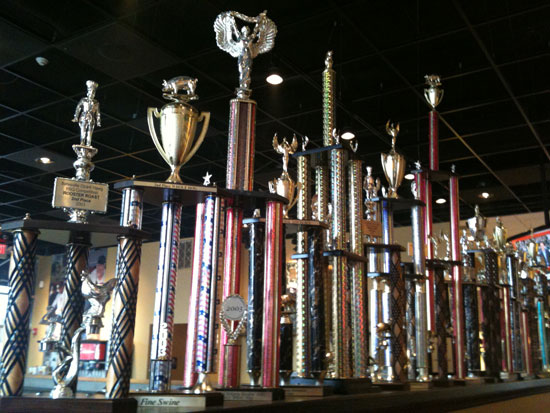 By Jennifer Joyner
Throughout Arkansas, the Whole Hog Cafe brand name has become synonymous with[more] delicious barbecue. And, now, they serve up their World Champion recipes to the people of Bryant. The restaurant, located at 5309 Hwy 5 North, opened Dec. 20 and has been bustling ever since.
"The people have been patiently waiting," said co-owner and co-founder, James "Sarge" Davis.
For years, Bryant residents experienced Whole Hog barbecue at restaurants throughout the state – including five in Central Arkansas alone – and heard radio advertisements during Razorback football games, so they were familiar with the product, said co-owner Chris Maynes. Now, in the midst of Bryant's surging growth, the restaurant has found it's way to the new location, and "the community has given us a great, enthusiastic welcome," Maynes said.
There have been numerous inquiries from residents about a possible Bryant location for the Arkansas-based barbecue chain, which has been voted "Best BBQ" 11 years in-a-row in the Arkansas Times Readers' Choice Awards and awarded best barbecue four years in-a-row by the Arkansas Democrat-Gazette, since Davis and his partners opened up the first restaurant in 2000.
It all started in the late 1990s, when, after 20 years serving in the military, Davis retired and became the leader of a nationally competitive barbecue team. Soon, he met and became friends with contest judges Ron Blasingame and Steve Lucchi, who also hailed from Arkansas and shared his "passion for good 'Q."
"They saw me goofing off all day, eating barbecue and drinking cold beer," Davis said, and they decided to collaborate to form a team, which they dubbed The Southern Gentlemen's Culinary Society.
As the team traveled the country, accumulating awards, the people back home were always excited for them to return, so they could sample the barbecue and see how they fared in the competitions.
The group decided to capitalize on the public's appreciation for their carefully selected Brooklyn dry rub and high standards of "taste, tenderness and consistency," and began to vend their food out of an old (Davis believes it was from 1968) Airstream travel trailer. Soon, they opened up a shop on Cantrell Road in Little Rock, and the rest is history.
With experience winning and placing in many championships, including earning several first place trophies for best Whole Hog at the Memphis-in-May World Championship, the group had plenty of practice and made it their mission to bring the world's best barbecue to the masses. Their goal was that "everyone has the same experience a championship judge would," Davis said.
The concept seems to have caught on. The Cantrell Road location enjoyed incredible success. Whole Hog Cafe is now up to 12 restaurants so far – and not just in Arkansas. There are locations in New Orleans; Alburquerque, N.M.; Santa Fe, N.M.; and Springfield, Mo. It is listed by Fodor Travel Guide as one of five restaurants not to miss as you travel through Arkansas.
The next move, in 2012, is to franchise the business throughout the country, and they are using the Bryant location as the model restaurant for the franchise.