By Rob Patrick
Photos by Rick Nation
NORTH LITTLE ROCK — In the late 1980's, the Bryant Lady Hornets put together a[more] 60-game winning streak. This year, the North Little Rock Lady Charging Wildcats are making a bid to match that.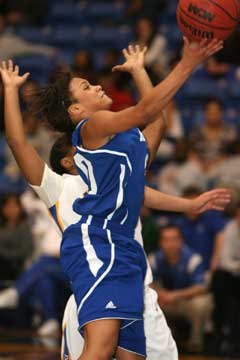 It would've been sweet irony had the Lady Cats been denied their 57th straight victory by the current edition of the Bryant Lady Hornets when they met on Tuesday night.
But it was not to be.
Bryant, which had played North Little Rock as tough as anyone when they played at the Hornets Nest on Jan. 25, was within 9 points late in the first half only to see the Lady Cats put together a 20-4 run that put the Lady Hornets in a 25-point hole they would be unable to dig out of.
North Little Rock eased to a 67-45 win that made them 26-0 overall and 13-0 in the 7A/6A-Central Conference. If they win Friday at Van Buren then go on to capture their second straight Class 7A State title, they'll have topped that Bryant streak, reaching 61 in a row.
Bryant fell to 17-8 overall and 4-8 in league play. The Lady Hornets are still in position to secure a trip to State with two games left, both at home. Mount St. Mary Academy visits Thursday then Little Rock Central comes in for the regular-season finale on Friday.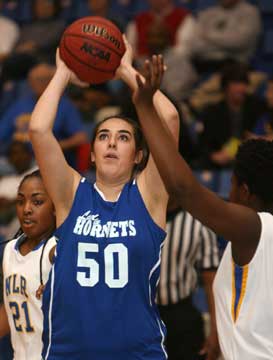 "You kind of pick your poison on what they can do," commented Bryant head coach Blake Condley. "They've got really good post players that are aggressive, that rebound like crazy so you try to pack it in and then you have a girl hit a 3 from the K out here in North Little Rock so you have to spread out and guard them."
The Lady Cats are deep, quick, big, strong — you name it. They're the class of the State. And though it may appear to opponents that they get by with a lot of things and almost always get the benefit of the doubt, the fact is they're so good they make a lot of their breaks.
So, the Lady Hornets were basically like every other team on North Little Rock's schedule over the last two years. They took their shot and now must concentrate on the last two games and State.
"I was more concerned with us tonight," commented Condley.
That concern was the result of a 55-35 loss at home against Russellville the night before.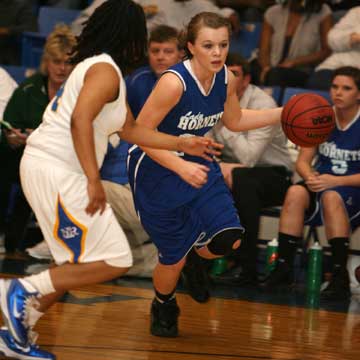 "How we were going to come out, what kind of energy and intensity we would have," he pondered. "And I thought it was much better than it was last night. I told the girls that if we can consistently play like that, we can become a good team. But night's like (Monday) set us back to where we don't come in with much confidence tonight. I think that played a big part in what we were doing.
"We've got to try to carry some confidence over to Thursday to be able to beat Mount then move on from there," the coach concluded. "But we've got to get our confidence back and we've got to be playing the way that we're capable of playing and not worry about what everybody else is doing."
Several of the Lady Hornets came out for the game wearing different numbers than usual. They had traded jerseys in a show of solidarity.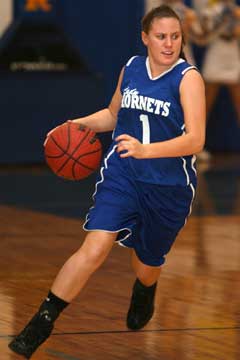 "That was all on the girls," Condley related. "They came to me before the game, asked if I objected to it and I told them it was fine with me. They wanted to think, 'Hey, I'm playing for this girl or that girl, for my teammates,' to try to give them a little extra motivation while they were out there."
But the Lady Cats opened the game with a 15-3 run that included 7 points from post player Lexus Williams. Bryant's Breanna Blundell, who scored her team's first 5 points, cut into the lead with 1:07 left in the quarter. And when Callie Hogancamp scored off an offensive rebound at the buzzer, Bryant was within 15-7.
Kayla Brown hit two free throws and Kiara Moore answered with a driving layup to keep the Lady Hornets within 8. A 3-pointer by Kapricia Slocom and a basket inside by Alex Hale expanded the lead to 22-9 before Abernathy and Moore drained back-to-back 3's to get the Lady Hornets within 7 at the 5:03 mark.
But that was as close as they would get. An 8-0 run had North Little Rock up 30-15. Blundell and Jerica James traded free throws then free throws by McKenzie Adams and a basket from the corner by Blundell trimmed the margin to 11. James interrupted Bryant's rally but Adams answered with a layup and Abbi Stearns converted a pair of free throws and the Lady Hornets trailed by just 9. But Hale scored inside and later added a free throw to make it 37-25 at the half.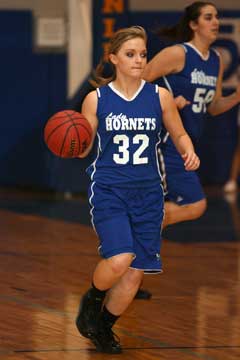 The Lady Hornets were still in striking range at that point.
They had chances to get closer early in the third quarter. But turnovers undermined their first two possessions. North Little Rock's Xena King missed on a 3-point try and Blundell rebounded. At the other end, Blundell launched a 3-point shot that did everything but fall into the hoop. Adams rebounded but before the Lady Hornets could get another shot, Brown made a steal and Williams scored as she was fouled with 5:51 left in the third quarter. Williams' free throw attempt failed but Hale caught the Lady Hornets napping, grabbed the rebound, scored and was fouled. Though she too missed completing the three-point play, the Lady Hornets were suddenly looking up at a 16-point deficit.
Abernathy's 3-point try went down and flew out but Moore made a steal. She, however, was unable to convert and James hit a jumper in the lane to keep the Lady Cats rolling.
The lead ballooned to 54-29 before Moore hit a long 3 and, after Williams scored on a post-up move, Abernathy drained a triple. But the North Little Rock lead was still 21 going into the final quarter. Bryant would be unable to get closer than 19 down in the final period as both teams cleared their benches before it was over.
Moore and Abernathy each had 10 to lead Bryant. Blundell finished with 9, all but 2 points in the first half. Adams finished with 6. Courtney Davidson scored 4 points in the late stages of the game. For North Little Rock, Hale and Williams each had 17. James and Brown added 8 apiece.