By Rob Patrick
Photos by Rick Nation
NORTH LITTLE ROCK — On Tuesday night, the Bryant Hornets nearly snuck off with a[more] huge win that, coupled with West Memphis' overtime loss to Jacksonville, would've given them the inside track to a State Tournament berth.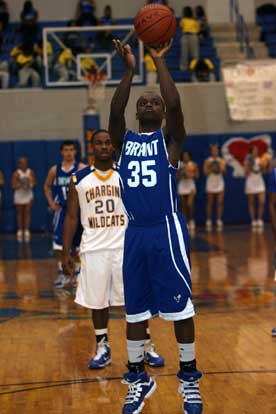 As it is, the Hornets, after suffered a tough 49-45 loss at North Little Rock, can still get in depending on the results from their last two games of the regular season against Little Rock Catholic on Thursday and Little Rock Central on Friday along with West Memphis' finale at Little Rock Parkview on Friday.
The Hornets, playing in the 7A/6A-Central Conference (with mostly 7A teams), fell to 3-9 with two to go while the Blue Devils, playing in the 7A/6A-East (with mostly 6A teams), fell to 4-9 with one to play.
Though the convoluted power ratings and tiebreaking procedures may throw a wrench in the Hornets' plans, it figures if they can win their last two, they should earn a berth.
A win on Tuesday at North Little Rock would've broadened the opportunity.
As was the case when North Little Rock played at Bryant on Jan. 25, the Hornets led much of the game. This time, they were tied 33-33 going into the fourth quarter. Last time, they led 31-30 going into the final stanza. Both times, North Little Rock wound up winning by 4.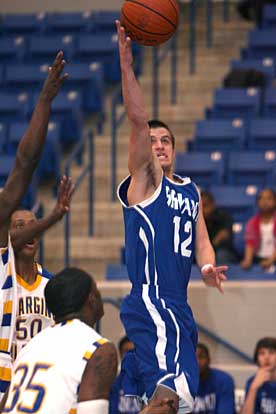 The Charging Wildcats' Tyree Hollister, who scored 2 points in the game at Bryant, gunned in 20 on Tuesday including four 3-pointers. Chris Campbell added 13 as North Little Rock overcame a 24-point performance by Bryant's Brantley Cozart. Jordan Griffin added 12 for the Hornets. Quinton Motto added 4, Marcus Wilson 3 and Eric Moore 2 to complete the team's scoring.
"It does sting because I think that we're better than what we played," commented Bryant head coach Mike Abrahamson. "I think we can execute better and I think we can lock in on a really good player like (Hollister) and do a better job of limiting him. We've done it in the past. We just didn't have it tonight.
"We turned the ball over a lot," he added. "The first play of the game, we just throw it away and we still find a way to be up 2 at half and I'm thinking we can play a lot better. Then we start the third quarter, we have a play designed and throw it away. They come down and score. We just didn't value the ball enough. We just didn't execute offensively at all and (Hollister) really had a good game. We didn't get out on him like we should have."
Asked if his team was affected by playing on back-to-back nights — the Hornets beat Russellville on Monday — the coach said, "Maybe. I didn't see it necessarily physically but I thought, mentally, we weren't as sharp as we normally are."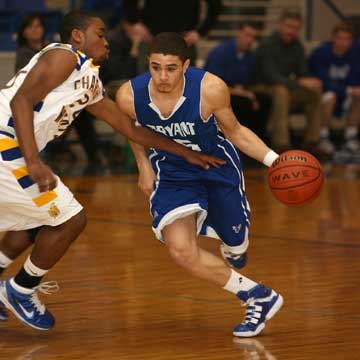 North Little Rock sophomore Gary Vines had missed his first four free throws in the game so he was the logical choice to foul with :48.2 left in the game. Bryant had just pulled within 44-41 on a pair of free throws by Cozart. But Vines knocked down both free throws to make it a two-possession lead for the Cats.
Griffin hit a free throw then Cody Ware answered with one from the line with :39.1 showing.
Trailing 47-42, the Hornets were unable to score but got another chance when Campbell missed two from the line with :29.2 showing. Cozart couldn't get a 3 to go but Campbell rebounded and was stripped of the ball. Griffin was fouled on a 3-point try with :10 to go, converting all three to trim the lead to 47-45.
But the Wildcats got the ball to Campbell on the inbounds and, after he was fouled with :06.1 showing, he came through, knocking down both shots to clinch the win.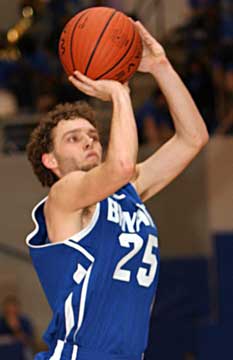 Despite their slow start to the game, the Hornets put together an 8-2 run to finish the first quarter with a 10-7 lead. Griffin hit three free throws over two possessions then fed Cozart for a 3-pointer that had the Hornets up 8-5.
Hollister, in off the bench, drove the baseline for a bucket but a driving jumper by Cozart in the final seconds of the period produced Bryant's 10-7 advantage.
Early in the second quarter, the game was tied at 12 when Motto helped beat the press with a drive to the rack and a layup. He was fouled on the play but couldn't get his free throw to go.
But, after both teams struggled for a while, Wilson got a kick-out pass from Griffin and drilled a trey to give the Hornets a 17-12 edge. And they forced a turnover giving themselves a chance to extend the lead but Hollister made a steal and a pair of free throws to keep it tight.
Hollister hit a 3 with :40 to go, tying the game. But when Griffin got to the line a few seconds later, he knocked down both shots to give the Hornets a 19-17 lead at the half.
North Little Rock came out in the second half, determined to get the ball to Campbell, their big senior forward. He took advantage of Bryant's opening turnover with a 12-foot jumper. Moments later, Donovan Coleman scored off the offensive glass then Hollister made a steal that led to a tip-in by Campbell and a 23-19 North Little Rock lead.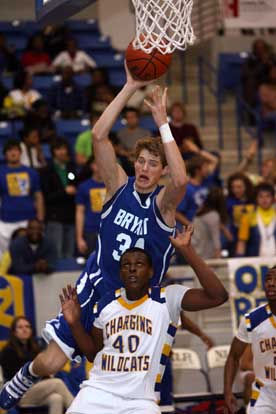 After a timeout, the Hornets answered with their own run. Cozart scored after grabbing an offensive board. North Little Rock turned the ball over and Griffin drove for a bucket and, with a foul on the shot, he added the free throw that put the Hornets back on top 24-23.
The lead seesawed for the rest of the third quarter. Cozart's drive tied the game at 28 then Griffin made a steal and fed Cozart for a short jumper off a drive and a 30-28 Bryant lead.
But Hollister stepped out and drained another triple. Cozart responded in kind to give the Hornets their 33-31 lead with 1:20 left in the quarter. At the :50.4 mark, Vines was fouled as Moore tried to draw a charge. But Vines missed both shots. Campbell rebounded and missed a 3-point try. Hollister rebounded but his follow was blocked by Bryant's Kyle Nossaman. The Hornets came up with the ball only to have Hollister swiped it back. His free throws with :37.7 to go in the period, tied the game at 33.
Both teams missed shots to start the fourth before Hollister nailed his fourth. In turn, the Hornets missed four shots at answering. With 5:02 left, Jamicah Gibson went to the line after he got the benefit of the doubt when Griffin lined up to take a charge. His free throws made it 38-33.
Griffin couldn't get a shot to go and, in turn, Campbell, working the hit post, rifled a pass into the low post to Ware who laid it in. And North Little Rock had its largest lead of the night, 40-33.
Abrahamson called a timeout and, when play resumed, Moore was fouled. He converted both shots.
The two teams traded points after that. With 2:20 to go, Cozart hit a short jumper off a drive into the paint. A Bryant timeout came with 2:19 left. The Hornets deployed in a man-to-man and twice North Little Rock had to use timeouts to keep from losing the ball on an out-of-bounds play. And when they finally did get the ball in, Motto reached high to steal the ball.
A frustrating possession followed. Houston Garner couldn't know down his shot but Wilson scrambled to claim the carom. Motto was denied by Campbell inside. Griffin rebounded and got the ball to Garner who found that the lid was still on the basket. Campbell rebounded and was fouled.
And when he missed the front end of the one-and-one, Cozart was able to counter with two free throws that trimmed the margin to 44-41. That's when Vines went to the line and finally came through, setting up the frustrating finish for the Hornets.
CHARGING WILDCATS 49, BRYANT 45
Score by quarters
BRYANT 10 9 14 12 — 45
North Little Rock 7 10 16 16 — 49
HORNETS (7-18, 3-9) 45
Player fg-fga ft-fta reb fls pts
o-d-t
Griffin 1-9 10-12 2-0 2 2 12
Cozart 9-17 4-4 2-0 2 3 24
Wilson 1-3 0-0 1-1 2 0 3
Garner 0-4 0-0 1-1 2 3 0
Motto 2-6 0-1 4-7 11 2 4
Cambron 0-0 0-0 0-1 1 0 0
Nossaman 0-0 0-0 1-1 2 0 0
Moore 0-0 2-2 0-0 0 2 2
Team 0-3 3
Totals 13-41 16-19 12-15 27 14 45
CHARGING WILDCATS (17-7, 10-3) 49
Player fg-fga ft-fta reb fls pts
o-d-t
Green 0-1 0-2 1-0 1 0 0
Gibson 0-1 2-2 1-2 3 5 2
Thomas 1-1 0-0 0-0 0 0 3
Campbell 5-12 3-6 3-4 7 0 13
Coleman 2-2 0-0 1-2 3 1 4
Williams 0-0 0-0 0-1 1 2 0
Hollister 6-15 4-4 4-5 9 1 20
Vines 0-1 2-6 0-0 0 3 2
Laster 0-4 0-0 0-2 2 1 0
Ware 2-3 1-2 0-1 1 1 5
Team 4-1 5
Totals 16-39 12-22 14-18 32 14 49
Three-point field goals: Bryant 3-13 (Cozart 2-6, Wilson 1-2, Garner 0-3, Griffin 0-1, Trudell 0-1), North Little Rock 5-14 (Hollister 4-6, Thomas 1-1, Campbell 0-3, Laster 0-2, Green 0-1, Ware 0-1). Turnovers: Bryant 15, North Little Rock 14.