Editor's note: This is a regular feature profiling senior athletes at Bryant High School. (This information was submitted before the swim team's District meet.)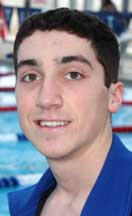 NAME: Dylan Machycek
PARENTS: Dana Smith and John Machycek
SIBLINGS: Haley Machycek, 19
FAVORITE SUBJECT IN SCHOOL: Human Anatomy
FAVORITE SPARE TIME ACTIVITY: Fishing
FAVORITE FOOD: Chocolate chip waffles with peanut butter
FAVORITE MUSIC ARTIST OR GROUP: Eminem, NWA
FAVORITE MOVIE:[more] The Guardian
FAVORITE TV SHOW: Two And A Half Men
WHAT ARE YOUR PLANS AFTER HIGH SCHOOL? Swim at Henderson State University; either Biology or Nursing to become a nurse anesthetist.
OTHER THAN YOUR PARENTS, WHO'S HAD THE BIGGEST INFLUENCE ON YOUR LIFE? HOW? My coaches are always there for me. They are like brothers to me.
WHAT'S YOUR FAVORITE THING ABOUT SWIMMING? It's a huge stress reliever and you meet a lot of people.
EVENT(S): 100 yard back stroke, 200 back, 100 free, 50 free, 100 fly.
APPROACH TO YOUR EVENTS? I block everything out in my life. I get in the zone.
WHAT DO YOU THINK OF THE SEASON SO FAR? It's been great. I've gone my fastest times in everything.
WHAT'S BEEN THE HIGHLIGHT TO THE SEASON SO FAR (team)? We really are striving to win District.
WHAT'S BEEN THE HIGHLIGHT TO THE SEASON SO FAR (personal)? If I win the 100 free at District, that would be great. And I hope to finish in the top six at State.
WHAT'S IT GOING TO TAKE FOR THE TEAM TO BE SUCCESSFUL THE REST OF THE SEASON? By now, if you don't have what it takes, you won't make it. We have to trust our training.
TALK ABOUT YOUR SWIMMING NOW; WHAT ARE YOU MOST CONFIDENT IN YOUR ABILITY TO DO? I may join the Coast Guard to become a rescue swimmer. I never give up when it hurst. I feel like I could help people and potentially save lives.
WHAT DO YOU WORK HARDEST TO IMPROVE ON IN PRACTICE? Building strength
WHEN YOU'RE THROUGH SWIMMING FOR BRYANT HIGH SCHOOL, WHAT DO YOU THINK YOU'LL LOOK BACK AND REMEMBER MOST FONDLY ABOUT THE EXPERIENCE? All the great times I've had with my teammates. I'm going to miss the atmosphere of a high school practice and meet