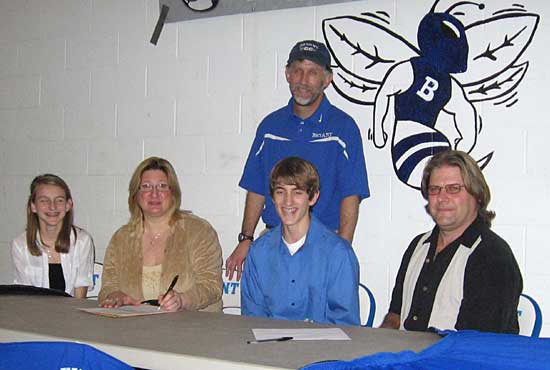 By Rob Patrick
Bryant Hornets track and cross country coach Steve Oury recalls[more] a time when Luke Lindsley came out for those teams as an eighth grader, he wasn't exactly intimidating. In fact, he said Wednesday, "Not to bust him out but, at the cross country meets, you'd kind of wonder, what's this elementary kid doing out here? The thing about it is, he didn't run like an elementary kid. He was out there scrapping to finish as high as he could. And he was usually right up there in the top 15 in eighth grade."
That competitive nature has carried Lindsley — who's grown some since then — to the point where, on Tuesday, Feb. 15, he signed a national letter of intent to continue his running career and his education at Arkansas State University in Jonesboro next fall.
The son of Tracy and Gabriel Lindsley, Luke chose ASU over UCA after also receiving interest from UALR.
"I just like their team," he said. "They were pretty nice. Their coach seemed to know what he was doing. It seemed like they had a nice academic program, a lot more stuff in my career, engineering."
Lindsley has been the Hornets top runner since the middle of his sophomore season.
"At the beginning, he wasn't the fastest runner in his grade," Oury recalled. "He was always pretty good but as he continued to grow and develop, you could just see that he was determined to be the best. He was the third guy on the ninth-grade team but, by the end of the season of his sophomore year, he was our top senior high runner.
"I knew in ninth grade at the end of the season when he got fifth place in the mile run at the conference meet that this kid was going to be a good one," he added. "He was kind of behind other kids as far as his physical development but he was already willing to scrap with them. He wasn't intimidated and he's just gotten better each year.
"My brother, Levi, started before me and I was just kind of following in his footsteps and decided to pick up running," Lindsley recounted. "Eighth grade I wasn't top of the pack but I kept going. Ninth, 10th grade I was all right. Coach Oury helped me improve."
Last spring, he took seventh in the 3200 meter run at the Class 7A State meet, earning all-State honors. In the conference meet, he was third in the 3200 and fifth in the 1600.
Last fall, he earned all-State recognition for the second year in a row. He was seventh at the Class 7A meet after finishing third at the league championship. At the end of the season, he helped the Arkansas team win the annual Arkansas-Oklahoma All-Star meet, placing ninth.
"The main thing that's made Luke successful is his work ethic and his competitive nature," Oury related. "He's one of the most competitive kids I've ever coached. If he feels he didn't give it his best or didn't do the best he could in a workout or race, even though he did his best, he would still be really hard on himself. He expects nothing less than his best every time he steps out. And the fact that he's also a 4.0 student shows that he's not only competitive on the track but also in the classroom.
"He's a perfect example of a kid who leads by example," the coach continued.
Asked about the secret to his success, Lindsley credited others. "Coach Oury, mostly, helped me out, support from my teammates and family," he said.
As for the plans ASU has for him, he said, "They said they'll just start me off and see where we go from there. I'm just going to try to keep training hard."
"It's Arkansas State's gain," Oury concluded. "Like I told any college coach I talked to, I honestly believe that Luke, as good as he has been in high school, is going to be better in college."