File photo by Rick Nation
Viewers can now find Bryant Hornet football at the following location each and every week at: http://www.fidelitycommunications.com/local6/ytlive_stream.php?channel=local6d or https://www.youtube.com/channel/UCKUaJ21ehWepJhle86R_ITg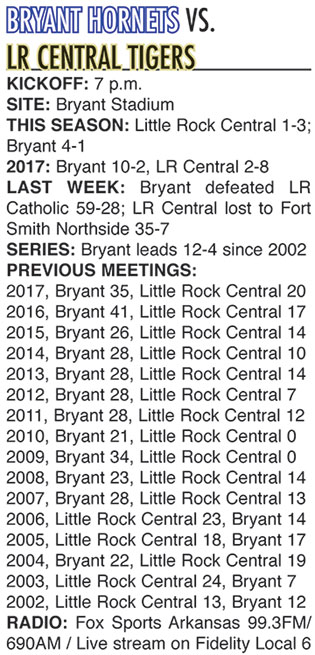 No doubt, the Bryant Hornets and their fans have seen the scores. The Little Rock Central Tigers lost in lopsided fashion to North Little Rock, a team the Hornets hope to contend with for the 7A-Central Conference championship, and the Fort Smith Northside Grizzlies, a team the Hornets got the better of in an abbreviated game two weeks ago.
They've seen the standings that show the Tigers at the bottom.
So, with Central playing at Bryant tonight, can the Hornets maintain the focus and effort that lifted them to a 59-28 victory over Little Rock Catholic last week?
"We tell them, it's about us," said Hornets head coach Buck James. "You hear Coach (Chad) Morris (at the University of Arkansas) talking about, it ain't about our opponents as much as it is about what we do.
"You know, every guy on our team has a job," he noted. "We tell them, 'Do your job. Do your job to the best of your ability. Be a blue-collar football player and work hard.' That's all we can ask out of them.
"If they're better than us then it's going to be a tough ballgame," the coach continued. "If they are as good as we are, it's going to be a tough football game. Then, if we're better than they are, then the game gets easier.
"So, we've got to impose our will," he stated. "We've got to be physical. We've got to be strong. We've got to run the ball. We've got to be able to throw the football. We've got to be solid on our special teams and all of our kick game then just keep the pressure on those guys and make them play every half, every quarter, every snap. We like our chances when that happens."
That's what the Hornets did, for the most part, against Catholic, which was 4-0 coming into last week's contest.
"I was really proud of how our team went out there and attacked it," James said. "With that being said, I felt like we left some points out there that we could've gotten. There's still a lot of room to improve. But I like the way our football team is playing right now."
Longtime Central head coach Scooter Register retired after last season. The new head coach is Kent Laster, a former offensive coordinator at Frisco, Texas, Heritage. He also assisted at Texas State, Middle Tennessee and Ouachita Baptist universities.
"A new coaching staff, really young football players and they're going through some growing pains that you normally go through with young players," James related. "They play spurty. They're big and strong. They're physical. They've got good athletes. They play good at times and, at times, they don't play very good.
"You know, they've got six players that are playing here in central Arkansas that would start for them that are at other schools," he added. "They've taken a big hit with guys leaving out of there. I have a lot of respect for those kids who stayed.
"Coach Laster's going to do a good job," the coach stated. "He's going to get those guys going in the right direction. It just doesn't happen overnight. It's going to be a process. He's battling a lot of demons that go on in sports today, when kids want a quick fix and they want to go somewhere right now where it helps them, benefits them."
The Tigers return two players that started on defense against Bryant last year when the Hornets prevailed at Central, 35-20. They are linebacker Caleb Morton and corner Johnathan Jones. The defense includes just five seniors. Offensively, receivers Dajun Brewer, Antoine Westbrook, tackles Quintlyn Rogers and Canaan Davis, along with H-back/running back/tight end Demarcus Yancey return. Davis started last year as a freshman.
Sophomores Lawson Gunn and Samuel Franklin start at quarterback and tailback, respectively.
"They've got a good football team," James said. "They can do everything wrong and still stop you then they can do everything right and scorch you. So, we've got to be ready to play. We've got to play well. We've got to keep the hammer down on them and not let them get up and get any kind of confidence. I think this is the kind of team that, if they get some confidence, they can be a scary team."
The Hornets have won 11 in a row against the Tigers, who have not defeated Bryant since 2006.