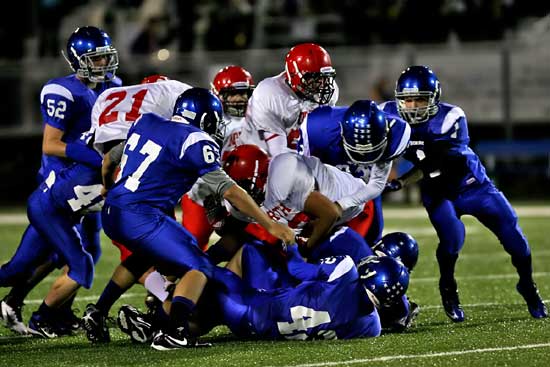 Long touchdown plays highlight romp by Bryant freshmen
EDITOR'S NOTE: Because the look back at each day in Bryant athletic history has been so favorably received during the time when there was no sports during the COVID-19 shutdown, BryantDaily.com will continueposting past stories of Bryant athletics either posted on BryantDaily.com (from 2009 to the present) or published in the Bryant Times (from 1998 to 2008).
By Rob Patrick
Photos by Rick Nation and Kevin Nagle
On their first two offensive snaps of each half, the Bryant Hornets freshman team[more] scored. Add to that another touchdown on their fifth snap of the game and another on their 12th and last play of the first half and you get another dominant performance by the unbeaten Hornets, a 42-6 win over the Cabot North Panthers on Thursday night at Bryant Stadium.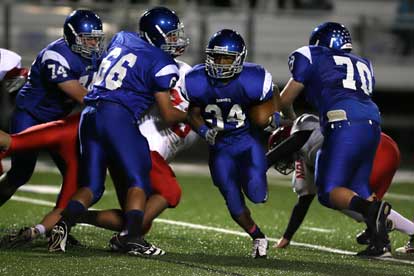 Bryant had scoring plays of 54, 67, 76 and 70 yards as it improved to 8-0 on the season, setting up a showdown of unbeatens at North Little Rock on Thursday, Oct. 27.
The Hornets were just as overwhelming on defense. Before Cabot North scored on a 47-yard run by Holden Beasley against the Bryant reserves, the Panthers had been held to a net total offense of just 26 yards on 33 snaps. (Actually, if you take away the 13-yard run that set up the touchdown, it'd be 13 yards of total offense.) Linebackers Kyle Lovelace and Brendan Young were particularly physical with their tackles. The Hornets forced five fumbles and recovered three of them.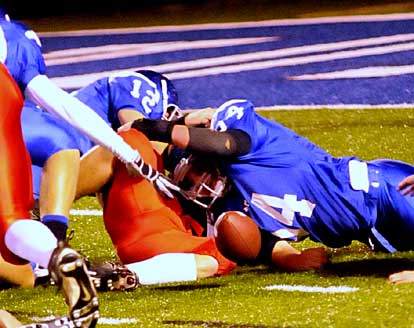 Brushawn Hunter touched the ball on offense just four times in the game. He scored all four times, running for three and hauling in a pass from quarterback Brandan Warner for the other. Mar'Kevius Nelson touched the ball on offense twice, scored on one and would've on the other except for a fumble at the 1 that went through the end zone for a touchback.
The game also marked a brief return for quarterback/running back/ receiver K.J. Hill who has been sidelined with a broken wrist. With a padded cast on his right arm, Hill lined up in the 'Wildcat', handled the snap and dashed for a touchdown.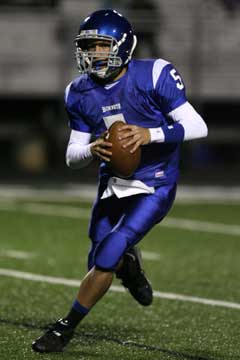 In all, the Hornets amassed 385 yards of total offense on just 28 snaps. They had 195 on 12 plays in the first half alone.
Cabot North got the ball to start the game with a successful onside kick. Two plays later, however, a fumble was recovered by Brendon Young for Bryant at its own 46. On the first play, Hunter was off to the proverbial races for a 54-yard touchdown run. A try for two failed.
Cabot had trouble fielding Alex Denker's kickoff and return man Justin Howard was driven down by Clark Garland and Lovelace at the 7. Lovelace stuffed a first-down play then jarred the ball loose on second down. Ben Bruick recovered for the Hornets at the 7 and, from there, Hunter scored again.
And when he added a run for a two-point conversion, it was 14-0.
The Panthers, in turn, managed 4 yards on three plays. On fourth down, they lined up to punt but the up back, French, took a snap and tried to pick up the 6 yards needed for a first down. But Matt Shiew dragged him down for no gain and the Hornets were 34 yards away from more points.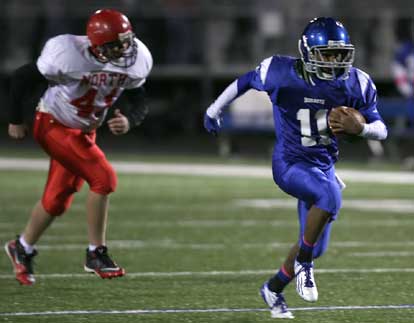 On the first play, Warner passed to Mitchell Reeves for 27 yards to the 7. A play later, Hill came in for his lone snap of the game, slashing for the third touchdown in the first quarter. Denker kicked it to 21-0.
Trying to get something going on offense, the Panthers went for it from their own 22, needing 3 yards. Shiew and Ryan Hall held fullback Alex Rodriguez short and the Hornets took over on downs. After a pair of incomplete passes, Nelson dashed up the middle for an apparent touchdown. But the ball came loose and hit off his thigh and through the end zone for a touchback.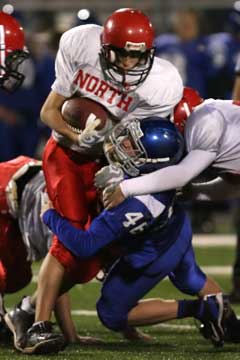 But Cabot gave it right back moments later. Shiew recovered a fumble at the Panthers' 19.
After a pair of penalties, the Hornets faced a second-and-19 from the Cabot 28. They tried to run a double reverse pass with wide receiver Ty Harris, the back-up quarter, taking a pitch from Hunter and trying to pass. But his arm was hit as he threw and the throw was picked off by Rodriguez.
With Lovelace again making a pair of lost-yardage tackles and the Hornets using timeouts to preserve the clock, Cabot was forced to punt from its own 18 with just over two minutes left in the half.
The Hornets gained possession at their own 48. Warner passed to Hunter for an apparent touchdown covering 52 yards but the play was negated by a holding penalty. Pushed back to their own 33, however, Warner and Hunter hooked up again and this time it counted for a 67-yard touchdown pass that, with Denker's PAT, made it 28-0 at the half.
Rodriguez powered for 11 yards on first down to start the second half but then the Panthers went backwards. Lovelace and Bruick stopped Rodriguez for a loss and, on third down, Hunter Fugitt spoiled the first of only two pass plays Cabot tried by sacking Collin French for a loss of 10.
After a punt, Bryant opened its first series on its 24. Hunter took a handoff and dashed 76 yards for another score.
With the sportsmanship or mercy rule in effect (continuously running clock), the Panthers went three-and-out and Bryant head coach Kenny Horn sent in his second team. Harris took the snap on the first play of the possession and handed to Nelson who evaded some initial traffic then sailed 70 yards for a final Bryant TD.
Cabot drove 68 yards in four plays, including Beasley's two lengthy runs to get on the board with the scoreboard reading 6:38 and running. A try for two failed, setting the final score.
With Hunter Lawhon rushing seven times for 33 yards, the Hornets ate up the final 6:17 driving from their own 43 to the Cabot North 13. Harris made a nice play along the way, hauling down a high snap, rolling out and completing an 11-yard pass to Paul Tierney.
BRYANT 42, CABOT NORTH 6

Score by quarters

Cabot North 0 0 0 6 — 6
BRYANT 21 7 14 0 — 42
SCORING SUMMARY

First quarter

BRYANT — Hunter 54 run (run failed), 5:56
BRYANT — Hunter 7 run (Hunter run), 4:33
BRYANT — Hill 7 run (Denker kick), 1:33
Second quarter

BRYANT — Hunter 67 pass from Warner (Denker kick), 1:12
Third quarter

BRYANT — Hunter 76 run (Denker kick), 4:53
BRYANT — Nelson 70 run (Denker kick), 1:28
CABOT NORTH — Beasley 47 run (run failed), 6:38
TEAM STATS
Cabot North BRYANT
First downs 3 8
Rushes-yds 33-73 20-280
Passing yds 0 105
Passing 0-1-0 3-8-1
Punts-avg. 3-32.7 0-00.0
Fumbles-lost 5-3 2-1
Penalties-yds 0-00 3-30
INDIVIDUAL STATS
Rushing: BRYANT, Hunter 3-137, Nelson 2-98, Lawhon 7-33, Hill 1-7, Warner 1-5, Harris 1-(-1); CABOT NORTH, Beasley 9-67, Rodriguez 9-15, Hemphill 2-7, Barnes 3-2, Bennett 1-(1), Anderson 2-(-8), French 7-(-9).
Passing (C-A-I-Y): BRYANT, Warner 2-6-0-94; Harris 1-2-1-11; CABOT NORTH, French 0-1-0-0.
Receiving: BRYANT, Hunter 1-67, Reeves 1-27, Tierney 1-8.