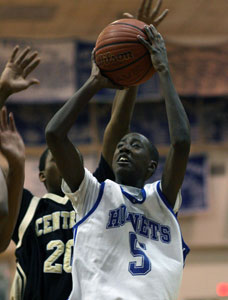 By Rob Patrick
Sure, it may be seem like a difficult case to make with the Bryant Hornets finishing 1-13 in the 7A-Central Conference this season but they really weren't that far from making their third straight trip to the State tournament.
After starting 1-1 in the league, if the Hornets had only been able to hang onto the late lead they had at Russellville instead of suffering a tough 62-60 loss who knows what else might've gone their way with the added confidence?
It might've been enough to beat North Little Rock twice instead of losing to the Charging Wildcats twice, once in overtime. And if, after scorching the nets at an 80 percent clip to open the game at Van Buren, if they'd followed up with more than 10 points in the second half . . . well, that's five wins right there and they'd gone into the final game of the season against the Little Rock Central Tigers not only headed to State but battling for a chance to finish as high as fourth in the league.
But that's not the way it went. So, seniors Tim Floyd, Dijon Benton and Cameron Whaley played their last game as Hornets on Tuesday, Feb. 24. And, in much the same way that it did the whole season, the breaks just didn't go their way as Central put together a 10-0 run to finish the game, turning a 36-35 edge with 2:40 to go into a 46-35 victory to sew up a State bid.[more]
"I feel bad for the seniors," commented Hornets head coach Mark Smith. "They put in a lot of blood, sweat and tears over the last three years. I told them, two out of three years making a trip to the State Tournament is not bad. I wish as much for them as anything else that we could've made it three in a row. You look back and some breaks here, some breaks there along the way and it could've happened. But not many breaks went our way.
"I'm proud of the guys," he added. "I'm proud of the team. I told them, there were a few times after games when I really was disappointed in them as far as effort and maybe execution but on the whole there were more times that I was a lot more proud of them."
It was a 13-0 run by the Tigers in the first half that provided them with the upper hand. The Hornets led 8-5 and Floyd followed a 3 by K-Ron Lairy with a stickback with 4:07 left in the first quarter.The defense got more physical and Central put together the run, often running through Bryant ballhandlers to steal the ball or harassing them with hands, forearms, elbows and shoulders. Despite that, the Hornets only attempted three free throws in the game, all in the first half.
They led 14-8 going into the second quarter but trailed 18-8 less than two minutes into the second quarter. Six different Tigers contributed to the streak with Chris Taylor's layup punctuating the streak with 6:44 left in the half.
"Same old story," Smith related. "It was a blood bath, particularly in the first half. It's the physicality on the perimeter that really hurts us, being a finesse team. You just look at our guys and we just don't match up with anybody inside as far as size and strength. So, we pretty much concede that. But when you do it on the perimeter, that's what gives us a problem. When they hand check and bump us and grab us. And it's game after game. Basketball's become, unfortunately, especially in the 7A-Central, no place for a finesse team. It's kind of survival of the fittest.
"The first half tonight we dug a hole," he observed. "We didn't execute. We made mental mistakes, threw the ball away. We probably gave up 10 or 12 points off of turnovers, runouts, layups."
Floyd posted up for a bucket on a turnaround jumper to end Bryant's dry spell. A three-point play by Lairy trimmed the margin to 5 but the Hornets were unable to score the rest of the half, covering 4:21.
Central led 24-13.
Floyd opened the second half with a trey and, moments later, made a steal and a thunderous dunk to make it a 6-point game.
But Central went inside to big Chukudi Ekeh to get back in the groove. The Tigers eventually expanded the margin to 32-20 before Dontay Renuard buried a 3 for the Hornets and Floyd made another steal and a layup to trim it to 32-25 going into the final period.
The Tigers then changed strategy and started spreading the floor, making Bryant chase. But the strategy nearly backfired as the Hornets started whittling on the lead which was 34-25 after Jordan Washington's layup started the final period.
Renuard canned another triple and, after a Central turnover, took a feed from Brandon Parish for a layup that made it 34-30.
At the other end, Renuard set up and took a charge against Central's Jordan Talbert.
But the Hornets were unable to get a shot and with 3:09 left, Brock Melvin knocked down both ends of a one-and-one for the Tigers.
In turn, Renuard worked the backdoor, feeding Parish for a layup. Bryant forced a held ball and gained possession. Lairy drained a triple and the Hornets were within 36-35 with 2:40 left.
Taylor broke free for a dunk in response for the Tigers then Bryant had three shots to tie it or get the lead back to 1 again. But Floyd couldn't get a 3 to go. Benton rebounded but couldn't knock down his 3-point try. Renuard rebounded and tried to get a jump hook to go to no avail but Parish collected the carom and fed Lairy whose 3 was also off the mark.
With 1:32 left, Melvin hit a free throw to make it 39-35 before Benton couldn't get a 3-pointer to go. Floyd couldn't get a tip to go down and Central's Jordan Talbert finally got the ball back for his team by grabbing the carom. Jeff Jackson converted two free throws with 1:02 to go then the Tigers scored 5 points in the last :40 to set the final score.
"The second half, I thought we executed much, much better," Smith related. "We took care of the ball. And everybody dug down. When we really had to, everyone dug down. We had it within 1 and had a chance, and we just couldn't get it done. But it wasn't for the lack of effort. Everyone that set foot on the floor, really played hard. We went down swinging and that's all you can ask."
Floyd led the Hornets with 11 points, Lairy finished with 9, Benton 8. Andre Dennis led Central with 10. Taylor had 8, Jackson 7.
The Hornets finished the season 7-19 overall.