Winiecki, Pickett make most of 'second chance'
EDITOR'S NOTE: In this time of COVID-19, with no sports action, BryantDaily.com will be posting past stories of Bryant athletics either posted on BryantDaily.com (from 2009 to the present) or published in the Bryant Times (from 1998 to 2008).
By ROB PATRICK
BRYANT TIMES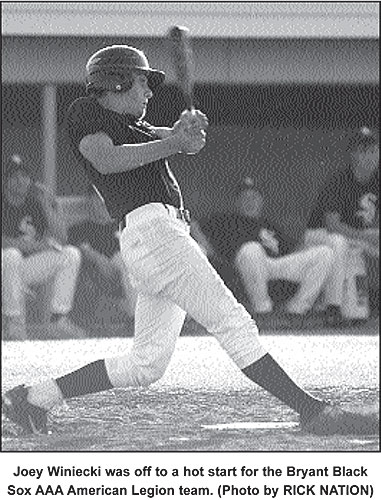 For a high school player that didn't have the kind of spring season they'd hoped for, the American Legion baseball season can be a second chance. So far, so good for Joey Winiecki and Tyler Pickett.
This spring, Winiecki and Pickett struggled for various reasons. Pickett wound up hitting .250 and Winiecki just .182. But in two American Legion games, Winiecki has come through with four hits in seven at bats as the Bryant Black Sox' lead-off man including a 2-for-3 game on Monday, May 22, against Lake Hamilton. And Pickett, making his first start for the Sox AAA, came through with a two-run single to key a game-breaking six-run fourth inning in Bryant's 8-0 win.
The victory was capped off by a walk-off inside-the-park home run by Casey Grisham who led off the bottom of the fifth with a rocket over the head of the center fielder that reached the fence. Lake Hamilton center fielder Jeff Lynch slipped at the base of the fence as he went to track the ball down. He flipped to left fielder Tyler Atkins but by the time the relay reached home plate, Grisham, who led the Sox with four conventional home runs last summer, had circled the bases, making it a run-rule win.
Bossier City College lefty Cory Lambert, with last-out help from Alex Kehrees, pitched the shutout. Lake Hamilton managed just three hits against Lambert then added another against Kehrees.
In turn, the Sox were held in check by Lake Hamilton lefty Dennis Fuller for awhile. They took a 1-0 lead in the second when Aaron Davidson singled, was sacrificed to second by Devin Hurt and scored on two of Fuller's four wild pitches in the game.
The only other hit Bryant managed in the first three innings was a one-out single by Winiecki in the third.
"We were a little flat at first," acknowledged Sox manager Craig Harrison. "We were coming off the big opening game and all the stuff that goes with the first game of the year. We come out and it's not new anymore and their guy was a good pitcher. He kept us a little off balance. His pitches had some movement on them. We said try to stay back and take the ball up the middle."
Doubleplays helped Lambert out of potential trouble in the first three innings. In the first, third baseman Danny Riemenschneider made up for a game-opening error by making a leaping catch of a liner off the bat of Brock Green then doubling off Jared Baier at second.
In the second, Atkins beat out an infield hit but Lambert got Kyle White to ground to Justin Wells at short for a twin-killing.
Lake Hamilton threatened in the top of the fourth with a pair of one-out walks wrapped around an infield hit to load the bases. But Lambert induced a comebacker by White for a force at the plate then got Phillip Butterfield to pop out to Hurt at second to end the threat.
Bryant's tell-tale fourth began with Davidson reaching on an error. Hurt and Grisham singled to load the bases. With the infield in, Fuller got Travis Queck to bounce to White at second. He threw home for a force, bringing up Pickett who cracked an 0-1 curve into the outfield to drive in two.
"That was the key to the game," Harrison commented. "He fought off a breaking pitch then hit one into right-center. That busted the game open."
On a hit-and-run, Justin Gaddy got just enough of the Fuller pitch to put it in play and allow Grisham and Pickett to advance to second and third. Winiecki followed with a shot to right to drive both home. And when Butterfield booted the ball, Winiecki sprinted to third. Riemenschneider singled him home.
After Wells drew a walk, Davidson hit a slow roller to the right side. White fielded the ball and Fuller had to cover first because the Lake Hamilton first baseman had gone after the ball too. But, with a slide, Davidson beat the throw.
After Fuller paused to dispute the call, Harrison, coaching at third, waved Riemenschneider home. Wells noticed but Riemenschneider had his back turned to his coach and held up. Fuller tried to catch Wells off second but he got back in. Meanwhile, Riemenschneider cranked it back up and scored to make it 7-0.
In the top of the fifth, Lambert struck out the first two then Harrison went to Kehrees who surrendered a single to Baier then induced a slow roller to short by Green. Wells charged in and made a nice play to throw Green out to end the inning.
"I put Kehrees in at the end for a reason, to get him some work," Harrison said. "I wanted to take a little heat off of him by making sure we had a couple of outs because I wanted his first outing to be a successful one. He was a little tight. I mean, he's never pitched in AAA. But he got that last out."
On the first pitch of the bottom of the fifth, Grisham ended it with his drive to dead center. It probably would've been out of most fields but he got the homer anyway in a sprint instead of a trot.