By LANA CLIFTON
In the last two and a half years, the mayor of Bryant, Larry Mitchell, has witnessed growth in population within the city, new development in business districts and in the parks department and has dealt with storm water repairs in some subdivisions. He has also been able to enjoy the excitement of citizens and officials brought on by Bryant's listing in Money magazine as one of the top 100 best small towns in which to live.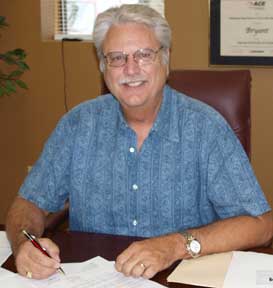 "I did not even know that we had been nominated or were being considered," said Mitchell. "And then I was even more surprised that we were the only one in the state of Arkansas that was chosen."
He said there were many factors that he felt contributed to the listing. "Over the last several years, Bryant has been very progressive in attracting new businesses and new residents."
He mentioned that the 2000 census listed the Bryant population at around 9,900. He said he believed the number of people in the city had grown to around 17,000.
"And with that, new businesses are coming to service the residents," said Mitchell.[more]
He decided the reason for the listing and for the rise in population came from a different source, however.
"I think it really stems from the schools," commented Mitchell. "I think, originally, our growth started with the quality of the school system we have here in Bryant … they all start feeding each other. When you get more people coming in, there is a demand for parks."
He said that led to citizens voting for a one-cent temporary sales tax to build a new park system.
When Mitchell began serving as mayor, the process had already begun for the new parks. The tax had been passed, but there was still work to be done.
"Putting the plans together and the bond issues and the construction and so forth, that's going on; that's all been going on for the last two years," he stated.
Anyone who has taken the drive down Boone Road to see the site of the future Bishop Park in the last week can see the construction in progress.
"It's been really exciting to see the progress of the park," declared Mitchell. "Finally the community building is going up."
He predicted the park will be complete around June of 2010, and some of the ball fields may be ready to use for spring practice before then.
The park will be a complex with sports fields, a community building and an aquatic center. He said excavation for the aquatic center has just begun. The center will feature a retractable glass roof, a swimming pool, a separate heated therapeutic pool, a party room and bleachers for swim events.
"It's going to be a very nice facility, one of the best in central Arkansas," said Mitchell.
To allow easier access to the park, Woodland Park Road is being extended to connect with Boone Road. According to Mitchell, this project should be finished within the next three weeks. The extension will allow a connection from the I-30 service road to a location on Boone Road a short distance from the park.
"We are also going to be building a concrete walking/biking trail parallel with it," he said. "We want to be more proactive making sidewalks available for our people to get to the park, especially in that part of town, because we don't want kids out on the streets trying to get to the park and someone getting injured."
Mitchell said the increase in population also created a need to update fire and police departments. He said, through grants and city revenues, the city purchased two fire trucks, one an almost $1 million vehicle. He said it was necessary because of the city's growth.
"We didn't have the equipment," explained Mitchell. "There are a lot of hotels that have come in that are four-story hotels, and we did not have the equipment at the time, so we would not allow them to build over two stories. But, with the new equipment from the fire department and more fire fighters, we have been able to loosen those requirements. So, we have some of the taller buildings going up now."
The police department benefited from the expansion through the replacement of its patrol car fleet.
Mitchell said the city was also in the process of expanding the water and waste-water facilities.
"Hopefully at the beginning of next year … we are going to be building a new two million gallon water tower," he added.
Mitchell addressed another work in progress within the city. Some of the housing developments in the area on Highway 5 between Reynolds Road and Springhill Road have had trouble with flooding and drainage over the last few years. One of the projects underway to help remedy this problem involves the Forrest Cove subdivision which currently has a steep incline at the entrance from Highway 5 onto Forrest Drive.
"That is a small part of the puzzle trying to get storm water out of those neighborhoods," said Mitchell. "The problem is, if we get the water from those neighborhoods too fast down to the Highway 5 bridge, then it is going to clog up and flood houses."
He said the process involved many steps, some of which had been completed. Several culverts have been replaced with larger ones, with more on the schedule to be replaced.
"We have put larger culverts in Forest Cove. We will be coming in the next couple of weeks and overlaying the gravel." He said even larger culverts would also be put in after the first replacements were complete.
Mitchell said the problem did not have a quick fix. He said they had been required by state regulations to have studies done to come up with a plan, and the city hired an engineering firm to do so. He said they also had to have approval from both the Corps of Engineers and the Arkansas Department of Environmental Quality before they proceeded.
He said money was an issue as well, partly because of how much they had already spent on the project ($1.4 million, according to Mitchell) and how funds were distributed within the city departments.
"Bryant does not have a storm water account," he explained. "Any money we take to work on these comes out of our general revenues. These are storm water projects because they have been for flooding. You can not use street funds, by state law, to replace these culverts, because they are storm water and not street projects. In city government, you can't transfer money from one account to the other."
Mitchell said there were some unrelated projects being done within the street department doing overlays on several streets.
"We've got phase one done," he said. "If you drive around town you will see there have been a lot of streets overlaid."
He said phase two of the project would probably start around November. "I know with a fast growth, sometimes streets get ignored because we are putting our money somewhere else, but we did a bond issue in order to do this."
Mitchell sees continued growth for the city of Bryant. He said the Midtown subdivision has a pizzeria and a delicatessen going in soon and there is talk of other restaurants coming to town. He predicted that in five years the Bryant population would be over 20,000.
"I think you are going to see residential housing continue to grow," said Mitchell.