For more photos of this event by Kevin Nagle, go here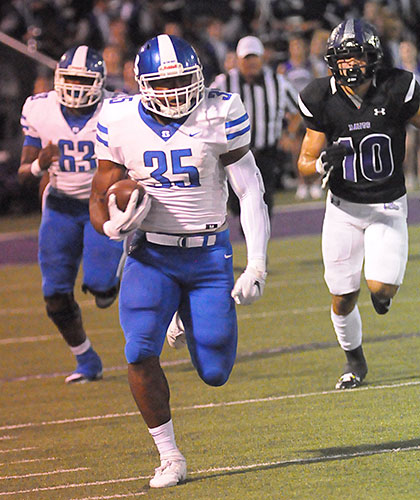 FAYETTEVILLE — Here's the thing that's kind of hard to fathom:
The Bryant Hornets are going to get better.
It's kind of an imposing thought for the Hornets' future opponents in the 7A-Central Conference and beyond. After all, on Friday night, Bryant "mercy ruled" their third opponent in as many games, this time on the road against the third-ranked team in the state.
The Hornets built a 35-6 lead by halftime and two plays into the third quarter, held a 42-6 lead that initiated the Arkansas Activities Association sportsmanship rule that, after a team builds a 35-point lead in the second half, the clock runs continuously except on changes of possessions.
The Fayetteville Bulldogs were convinced.
The 3-0 Hornets will ride the 42-13 victory into league play next week at Fort Smith Northside, the team they beat in the State semifinals last year on the way to the program's first State championship.
And, again, this Bryant team is not as good as it's going to be.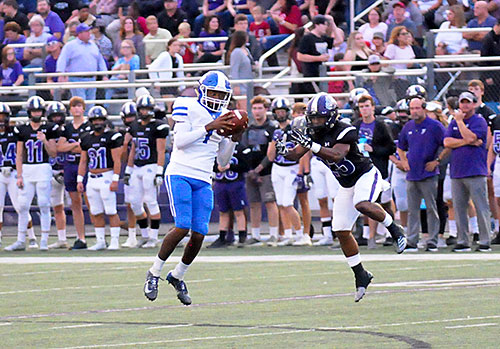 "There's no doubt," head coach Buck James asserted. "I think we can play a lot better. I think that we can tackle better on the edge, the quarterback. I think that we can pass block a little bit better. I think we're still giving up just a little on pass blocking. But I thought we run-blocked tonight the best we have all year."
That resulted in 178 yards on the ground, all by senior Ahmad Adams, piled up in the first half plus one carry in the second half. He scored three times.
Junior quarterback Austin Ledbetter was 10 of 20 for 202 yards and two TDs. He threw just one pass in the second half.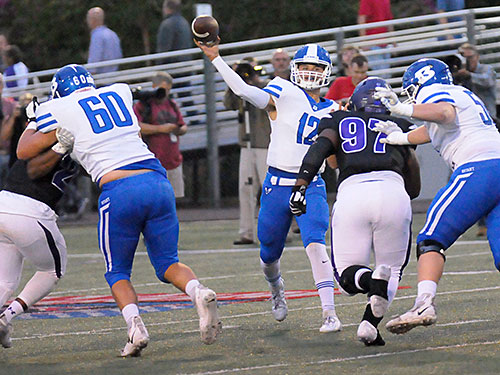 But it was a defensive touchdown, a pick-6 by senior Darrick Rose Jr., on the third play of the game that set the tone. Later, Kyle Knox picked off a pass in the end zone.
"And we can definitely do a better job in our punt game," James continued, "but I thought our kickoff team was good and I thought our kickoff-return team did good."
"I am proud of our guys," related defensive coordinator Quad Sanders. "The way they prepare, the way they come out and communicate and execute the defense — you really can't ask much more, even though we are going to ask for more from them because they know they can do more. We're still learning. That's the beauty of our team. There's a lot to learn even though everybody thinks we're playing at a high level right now. We still have a whole lot to learn."
The other question arose among fans and scribes after the game: Was Fayetteville over-rated or are the Bulldogs not that strong? How good are the Bulldogs and, in turn, how good is Bryant?
"I think they're good," answered James. "I think they're going to win a lot of football games. They still could win this (7A-West) conference. I don't think they'll be out of the top two or three. They've got a good football team."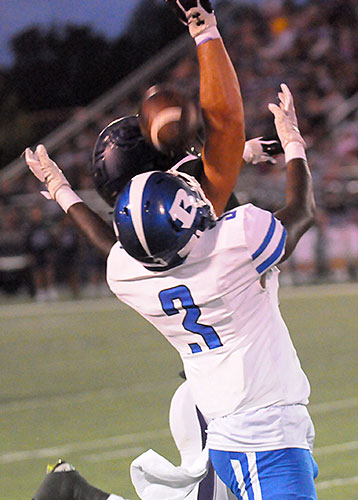 Sanders concurred: "This team (Fayetteville) has really got a lot of talent. They've got two good quarterbacks — actually their young quarterback (Owen McCone, a sophomore who played most of the second half) is going to be pretty good."
Starting quarterback, senior Hank Gibbs, took a pounding from the Hornets, particularly from outside linebacker Cattrell Wallace on a blitz that allowed him to get to the quarterback unblocked several times.
Back up Quinn McClain, the runner in the run-pass quarterback duo for the Bulldogs, came out after just a few plays with a leg injury. McCone played the entire second half and threw for a touchdown.
"Their style of play is a run-pass option," said Sanders of Fayetteville's offense. "So you've kind of got to game plan for both. Based on what they did, we had to kind of play to the tendencies of each quarterback and our guys did a great job identifying where (Connor Flannigan, Fayetteville's star receiver) was and who was in at quarterback and what plays we could expect. Our guys are communicating on a level that you can't get to right now on any level. They're making sure they're in the right spot.
"We want to disguise everything we do," he added when addressing the Hornets' now-you-see-it, now-you-don't blitzes. "That's what makes you a good defense. It looks like we're reading it sometimes and it looks like we're blitzing when we're not. It wasn't really a read. Sometimes we would spot a guy. We just try to make everything look the same. If we can make everything look the same, in turn, that makes them get the plays in slower, which gives us a little bit of a break, and it kind of confuses them a little bit and keeps them guessing."
The game opened with a slip-down on the kickoff return by Fayetteville's speedy Isaiah Sategna. He blew a shoe and touched a knee at the 1.
But, on their first play, Gibbs found Connor Flannigan, the Bulldogs' record-setting receiver, who wound up with eight receptions for 137 yards and a touchdown against Bryant. The play covered 43 yards and got them out of a hole.
Gibbs then threw a swing pass to tailback Kameron Ingram for 7 yards.
They liked how that worked so well that the Bulldogs tried it again on the other side. But Rose broke on the ball and picked it off in stride, racing 47 yards for the game's first score.
Brock Funk, who was good on all six extra points, kicked it to 7-0.
"A good team like that is going to make some plays," Sanders said of the Bulldogs' first pass. "Obviously, the first goal of any defense is to get a shutout but you're playing against a good team with a great coach. Man, they're going to make some plays."
Fayetteville started its next series at its own 16 thanks to good kickoff coverage by Bryant. The Bulldogs drove for three first downs and reached Bryant territory at the 49. Gibbs, however, had to rush his passes as the Bryant blitz pounded him and after two incompletions, the Bulldogs punted Bryant back to its 10.
Unfazed, the Hornets drove 90 yards in eight plays to add to the lead. Ledbetter completed three passes to three different Hornets along the way. Adams broke off a great seal block on the edge and bolted 27 yards to the 9. On the next play, he scored, and it was 14-0.
Fayetteville drove from its own 20 to the Bryant 44. Wallace drilled Gibbs on an incomplete pass then Austin Bailey sacked the Dogs' quarterback for a loss of 5. A play later and the Bulldogs were punting it back to Bryant.
Backed to their 11, the Hornets drove 89 yards for another score. Chunk plays continued for the Hornets. Adams broke a 33-yard run and, a play later, Tre'vun Herron made a tremendous catch on a fly pattern down the right side. Ledbetter's throw looked like it might get picked off but Herron snatched it away from the defender and sprinted the rest of the way for a 51-yard touchdown.
It was 21-0 going into the second quarter.
The teams traded punts and Fayetteville earned good field position. Gibbs scrambled for 23 yards, setting up a 30-yard strike from Gibbs to Flannigan. Even on the quarterback sneak that provided Fayetteville's first points of the game, Gibbs was blasted.
An extra point attempt failed, and it was 21-6.
Spurred by Adams' 40-yard run, the Hornets worked into scoring position again. He would later score from the 1.
"We just jumped out on them and, really, they didn't know what happened," said James. "It was 14-0 before they knew what was going on. In high school football, that's hard to overcome."
Rodricho Martin ended the Bulldogs' next possession, sacking Gibbs. Fayetteville punted and, on 12 snaps, Bryant drove for yet another score. Ledbetter completed passes to Schrader, Herron. The touchdown came on Ledbetter's throw in the flat to Meaders, who turned it upfield and proceeded to score. It was 35-6 with 2:46 left.
On Fayetteville's last-ditch effort to score late in the half, Gibbs threw toward a Bulldog receiver in the corner of the end zone only to have Knox out-position him for the interception.
Bryant was set to get the ball on the second-half kickoff and put it in the mercy rule by scoring in two plays. Myles Aldridge caught a play-action pass over the middle and sprinted untouched for a 60-yard touchdown. Funk's kick made it a 42-6 lead and from the 11:17 mark of the third quarter, the clock ran the rest of the way.
Fayetteville scored on McCone's 22-yard strike to Flannigan late in the third.
"I'm proud of our offensive linemen," James stated. "I think they've done — that was always our question mark this year. We knew our receivers could catch the ball. We knew that Austin was going to be a great quarterback but the way our offensive line played, I think speaks volumes about what Coach (Shane) Clancy and Coach (Kirk) Bock have been able to do with those guys.
"We played three sophomores tonight," he mentioned. "We'll get (senior starter) Tanner (Wilson) back next week. We could've played him but when we jumped out big, we just thought we wouldn't do it.
"But I'm proud of the way those guys played," the coach concluded. "And I thought our defensive line played well. We didn't tackle well on the edges. We let the quarterback get away from us a few times. But we can fix some of the things we did wrong.
"The thing that's hard to fix is to get kids to play that hard and play with that much energy and be able to execute and focus like that," he said. "I think that's what our kids did a really nice job of doing. I'm really proud of the way they came out here with a business-type approach and just said, 'Hey, put on the hard hat. Let's go to work.'"