Mustangs bite Pups to remain unbeaten
EDITOR'S NOTE: Because the look back at each day in Bryant athletic history has been so favorably received during the time when there was no sports during the COVID-19 shutdown, BryantDaily.com will continueposting past stories of Bryant athletics either posted on BryantDaily.com (from 2009 to the present) or published in the Bryant Times (from 1998 to 2008).
By ROB PATRICK
BRYANT TIMES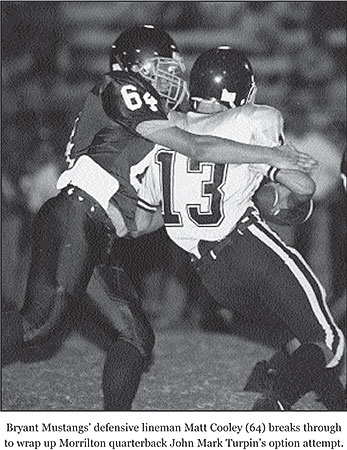 Scott Peeler and Zach Cardinal were on the same wavelength Thursday, Sept. 21, when the Bryant Junior High Mustangs hosted the Morrilton Devil Pups.
Peeler, the Mustangs' strong-armed quarterback, completed 11 of 16 passes in the game for 167 yards and three touchdowns. Cardinal, a split end, caught eight of those completions for 136 of those yards and all three of those TDs as the duo led the Mustangs to a 27-22 win over Morrilton that improved their record to 4-0 as they head into their conference opener Thursday, Sept. 28, at home against Lake Hamilton (also 4-0).
The game against Morrilton looked like it would be a breeze as the Mustangs built a 27-6 lead by midway through the third quarter. But, behind a bruising and persistent running game and the help of a couple of turnovers, the Devil Pups came back and had a chance, with the ball in Bryant territory when the game ended, to win it.
"We came out the first half just like we've wanted to all year," stated Mustangs head coach Scott Neathery. "We caused fumbles, took advantage of our field position.
"In the second half, I don't know if we got lackadaisical or what, but a fumble, an interception and Morrilton's better than what people give them credit for if they hang onto the football," he added. "They've got a tough team. They've got a lot of talent and they've got a lot of big kids. A team like Morrilton, you give them confidence, they'll give you problems."
The first three scores of the game were all set up by turnovers. Morrilton opened the game with possession and, on a third-and-5 at its own 40, coughed up the football when quarterback John Mark Turpin was sacked by Matt Cooley. Corey Kitchens recovered for the Mustangs at the Pups' 33. Two plays later, Peeler and Cardinal hooked up for a 13-yard touchdown pass.
Todd Bryan's extra point made it 7-0.
In turn, Morrilton, behind the running of Turpin and halfback Gary Foster, drove from its own 25 to the Bryant 13. But, on a second-and-9, Turpin, under pressure, forced an option pitch that never found its mark. Cardinal recovered for Bryant.
A wingback reverse to Bryan for 23 yards got the Mustangs' offense going again. Peeler and Cardinal connected on a 45-yard pass and, after Bryan ran for 9 more yards, Peeler's 10-yard toss to Cardinal produced the touchdown with no time left on the first-quarter clock.
A clipping penalty on the ensuing kickoff return left Morrilton's offense at its own 5-yard line. And when the Pups couldn't muster a first down, they were forced to punt. A high snap frazzled punter John Gaffney and Bryant's Jesse Nordman, with a determined effort, reached out with one hand as he was being blocked to the ground and blocked Gaffney's kick.
Bryant recovered at the 4-yard line and went right for the end zone. Peeler appeared to have a completion to Kitchens, but the ball deflected out of his grasp, rolled on the back of a Morrilton defender then was plucked away by, of all people, Gaffney.
The Pups, then, marched 80 yards in eight plays, most of it coming on Foster's 58-yard burst for the touchdown with 1:05 left in the half. A try for two failed, leaving it 14-6.
But a short kickoff and a nice return by Scotty Lawrence gave Bryant a chance to match that touchdown even though only a minute remained in the half. Peeler, completing 4-of-6 passes and scrambling for 10 yards and getting out of bounds, led the charge that ended with a 4-yard touchdown pass to Cardinal with :07.5 showing on the clock.
Bryan kicked it to 21-6.
"It was the same old cliché, I told the kids to come out like it's 0-0 in the second half," Neathery said. "But, you know, that's kind of hard sometimes. We seemed to come out kind of flat defensively."
But the defense didn't get on the field until the offense had upped the advantage to 27-6 with a 67-yard drive. Mustangs running back Brandon Spurr, who was limited to 32 yards on seven carries in the game, highlighted the march. After Bo Lee started it with an 18-yard run, Spurr broke for 13 and, a play later, appeared to have a touchdown with a 34-yard gallop. But a holding penalty negated most of the run. Still, the Mustangs overcame it. A play later, Peeler found Spurr with a short pass and he turned it into a tackle-breaking 24-yard gain that ended with Spurr dragging four Devil Pups defenders for an extra five yards.
After a 2-yard pass from Peeler to Bryan got it to the 6, Spurr did the rest off an option pitch.
The extra-point attempt was wide right.
With the intensity of the situation a bit relaxed because of the lead, Morrilton was able to put together a 77-yard touchdown drive without a pass. Foster, who contributed runs of 17, 8, 12, and 8 yards, finished off the march with a 3-yard burst then ran in the two-point conversion to make it 27-14.
And they got a chance to close the gap further when, on the first play of the Mustangs' subsequent possession, the ball was knocked loose and Morrilton recovered at the Bryant 37.
Eric Noland broke a 28-yard run that set up the score. The Bryant defense was tough on the goal line but, on a fourth-and-goal, fullback Jontele Williams managed to get in the for the TD.
And when Foster ran for 2, the lead was down to 27-22 with 6:32 still to go.
Bryant made a bid to add to the lead after Kitchens recovered the onside kick from Morrilton. A 26-yard pass from Peeler to Cardinal, plus a personal foul, had the Mustangs at the Pups' 11. But, a play later, Morrilton's Darius Williams intercepted a pass in the end zone to give his team one last chance.
Morrilton attempted its first pass with 1:25 left to play. A 10-yard completion from Turpin to Jontele Williams converted a fourth-and-6 from the Morrilton 24. A play later, Bryant appeared to have an interception by Bryan but the play was nullified by an interference penalty that kept the Pups' drive alive.
After Cooley dropped Foster for a loss, Bryan and Cardinal combined to knock away a pass from Turpin who was slammed as he threw by the Mustangs' Brett Tracy just as he let it go.
A holding penalty with :32 left, pushed the Devil Pups back but Turpin hit Williams again with a 9-yard pass. Still, Morrilton faced a fourth-and-12 at the Bryant 48. An incomplete pass appeared to end it, but the Pups got another shot at it when Bryant was called for holding in the secondary. On a fourth-and-2, then, Bryant's coverage was such that all Turpin could do was run. He picked up up 14 yards but was knocked out of bounds as the clock ran out.
"We had a letdown," Neathery commented. "If we can put four quarters together, we'll be a good football team. But we're 4-0 and, like I've said before, I'll take them any way I can get them."