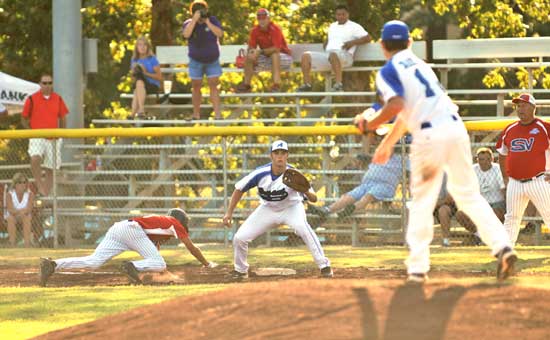 By Rob Patrick
Photos courtesy of Ron Boyd
MONTICELLO — It's pretty remarkable, really. Of all the ballparks in the United States that have Babe Ruth baseball, that field all-star teams and compete for District, State and Regional championship and there's one team from a town of, maybe, 18,000 now that produces a team that reaches the Babe Ruth World Series in two of three years. That, in the one year it doesn't make it, it gets within a win of going. And, when it gets there, a team that wins it all one year and reaches the semifinals in the other.[more]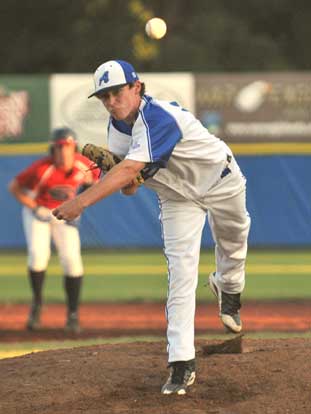 It's been a heck of a run for the Bryant 15-year-old All-Stars, who also went to the Cal Ripken World Series as 12-year-olds, but it came to an end on Thursday night. A win away from playing for a second World Series title in three years, Bryant was shackled by right-hander Zach Olszewski as the all-stars from Saginaw Valley, Mich., advanced to the finals with an 8-2 win.
The Bryant 15's include Zach Cambron, Evan Castleberry, Hayden Daniel, Josh Davis, Evan Ethridge, Cody Gogus, Tyler Green, Riley Hall, Blain Jackson, Tyler Nelson, Cameron Price, Daniel Richards, Tryce Schalchlin, Devon Sears and Marcus Wilson. The team is managed by Jimmy Parker with assistance from Tony Ethridge.
The Ohio Valley Regional champ will play Middle Atlantic Regional champ North Syracuse, N.Y., for the 2010 World Series crown on Friday. The two teams that won the respective pools will be contending for the title. North Syracuse, which defeated Bryant 9-4 during pool play, advanced past Greenville, N.C., 11-3, in the other semifinal on Thursday.
Parker has guided this group of Bryant Stars through all three seasons.
"To me and my family, words can't possible describe how fortunate I've been over the last three years to coach these guys," he said. "I get emotional every time I start to talk about it. I've seen these kids grow up. I seen them basically growing into men. I know their future is bright, big time. Bryant baseball's future is extremely bright the next several years.
"I'm just glad I had the opportunity to coach them," reiterated Parker who said Thursday's game was his last as a coach after 17 years, at least for the near future. "I'm glad they wanted me to coach them. I'm glad their families were as supportive as they were.
"It's been a blast the last three years. Do I wish everything was perfect? Sure. But this has been a blast."
Things started out pretty well on Thursday for Bryant. Daniel led off the game with a walk and stole second. Nelson laced a single to center to drive him home. Marcus Wilson sent a hard grounder through the left side for a hit then Richards sacrificed the runners to second and third for Green, who delivered a sacrifice fly and it was 2-0.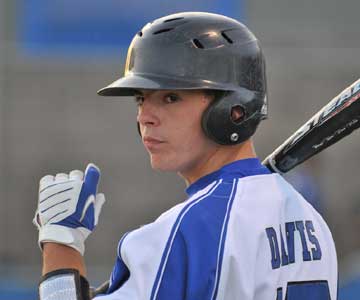 But Wilson, hoping to advance on Green's fly as well, tagged and made a move toward third. The throw from the outfield was suddenly cut off, however, and a quick throw to second caught Wilson trying to scramble back, ending the inning.
Still, it looked like Bryant would have little trouble with Olszewski.
Looks, however, proved to be deceiving. Including the two batters the right-hander retired to end the first, he and his defense set down the next nine batters and 15 of the next 16. The lone interruption was a one-out single to left by Richards in the fourth.
Meanwhile, the Michigan team tied the game in the bottom of the first. Jake Warren slapped a single to right and, after Wilson ranged into left-center to rob Chase Krager of a hit, Grant Bridgewater drew a walk. A pitch later, Ryan Jankowski sent a drive beyond the reach of Green in center for an RBI double.
Daniel, the Bryant starter, got Brandon Vittatow to bounce back to the mound then got within a strike of ending the inning. But, on a 2-2 pitch, Luke Scharich singled to right to tie the score.
With runners at second and third, Daniel fanned Olszewski to keep it deadlocked.
But, in the second, Saginaw revved it up again, taking advantage of consecutive one-out walks to A.J. Rubio and Warren. The Bryant right-hander got Krager to fly to center but, on the next pitch, Bridgewater pulled a liner down the line for a two-run double. Jankowski's second double made it 5-2 then Vittatow singled him in before Daniel struck out Scharich to get out of the inning.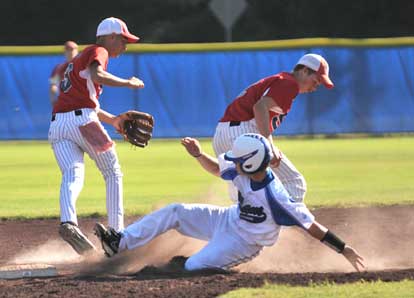 As Olszewski continued to set down the Bryant batters, Saginaw Valley tacked on two more runs in the bottom of the third. Again, walks played into the uprising. Daniel had retired the first two but then surrendered a pass to Rubio, the nine-hole batter. Rubio stole second then Warren beat out an infield hit and Krager walked.
Parker then brought in Hall to relieve. Bridgewater hit a 3-2 pitch into the hole at short and when Nelson's rushed throw was in the dirt, getting by Schalchlin at first, Rubio and Warren scored to make it 8-2.
"We came out a little flat," Parker allowed. "But when you have to throw perfect pitches, it seemed like — I mean Hayden threw well and I'm not one of those guys that likes to blame the umpiring but when you have to throw it down the middle, it's tough, especially against a good-hitting team."
Hall got out of the inning but, in the fourth, Vittatow led off with a single and Scharich beat out a bunt for a hit. After Olszewski sacrificed, Hall worked the count to 2-2 on Grant Miller. After Miller fouled off a pitch, he was hit by the next one to load the bases.
Parker then turned to Green and, with the infield in, Rubio fouled out to Jackson, the catcher, and Warren struck out to keep it 8-2.
That also seemed to spark Bryant a little only to have Olszewski retired the side in order in the top of the fifth.
Green proceeded to retire all eight batters he faced to give his team a chance. And it looked like they might make it happen in the sixth when, with one out, Nelson and Wilson cracked consecutive singles. But that's all they could muster as Olszewski worked out of the jam with a strike out and pop up.
In the seventh, Price drew a one-out walk but Olszewski struck out the side around that giving him nine for the game to go with just two walks.