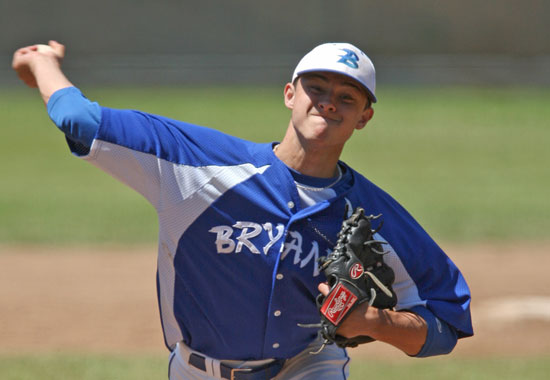 By Rob Patrick
Photos by Rick Nation
LITTLE ROCK — What looked like a routine grounder to second — a certain game-ender with[more] Ozzie Hurt in front of it — got a exciting real quickly. The chopper off the bat of Little Rock Catholic's speedy lead-off hitter Allen Mays took a wild bounce.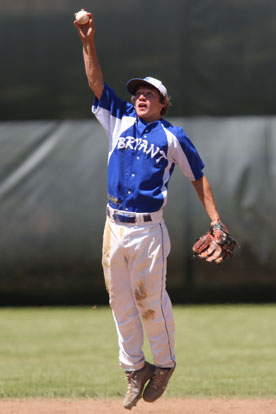 Suddenly, hope arose for the disheartened Rockets and tension invaded among the Hornets.
But it was only a flash.
Hurt leaped, grabbed the ball with his bare hand at the height of his jump, settled in and fired to Josh Pultro at first to end a splendid game in spectacular fashion, making Jordan Taylor's two-out, two-run double in the top of the eighth hold up as the game-winning hit and putting an exclamation point on a jewel of a performance on the mound by right-hander Tyler Nelson.
On a bright, cloudless Saturday afternoon at venerable old Lamar Porter Field, the Hornets edged the Rockets, 3-1, in a 7A/6A-Central Conference battle that will be the last between the two teams for the foreseeable future. Of course, they could meet again in the Class 7A State Tournament like they have the last two years in a row. That, in itself, is a source of consternation for the Rockets. Both seasons ended in the State semifinals with one-run losses to Bryant which went on to win the 2010 title and finish as runner-up in 2011.
In their bid to make their third straight trip to the finals, the Hornets, now 19-4 overall and 8-2 in league play, are the top seeded team in the Central with four league games to go. Though they still trail Russellville in the overall standings (they visit the Cyclones on April 27), Russellville will be playing in the Class 6A State tourney.
Before the Hornets get to the Cyclones, however, they have a non-conference game at home against Monticello on Monday, April 23, and a home game against Van Buren on Thursday, April 26.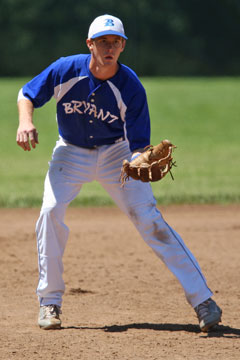 "In my 23 years, Ozzie's the best infielder I've ever had," emphasized Hornets head coach Kirk Bock after Saturday's win. "He ain't got the strongest arm and he ain't the quickest guy but he's got the best dad-gum glove and just makes plays."
With or without the glove, as it turns out.
Hurt's play was the final out of Nelson's masterpiece, a two-hitter in which he only needed 87 pitches to get through eight innings. The lone Rocket run was unearned. He fanned five and walked two. Along the way, he forced Catholic to strand runners in scoring position in the first, second and sixth innings.
"I've had two perfect games, Bryan Waters back 1994 and (Ben) Wells in 2010," Bock said, in the latter instance referring to the perfecto that Wells spun in the State championship game against Van Buren. "Obviously, those were two great games but, I was telling (Nelson), that may be the best game besides those perfect games I've ever had. He just kept them off stride. We made some plays behind him. It was a great performance. And he had a great performance offensively too. We had four hits and he had two of them."
Nelson acknowledged that it was probably his best work on the mound and credited Hornets assistant coach Mark Cain with helping him develop a revised delivery.
"In practice, Coach Cain said he was looking up some new pitching styles," Nelson related. "I changed it all up. My arm would be hurting the way I used to do it but the way I did today it's a lot better. It's a different angle and leg kick. It made it more smooth so my arm could catch up, and there's no pressure on my elbow."
The game was knotted 1-1 after seven innings. The Hornets had made a bid to take the lead in the top of the seventh when Dylan Cross led off with a sharply hit bouncer over the bag at third for a lead-off double against Rockets' starter Patrick Gurley who had been matching Nelson inning-by-inning but using more pitches. With Austin Caldwell in to pinch-run and right-hander Connor Gilmore in to relieve, Hayden Lessenberry moved the runner over to third with a grounder to the right side after a pair of bunt attempts had been fouled off.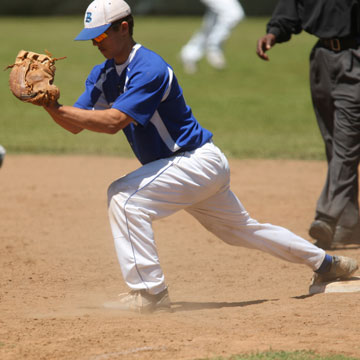 But Gilmore got pinch-hitter Wesley Akers to pop out to short then fanned Trevor Ezell to get out of the inning.
With a boost in momentum, the Rockets came to bat in the bottom of the seventh but Nelson got Zac Pinter to bounce out to Taylor at third and, though he walked Logan Wewers, he got Justin Weigle to ground sharply to Hurt who started a 4-6-3 doubleplay with Ezell making the pivot.
Nelson had not only doubled in the first and singled in the sixth, had been hit by a pitch in the third. He led off the eighth and drew a walk. Hurt grounded into a force at second and, with Drew Tipton in to pinch-run, Josh Pultro was hit by a pitch to put runners at first and second for Taylor.
The four-year starter had been slumping (by his lofty standards). After hitting .333 as a sophomore and .388 as a junior, he was hitting .303 before busting loose with a 3-for-3 day at Little Rock Central on Thursday. Though Gurley had held him hitless in three at-bats, in the third one, he had ripped a liner that carried out to right for the third out of the sixth inning. With Gilmore on the mound, Taylor took the first pitch for a ball then cut loose on a fastball for a long drive to center that bounced off the 20-foot-high screen about a quarter of the way up. Both runners scored, giving Bryant the 3-1 lead.
"He's struggled a little bit," Bock acknowledged. "It's not like he's been striking out and stuff. He's just been out of rhythm a little bit. But even when he's not doing as well, he's the guy I want up there because I know what he can do. He's been playing since he was a ninth grader and he certainly does a great job."
Braden Jones was rushed in to run for Taylor whom Bock sent to the bullpen to warm up just in case he was needed in the bottom of the eighth. Though he didn't get many tosses in before the inning was over, Nelson had it well in hand. He induced a comebacker off Mason McKay's bat then struck out pinch-hitter Josh Cissell to bring up Mays. And thanks to bare-handed stab, it was a 1-2-3 inning to nail it down.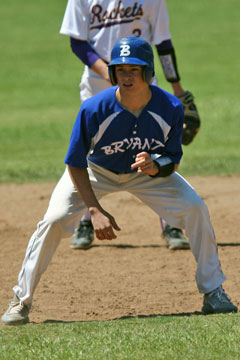 "Great individual efforts and a great team effort," Bock declared, "just not spitting the bit when it wasn't going very well and we were struggling offensively. We just kept plugging away. Then we put Jordan, a senior, in a place to win it and he did."
Through five innings both pitchers had allowed just one hit and, in the end, there were only six between the two teams.
Gurley pitched around Nelson's lead-off double in the first and Nelson got around a two-out double by Matt Morris in the bottom of the inning.
Catholic got a runner to third in the second when Pinter walked, Stole second and took third on Weigle's grounder to short. But when McKay bounced out to Taylor at third, it was still a scoreless game.
In the third, however, junior Tyler Green manufactured a run without a hit. Ezell had walked to open the frame but Green's bouncer to third resulted in a force at second. Green was breaking for second when Gurley made a pick-off throw. But when first baseman Tyler Ramsey let the ball get by him, Green not only got to second but sprinted on to third. Moments later, Nelson was hit by a pitch and Tipton, the courtesy runner, swiped second as the Rockets chose to throw to third to try to catch Green napping. But it was to no avail. To top it off, Gurley unleashed his only wild pitch of the day and Green scampered home with a headlong dive across the plate to put the first run on the board.
It stayed 1-0 until the bottom of the fourth when Morris grounded to Taylor at third but reached when Taylor's throw pulled Pultro off the bag at first. Ramsey sacrificed then a wild pitch allowed Morris to reach third. He scored from there on Pinter's grounder to second.
Taylor turned around and made a splendid play on Weigle's bunt to lead off the fifth and Nelson retired the side in order.
Gurley, meanwhile, retired eight batters in a row before Nelson singled up the middle. The lefty struck out the next two then got out of the inning on Taylor's liner to right.
In the sixth, with two out, Morris hit a towering pop into the cloudless sky (a high sky, in baseball terminology). Pultro lost it and it fell for a hit. A wild pitch allowed pinch-runner Clayton Getchell to reach second as Nelson fell behind Ramsey 2-0. On the next pitch, Ramsey hit a long fly to left. Green turned his back and sprinted to the fence, found the ball again and made the catch to end the threat with the score still 1-1 going into the seventh.

BRYANT 3, LITTLE ROCK CATHOLIC 1
8 innings
HORNETS ab r h bi Rockets ab r h bi
Nelson, p 2 0 2 0 Mays, cf 4 0 0 0
Tipton, cr 0 0 0 0 Himstedt, lf 3 0 0 0
Hurt, 2b 4 0 0 0 Morris, 3b 3 1 2 0
Tipton, pr 0 1 0 0 Getchell, pr 0 0 0 0
Pultro, 1b 3 1 0 0 Ramsey, 1b 2 0 0 0
Taylor, 3b 4 0 1 2 Pinter, dh 2 0 0 1
Jones, pr 0 0 0 0 Wewers, c 2 0 0 0
Cross, dh 3 0 1 0 McCain, cr 0 0 0 0
Caldwell, pr 0 0 0 0 Weigle, ss 3 0 0 0
Lessenberry, c 3 0 0 0 McKay, 2b 3 0 0 0
Daniel, rf 2 0 0 0 Price, rf 2 0 0 0
Akers, ph 1 0 0 0 Cissell, ph 1 0 0 0
Ezell, ss 2 0 0 0 Gurley, p 0 0 0 0
Green, lf 3 1 0 0 Gilmore, p 0 0 0 0
Tucker, cf 0 0 0 0
Totals 27 3 4 2 Totals 25 1 2 1
BRYANT 001 000 02 — 2
LR Catholic 000 100 00 — 1
E—Ramsey, Taylor. DP—Bryant. LOB—Bryant 3, LR Catholic 4. 2B—Nelson, Morris, Cross, Taylor. SB—Pinter, Green, Tipton. S—Ramsey.
Pitching ip r er h bb so
BRYANT
Nelson (W) 8 1 0 2 2 5
LR Catholic
Gurley 6 1 0 3 1 4
Gilmore (L) 2 2 2 1 1 1
HBP—Nelson (by Gurley), Pultro (by Gilmore). WP—Nelson 2, Gurley.