New habits hard to break, Bryant finds a way past Benton
EDITOR'S NOTE: Because the look back at each day in Bryant athletic history has been so favorably received during the time when there was no sports during the COVID-19 shutdown, BryantDaily.com will continueposting past stories of Bryant athletics either posted on BryantDaily.com (from 2009 to the present) or published in the Bryant Times (from 1998 to 2008).
By Rob Patrick
Photos by Rick Nation and Kevin Nagle
LITTLE ROCK — Tradition.
When the head football coach's job at Bryant High School came open after the[more] 1993 season, a very successful, prominent head coach at a school in a smaller classification was asked if he was going to apply.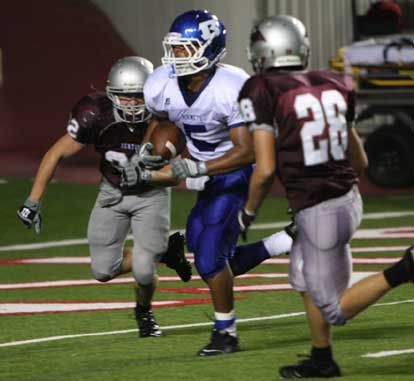 The Hornets had just posted their eighth consecutive losing season and had managed just one winning season since 1972. The coach demurred saying that, although he might like to try coaching at a bigger school, that program would have to have a winning tradition. He added that overcoming a losing tradition was almost impossible.
"I might take the Benton job if it came open," he said. "But not Bryant. I'm not sure they'll ever have a winning tradition there."
You see, at that point Benton was coming off its seventh winning season in the last eight years.
Indeed, there were times back then that Bryant might have more talent, might even have the better team, but the Hornets just couldn't beat Benton. The Panthers' habit of winning, their tradition, often carried the day.
Fast forward to 2011. The "nearly impossible" has occurred. Now, it's Bryant that hasn't had a losing season in 12 years. Benton hasn't had a winning season since 2005 and just three of them in the same 12-year period.
On Friday night at the 2011 Salt Bowl, it may just have been tradition, the habit of winning, that carried the day for the Bryant Hornets as they brought home the big trophy again with a 21-14 win in a game that was much tougher than many expected.
Unlike the last five Salt Bowls, the game was pretty much in doubt all the way. In fact, Bryant was clinging to a 14-7 lead midway through the fourth quarter and Benton was on the march after an interception by Caleb Davis on the second play of the period. The Panthers had marched to the Bryant 16 and seemed to have all the momentum. But the Hornets defense made a stand, limiting the Panthers to just three yards on its next three plays.
With his team facing a fourth-and-6 at the 13, Benton head coach Scott Neathery decided they needed to get points out of the drive and sent in senior placekicker Sean Carrigan to try a 30-yard field goal. And, when it sailed right, the Hornets' defense had made a crucial stand.
The Hornets took over at the 20 and promptly marched down the field in six plays for a clinching touchdown, a 27-yard dash by senior running back Karon Dismuke with 5:09 left.
Even though Benton came back with a scoring drive that featured a critical third-down conversion on a hotly-contested pass interference penalty, the Hornets had answered the challenge, stepping up when they absolutely had to.
"When we had to have it, we got it done," acknowledged Hornets head coach Paul Calley. "We got a stop, they missed a field goal and we took the ball down and scored. It was probably the best back-to-back series, offensively and defensively, that we had all night."
These Hornets thus carried on the tradition of responding to adversity, a hallmark of the program since it started winning.
"I told them before the game, we're going to make mistakes," the coach acknowledged. "We're inexperienced. We're going to have bad things happen to us. We have to overcome them. The thing we did is, we had bad things happen and we compounded the problem with more bad things, bad decisions. Some of it comes back to inexperience, some of it comes back to where we haven't done a good enough job coaching offensively.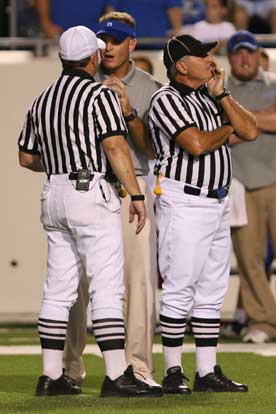 "I thought defensively, our guys played as hard as they could play. I think both teams ran out of gas towards the end, got tired and the tradition carried us. It used to be the opposite. It used to be that Benton might not be as good as we were but they found a way to win. And I thought tonight, Benton might've had the better football team but our guys found a way to win."
It was a game of fits and starts, particularly in the first half. The Panthers managed just two first downs in the first quarter. Bryant made a bid to score on its first possession, driving from its own 46 to the Benton 8. The key play was a 27-yard completion from Hayden Lessenberry to Dillon Winfrey. But Benton sniffed out a swing pass to Hayden Daniel for a loss back to the 15 and the Hornets stalled. A 30-yard field goal attempt by Jace Denker was wide.
Behind the running of Wallace Foote, including a 15-yarder on first down, the Panthers put together a drive that would've reached the Bryant 40 except that the 11-yard run by Foote was called back due to a holding penalty.
This time, it was the Panthers who were unable to overcome and when Carson Holloway came on to punt, the Hornets got the first break of the game. Holloway fumbled a low snap, picked the ball up and tried to scramble only to be brought down by the Hornets' Travis Royal and Tyree Reese at the 25.
Lessenberry hit Winfrey for 12 yards and, a play later, the duo connected on a 10-yard touchdown toss.
Penalties sidetracked the Hornets on two subsequent forays into Benton territory. A march to the Benton 30 midway through the third quarter, screeched to a halt when a Benton blitz dropped Lessenberry for a 15-yard loss and, on the next play, a pass from Lessenberry to Jalen Bell lost 4 more.
A sack by Parker Dunn helped perpetuate Benton's offensive woes. After a punt, the Hornets started on offense at midfield but, on the first play from there, a fumble cost them.
Benton's Conner Henningson recovered at the Bryant 45. The Panthers drove to the Bryant 30 but a penalty and a 5-yard sack of Benton quarterback Dylan Harris by Watler Dunn and Michael Smith brought it down to the last play of the half. Harris' long throw toward the end zone pylon to his left wound up being intercepted by Bryant's Chris Stephens to end the half.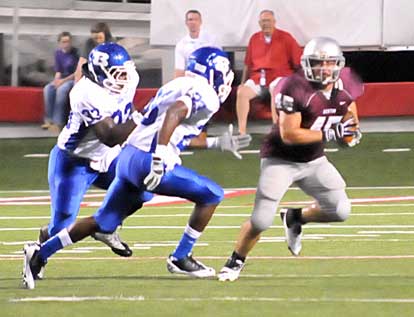 "I really feel I'd be giving a different interview right now if we scored on a couple of those possessions when we got down there and didn't capitalize," Calley remarked. "We let them hang around. We knew the longer we let them hang around, the tougher they were going to compete and the more trouble we were going to have winning the ballgame. And that's exactly what happened.
"We were able to make a number of big stops in the first half, giving ourselves a chance to really control the ballgame," said Hornets defensive coordinator Steve Griffith.
Regarding the offense, particularly the line, Calley said, "I told them before game, the key is not how good you are, not how physical you are, it's how well you communicate with each other. We've got to be on the same page. When we got the sacks and the lost yardage and the penalties, we weren't on the same page. We weren't communicating with each other.
"That's going to come," He asserted. "We picked up the blitz better in the second half. We got to the right spot. We had to shorten it up and that was supposed to be the game plan going in."
Sparked by a long return by Aaron Bell, the Hornets took possession to start the second half at the Benton 46. Jalen Bell ripped 11 yards to get the drive started. The moment of truth in the possession, however, came after a holding penalty pushed them back. Facing a third-and-14 from the Benton 39, Lessenberry threw down the middle to Charles Henson, who made an eye-catching leaping grab in traffic for 26 yards. On the next play, Dismuke scored on a tackle-breaking gallop.
Down 14-0, however, Benton put together its first scoring drive, a 79-yard march highlighted by a pair of big pass plays. Harris found Foote for 20 yards and, later, on a fourth-and-9 at the Bryant 31, Harris found Jaret Stout for 22 to the 9.
A play later, Harris scored on an option keeper from the 4.
After a trade of punts, Benton got a chance to tie it when Davis intercepted a deep pass by Lessenberry at the Panthers' 44.
"We knew we had to run the ball more in order to slow down the pass rush," Calley said. "We had to take what they were giving us and there were a lot of times we didn't do that. We tried to force the issue, tried to force the ball down the field. We've got short receivers open and we're looking to hit the home run. And you can't do that."
Benton struggled on third down all night. When they faced a third-and-1 at the Hornets' 47, Harris' pass was deflected and nearly intercepted. Going for it on fourth down, the Panthers got a first down on a tough run by Foote who followed with a pass reception for 9 yards and a 16-yard run that got them to the 16. That's where they stalled and Carrigan missed his field goal attempt.
The offense responded as well. Lessenberry opened things up with an 8-yard pass to Henson but then the Hornets went to the ground game. Jalen Bell dashed 18 yards then 15 to get to the Benton 27. From there, Dismuke scored on a scintillating run in which he broke three or four tackles.
With 5:01 left, Benton gamely put together a scoring drive that wound up getting the points but using up a lot of clock as well. The drive was aided early by a personal foul penalty that Calley protested after seeing the replay on the War Memorial Stadium video board. Aaron Bell was called for a late hit on the sidelines when he smacked Brooks Balisterri at the sideline. Bell hit him immediately but it was ruled the receiver had stepped out of bounds before contact.
Though it took more time than they might've liked, the Panthers drove to the Bryant 26. Facing a third-and-2, Harris went for the bundle on a pass to the end zone. Winfrey, in at corner, appeared to make a splendid play gaining inside position on the receiver and slowing up to prevent him from getting a hand on it. A flag flew and, though it took a while to sort out, Winfrey was called for interference by one official. Another had it against the Benton receiver. The call didn't go Bryant's way and a third-and-2 became a first down at the 13.
Harris' swing pass to Balisterri broke for 12 yards, then Foote scored from the 1 with 1:36 left in the game.
The onside kick that followed was eventually recovered by Henson after it pinballed around a bit, tantalizingly for the Panthers. The Hornets picked up a first down on runs by Bell and Dismuke, sealing the victory.
"I felt like we were a little tired in the second half and (Benton) got a little momentum," Griffith mentioned. "Like I told the kids after the game, I've been here 31 years. Anytime you can come out of the Benton-Bryant ballgame with a victory, you take it and go back to work the next week."
The Hornets head to Fort Smith to play the Northside Grizzlies next Friday.
HORNETS 21, PANTHERS 14
Score by quarters
BRYANT 7 0 7 7 — 21
Benton 0 0 7 7 — 14
Scoring summary
First quarter
BRYANT — Winfrey 10 pass from Lessenberry (Denker kick), 2:15
Third quarter
BRYANT — Dismuke 13 run (Denker kick), 9:35
BENTON — Harris 4 run (Carrigan kick), 3:55
Fourth quarter
BRYANT — Dismuke 27 run (Denker kick), 5:09
BENTON — Foote 1 run (Carrigan kick), 1:36
Team stats
BRYANT Benton
First downs 14 15
Rushes-yards 28-151 35-103
Passing-yards 127 134
Passing 11-19-1 17-33-1
Punts-avg. 4-33.7 6-39.0
Fumbles-lost 1-1 3-0
Penalties-yds 6-58 6-37
INDIVIDUAL STATS
Rushing: BRYANT, Dismuke 12-83, J.Bell 5-54, Lessenberry 8-13, Winfrey 1-4, Clark 2-(-3); BENTON, Foote 23-92, Wallace 3-22, Harris 8-1, Holloway 1-(-12).
Passing (C-A-I-Y): BRYANT, Lessenberry 11-19-1-127; BENTON, Harris 17-33-1-134.
Receiving: BRYANT, Winfrey 4-75, Henson 2-34, Nichols 2-23, Daniel 2-(-1), J.Bell 1-(-4); BENTON, Balisterri 6-39, Foote 4-34, Stout 2-33, Riley 2-14, Wallace 2-5, Pryor 1-9.