By Rob Patrick
MONTICELLO — The Bryant All-Stars went into the bottom of the fourth inning holding a 3-2 lead on the North Syracuse, N.Y., All-Stars.
Both teams came in with 2-0 records in pool play at the 2010 Babe Ruth 15-and-under World Series.
Bryant proceeded to load the bases on lefty starter Alex Caruso as Tryce Schalchlin drew a walk, Blain Jackson pulled a single into left and Cameron Price worked for a free pass.[more]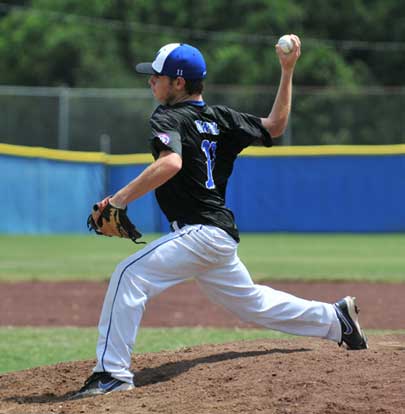 With no one out and the top of Bryant's line-up just a batter away, Caruso gave way to Brandon Kapcinski. The hard-throwing right-hander got the first out on strikes. Hayden Daniel then lofted a medium-depth fly to Caruso in right. Schalchlin tagged and, when Caruso uncorked a high throw to the plate, he scored easily.
With Tyler Nelson at the plate, Devon Sears, running for Jackson, advanced to third on a pitch in the dirt that Syracuse catcher Gabe Levanti blocked but couldn't recover in time.
The count went to 1-2 on Nelson when Price started early from first, hoping to either get to second freely or inducing a throw from Kapcinski that might allow Sears to score. The Syracuse hurler stepped off the rubber and started at Price then turned on Sears who getting a lead off third in anticipation of Price getting in a rundown.
Kapcinski unleashed what may have been his best fastball of the game, throwing to third to nab Sears as he tried to dive back into the bag.
The New York team not only ended the inning in dramatic fashion, they had held Bryant to one run after the sacks had been loaded with no one out and produced a huge momentum swing.
And when they scored seven runs in the last two innings, the Syracuse Stars had knocked off Bryant, 9-4, to clinch one of the three spots from the pool for the single-elimination championship tournament.
Bryant was set to face the other unbeaten team in the American Division, Greenville, N.C., on Tuesday at 5:30 p.m. A win would assure them of at worst a No. 2 seed in the championship round. They had the inside track on a third-seed even with a loss.
The Bryant 15's include Zach Cambron, Evan Castleberry, Hayden Daniel, Josh Davis, Evan Ethridge, Cody Gogus, Tyler Green, Riley Hall, Blain Jackson, Tyler Nelson, Cameron Price, Daniel Richards, Tryce Schalchlin, Devon Sears and Marcus Wilson. The team is managed by Jimmy Parker with assistance from Tony Ethridge.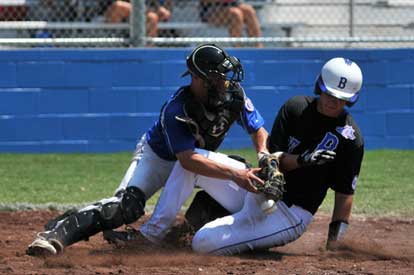 "If we get something there, get more than one, we probably get them down pretty good right there, we get their backs against the wall anyway," acknowledged Parker. "Only getting one right there was huge. Runs were at a premium. You've got to get them while you can. Today we just didn't do it. But I'm sure we'll come back out and play and find it within us and do it.
"It's pool play," he noted. "You go 4-0 and get the one seed, that's great. But now, we've got to make sure we get a two seed. We made it a little harder on ourselves but it is pool play. It's baseball. It's a funny game — pitch here and there, a ball here and there. We're the highest of highs last night (after a 9-1 win over White Hall) and the lowest of lows right now but we've been here before. We'll be all right."
In fact, the Bryant Stars won a Babe Ruth World Series when they were 13. On the way to that title in Jamestown, N.Y., they overcame an early 8-1 deficit to beat the North Syracuse team, 10-9.
Sunday, the Middle Atlantic Regional champs got a measure of revenge.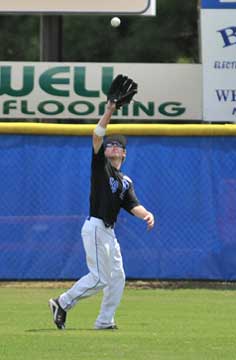 Bryant right-hander Hayden Daniel and his defense made that 4-2 lead hold up through the fifth. They then came an out away from getting through the sixth. Syracuse's Pat Wright had been hit by a pitch to start the inning but Daniel retired Ryan O'Kane and Brett Charboneau around a walk to Eric Hamilton.
That brought up Syracuse's eight-hole hitter Joe Bodnar who had walked and been hit by a pitch his first two plate appearances. But this time, Daniel's first pitch was to his liking and he lined it over the fence in right for a three-run homer that gave his team a 5-4 lead.
Kapcinski, who allowed just one hit in four innings of relief, retired the Bryant Stars in order in the bottom of the sixth and, in the top of the seventh, North Syracuse padded its lead.
Bryant lefty Zach Cambron had relieved Daniel to get the last out of the sixth. He gave up a single to Nick Pilotti to start the seventh but got Wright to fly to center. Hamilton followed with a bouncer to Nelson at short. But what might've been an inning-ending doubleplay blew up when Nelson's toss to second got past Daniel. Pilotti proceeded on to third and when the Bryant fielders were slow to retrieve the ball, he made the turn and sprinted home without a play to make it 6-4.
Though Syracuse was at the bottom of the order, things piled up on Bryant from there. Charboneau singled to left, Bodnar picked up his fourth RBI with a single to right then Kapcinski plugged the gap in left-center to chase in two more.
Riley Hall relieved for Bryant and got Levanti to fly to center to end the inning.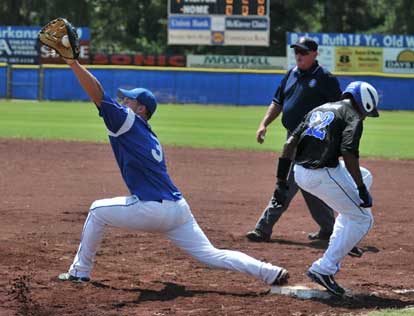 Bryant made a bid to rally when Price walked and Ethridge slapped a single to right to put runners at the corners. Daniel followed with a sharp grounder to third and North Syracuse went around the horn for a doubleplay, appearing to get the benefit of a "vicinity" play at second.
Parker protested and had Ethridge stay at second in hopes of an appeal but the second base umpire turned away and trotted into center field, ignoring the request.
As it turned out, consecutive walks were then issued to Nelson and Hall before Kapcinski got Cody Gogus, who had homered earlier, to bounce back to the mound to end the game.
Bryant had jumped out to a 3-0 lead but, even that, could've been bigger. Daniel had worked around a pair of singles in the top of the first with the help of Jackson, his catcher, who threw out the first base-runner when he tried to take second on a ball in the dirt. He fanned two.
In the bottom of the inning, Nelson was hit by a pitch with one out and Wilson placed a bunt perfectly for a hit. With Gogus up, Wright, the North Syracuse first baseman, was playing behind Wilson with runners at first and second. But he snuck in behind the Bryant base-runner and a perfect pick-off throw got him.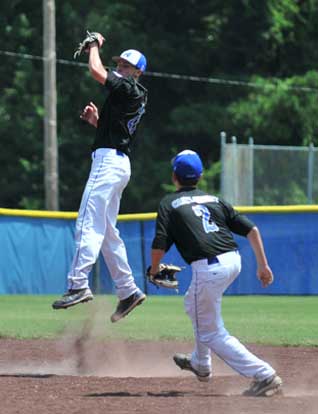 Moments later, Gogus, who was named Bryant's player of the game, yanked a fastball over the fence down the left-field line for a two-run homer.
Daniel eased through a 1-2-3 second and Bryant added a run. Schalchlin reached on an error and, an out later with Schalchlin on the move, Price singled to right. Schalchlin, who wound up on third, came home on Ethridge's sacrifice fly to right to make it 3-0.
North Syracuse picked up an unearned run in the top of the third. Bodnar walked and, after Daniel struck out Tyler Bliss, Levanti hit a grounder to the right side on a hit-and-run. Ethridge got to the ball but rushed his throw to first. It got away and Bodnar wound up at third, Levanti at second. Caruso's grounder to second drove in the run. With Levanti at third, Daniel struck out Pilotti to end the inning.
Bryant, in turn, got an infield hit from Wilson with one out then Gogus was robbed of a hit by Charboneau at second. Green followed with a shot that was speared by Hamilton at third to end the inning.
O'Kane cut the lead to 3-2 with a solo homer to center with one out in the top of the fourth. With two out, Charboneau walked and Bodnar was hit by a pitch as North Syracuse threatened to tie it. But Daniel picked of Charboneau at second to get out of the inning with the lead intact.