By Rob Patrick
Photos by Kevin Nagle
When the Cabot Lady Panthers defeated the North Little Rock, 59-43, on Friday, Feb. 10, it ended a 58-game[more] conference winning streak for the Lady Charging Wildcats. That run dated back to the middle of the 2007-08 conference slate.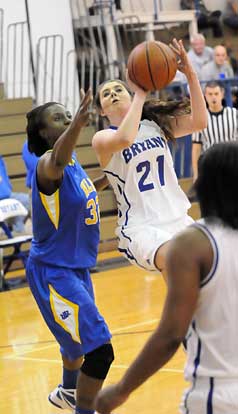 If that doesn't give you an idea of how dominant North Little Rock has been in recent years, how's this? Counting the 2005-06 season, the Lady Charging Wildcats are 91-6 in 7A-Central Conference contests.
Now, in that 58-game streak, No. 55 was a 54-15 win over the Bryant Lady Hornets at the North Little Rock arena.
So, imagine this:
On the Lady Cats' return engagement at Bryant Tuesday night, they found themselves trailing 14-6 to the same Lady Hornets early in the second quarter. Bryant had answered a 6-0 start by North Little Rock with a 14-0 run.
And, despite the fact that the Lady Cats responded with a 20-2 surge themselves, Bryant got back in the game and wouldn't go away. In fact, the Lady Hornets trailed by just 5 with :22.7 left in the game. After North Little Rock's Sandy Jackson hit a free throw, the Lady Hornets had a chance to cut the 6-point edge in half but Dezerea Duckworth's 3-point shot refused to fall and the Lady Cats, now 24-3 overall, escaped with a 57-50 win to retain a share of the conference lead going into the final game of the regular season.
The Lady Hornets, already bound for State as well, dropped to 6-7 in league play and 14-13 overall, are still in contention to finish as high as fourth in the race for seeding. They finish up at Little Rock Central this Friday.
So, what made for such a remarkable turnaround for Bryant?
"Offensively, we got off to a good start, made some shots," observed Lady Hornets head coach Brad Matthews. "After watching tape, we just missed some shots over there and then we started playing bad and they started playing really well. That's a bad combination when you're facing a team as talented as North Little Rock."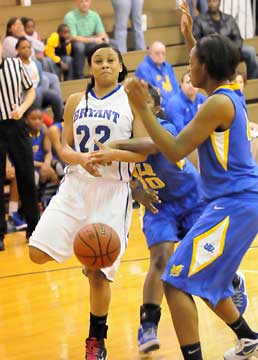 Matthews deployed his team in a box-and-one defense but, instead of having someone shadowing North Little Rock's three-year standout Lexus Williams man-to-man while the other four starters played zone, he had junior guard Logan Davis marking North Little Rock's Xena King.
"We boxed (King) because she's such a good shooter," he explained. "We tried to surround (Williams) as much as possible and then contain (Jackson)'s drive. (Jackson) hit some outside shots. She's a good player. They don't give away those Division I scholarships. Those three kids can play."
Jackson and King are headed to Arkansas State next fall. Williams has signed with SMU.
"We had that one spurt where they got out in transition," Matthews acknowledged. "I thought we did a great job once we got them settled in the halfcourt. (Williams) is just a player. She's so hard to guard. I thought, for the most part, we did a good job on her. She's just got great instincts for rebounds. I thought there were a lot of times we were right there trying to block her out. She just went and got it. I thought Courtney (Davidson) and our post players did a real good job in there fighting and competing.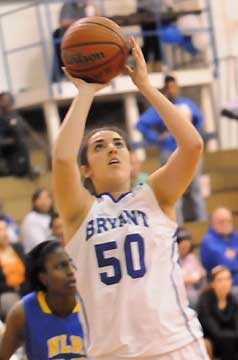 "Logan really did a great job on (King)," he continued. "You take away that spurt — they had almost half their points in the second quarter and it was fast breaks and offensive rebounds. But that's how they beat people. We're not the first ones."
Bryant's initial run to the lead — the first one a Lady Hornets' team has managed against a Lady Cats team in a while — started with Davidson drawing Williams up in the air with a pump fake and driving around her for a basket.
After a North Little Rock turnover, Davidson got a nice feed from Duckworth for a basket inside.
Another turnover brought a timeout call by the Lady Cats' head coach Daryl Fimple but when play resumed, Kiara Moore drove, scored and was fouled. When she converted the free throw, Bryant held a 7-6 edge.
North Little Rock had three chances to answer but misfired. A free throw by Duckworth extended the lead then Davis drove into the lane, stopped and popped a jumper to make it 10-6. A spin move off a drive by Moore gave the Lady Hornets a 12-6 lead going into the second quarter.
And when Davidson grabbed an offensive rebound and was fouled to start the second quarter, her free throws completed the 14-0 blitz.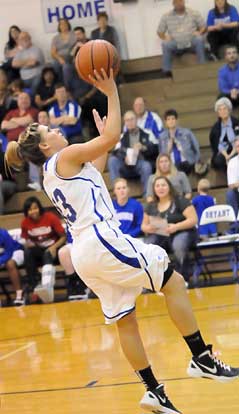 Bryant had one chance to keep the run going but Moore's driving shot came off the iron and, at the other end, Williams' three-point play started the North Little Rock answer. The Lady Cats cut it to 14-13 but then, after a timeout, Callie Hogancamp banked in a fading jumper off a feed from Hailey Murphy to bump the margin back to 3.
But the Lady Hornets were unable to score again for over three minutes as Williams and Sasha Giles fueled the North Little Rock run which produced a 26-16 lead.
Duckworth scored off a drive to end the run and, when the game went intermission, the Lady Hornets were back in it 31-23.
Moore, who finished with a game-high 18 points, converted a pair of free throws to start the second half and Bryant trailed by just 6. But Jackson went on a spree, scoring 7 of her 13 points, and the Lady Cats led 49-34 going into the fourth quarter.
Despite carrying four fouls, Moore drained a 3-pointer to start the final period and when, moments later, Bryant's Aubree Allen scored off the offensive glass, the lead was down to 10.
The teams traded points for a while and, going into the final three minutes, North Little Rock held a 53-42 lead. But Moore's second triple dropped the lead under double digits with 2:08 to go.
Out of a timeout, Duckworth nearly made a steal but the Lady Hornets wound up having to foul. Jackson hit one of two from the line then Bryant missed on a 3-point try. Davis got the offensive rebound but had the ball taken away from her. Giles missed a pair of free throws but, at the other end, Moore fouled out on a disputed call for an offensive foul. With :49.7 to go, North Little Rock's Kaprecia Slocum hit one of her two free throws to make it 55-45.
But when Hogancamp buried a 3, Bryant forced a turnover. Duckworth converted both ends of a one-and-one with :22.7 to go and the Lady Hornets trailed just 55-50. They were unable to score again, however, and free throws by Jackson and Giles set the final score.
"Defensively and playing to the game plan, I thought, was hopefully a step forward and something we can build on going into Central," Matthews stated. "We did a good job of playing to the scouting report and that's a credit to our kids. Hopefully, that's a sign of our maturity."
LADY CHARGING WILDCATS 57, LADY HORNETS 50
Score by quarters
North Little Rock 6 25 18 8 — 57
BRYANT 12 11 11 16 — 50
LADY CHARGING WILDCATS (24-3, 12-1) 57
Player fg-fga ft-fta reb fls pts
o-d-t
Jackson 5-13 3-6 1-5 6 2 13
Giles 6-8 1-4 1-3 4 2 13
King 1-3 0-0 1-2 3 2 2
Brooks 0-0 0-0 3-5 8 2 0
Williams 7-11 3-6 4-3 7 4 17
Slocum 1-8 4-8 2-0 2 1 7
Webb 0-0 0-0 0-3 3 3 0
Mayes 0-1 0-0 0-0 0 0 0
Hardaman 1-4 0-0 0-0 0 0 3
Harris 1-1 0-0 0-0 0 0 2
Team 1-3 4
Total 22-49 11-24 13-24 37 16 57
LADY HORNETS (14-13, 6-7) 50
Player fg-fga ft-fta reb fls pts
o-d-t
Moore 5-12 6-7 0-6 6 5 18
Davis 2-9 0-0 2-2 4 2 5
Duckworth 2-9 5-6 3-2 5 4 9
Hogancamp2-6 0-0 0-0 0 0 5
Davidson 3-8 2-2 1-4 5 5 8
Meyer 0-0 0-0 0-0 0 1 0
Murphy 0-0 0-0 0-0 0 0 0
Allen 2-2 1-2 2-2 4 2 5
Team 1-4 5
Total 16-46 14-17 7-20 27 19 50
Three-point field goals: Bryant 4-14 (Moore 2-3, Hogancamp 1-4, Davis 1-2, Duckworth 0-3, Davidson 0-2), North Little Rock 2-12 (Slocum 1-6, Hardaman 1-4, Jackson 0-1, Mayes 0-1). Turnovers: Bryant 18, North Little Rock 16.