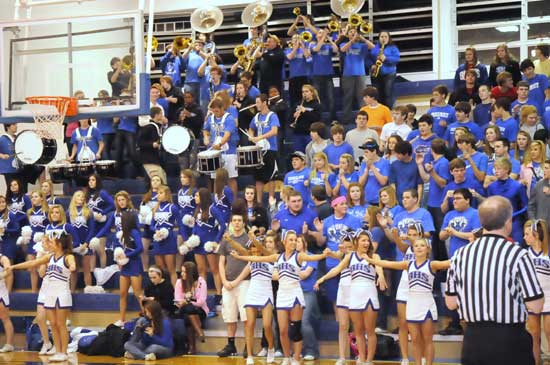 By Rob Patrick
Photos by Kevin Nagle
The Bryant Hornets are not only going to the State Tournament for the first time since[more] 2008 but they may get a first-round bye.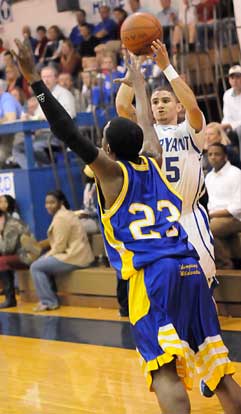 Those byes only go to the top two teams in each 7A league and the Hornets put themselves in position to gain one of them with a 45-38 win over the North Little Rock Charging Wildcats on Senior Night at the Hornets Nest Tuesday.
If Bryant can win at Little Rock Central on Friday, it now has the tiebreaker over the Charging Wildcats for the second seed from the Central Conference with defending State champion Little Rock Hall (from the East Conference) being No. 1. Tuesday's win pulled the Hornets even with North Little Rock in the standings at 8-5. They're now 16-9 overall.
Since losing at North Little Rock, 53-48, at North Little Rock on Jan. 24, the Hornets have now won six of their seven games and three in a row since a loss at Russellville.
This one, they had to grind out.
"We did not shoot the ball well," acknowledged Bryant coach Mike Abrahamson. "We were getting good shots, shots that we normally would make, at least some. And it wasn't going well."
The Hornets wound up shooting 32 percent from the field (12 of 37) but they connected on seven 3-pointers, including all six of their field goals in the first half, which pulled the Charging Wildcats out of their zone defense.
"The emotions of Senior Night — I kind of anticipated that — like, for example, talking to (former assistant) Coach (Jim) Pennington last year. He said in all his years of coaching at Emerson and Hot Springs, they never played well on Senior Night," Abrahamson mentioned. "I know last year, we got off to a big lead on Senior Night then gave it up. We had an extended halftime and there was a lot of rah-rah stuff going on in (the locker room) and I just think we used a lot of energy and they were just drained. And I do feel like we were drained at the end of the game (tonight). It was almost like they didn't enjoy the victory at the end."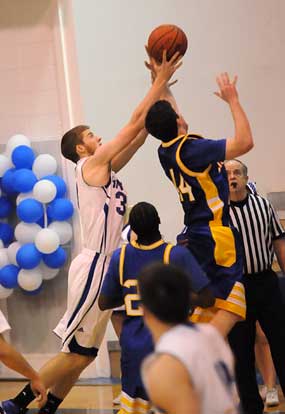 The coach reflected on the significance of the victory, adding, "I feel like the other three times we've played them since I've been here, we played just good enough to lose. Tonight, we played just good enough to win.
"It's just another example of getting over a mental hump, beating another team (that has been troublesome in the past)," he continued. "We've gone through that with teams like Benton and Conway this year, and at Catholic; other opponents too. This is just another one to add to that list, another mental hurdle that we've overcome.
"And to think that we didn't even play that well and still won is special," the coach related. "I want to keep everything in perspective but I hope it's just another example that we're growing, we're maturing, we're getting tougher, we're becoming winners. Of course, tomorrow's another day."
As an illustration of his team's maturation just this season, Abrahamson recalled the start of the second half and related it to a recent game against league-champion Russellville.
"We called a play to get a layup, a back-screen and layup for AB (Anthony Black) and he missed," he recounted. "We're up 8-3 at Russellville and we run that play and he missed the layup. Now, in Russellville, we completely folded, went in the tank and it was a long night the rest of the night.
"Tonight, we actually didn't anticipate him being open right there," the coach explained. "We were going to go on to the next option of the play, because they'd been taking that option away. For some reason, North Little Rock got caught up and didn't take it away so I think AB was a little surprised that he was open and he missed the layup.
"When you execute a set well and you miss that layup, it's deflating," said Abrahamson.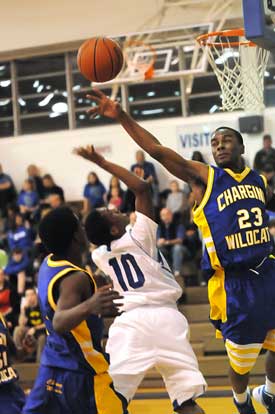 "The next time we came down, we called a ball-screen play and we had Quinton open and we threw it out of bounds," he continued. "So there's two plays where we should've had layups and it was us. We just messed it up."
The result was a 6-0 run by North Little Rock that closed the 21-14 halftime lead to 21-20. Abrahamson called a timeout.
"I just said, 'Hey, we've been here before in this exact situation, calling the exact play, with the lead and we went in the tank,'" he said. "I just challenged them to respond in a different way this time and have Anthony's back and just get a stop. 'Grind it out. Go on to the next thing and put this behind you.' It's like I tell them, that doesn't mean the play didn't work. 'Our sets are working. We're going to get good shots. We'll start to make them.' To our kids' credit, they responded the right way. They got just enough stops."
A miss by North Little Rock's Tyree's Hollister resulted and, moments later, Hornets senior Brantley Cozart drilled his team's only 3 of the second half.
And, though they never matched the 10-point lead they had in the first half at one point, the Hornets never relinquished the lead in the second half.
North Little Rock, spurred by DayShawn Watkins, kept making runs at them but the Hornets kept fending them off.
"Watkins just started taking over," Abrahamson said. "That kid is phenomenal. He's almost unguardable, really tough."
Watkins scored 15 of his game-high 17 points in the second half. But no one else for the Charging Wildcats managed more than the 6 that post player Matt Terry scored.
For Bryant, Jordan Griffin finished with 14, including 6 of 8 free throws in the fourth quarter to help nail down the win. Black finished with 12 and Cozart 11.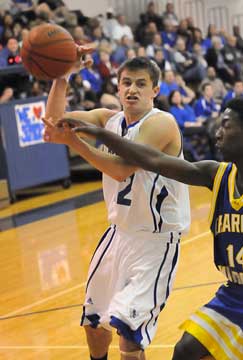 Watkins' 12-foot jumper with 3:56 to go had North Little Rock within a point at 35-34. The Hornets misfired at the other end but Quinton Motto snagged an offensive rebound and scored a clutch bucket to maintain the edge.
On a night when the officials seemed reluctant to call charges, Griffin took on after Motto's bucket to give the Hornets a chance to spread the floor and work the clock. To that point, North Little Rock had only committed three team fouls so the Cats had to start tightening the defense and fouling.
After a timeout to save a possession, the Hornets worked the clock down to nearly the one-minute mark. Cozart got a lane to the bucket and drove, dishing off at the last minute to Motto. But a North Little Rock player had gotten a hand on the ball as Cozart made his move and a held ball was quickly called. Motto's basket was waived off and, with the possession arrow pointing their way, the Wildcats got the ball and another chance to tighten the game. But Watkins missed on a 3-point try — North Little Rock was 0 for 12 from beyond the arc in the game — and Motto rebounded.
Black was fouled with 1:04 to go and converted both ends of the bonus opportunity, making it 39-34.
Hollister answered with a pair of free throws to cut to it to 3 again but, once more, the Hornets got to the line. This time, Griffin came through under the gun.
With :36.8 showing, Watkins drove for a double-clutch layup and the Wildcats took a timeout.
But that would prove to be the last of North Little Rock's scoring. Griffin hit another pair at the line then Bryant's Marcus Wilson made a play to help clinch the game. Watkins' 3-point try produced a long rebound that got loose near the sideline. Wilson went to the floor to grab it and, as he was sliding towards the boundary, he asked for a timeout. It was granted as he slid out of bounds with :11.5 to go.
He hit a free throw with :16.5 showing and, after Hollister missed from long range, Griffin dropped a final charity toss to set the final score.
It was a slow slog at the start of the game. The first quarter ended tied 8-8 on a late basket by Josh Laster for North Little Rock. When Griffin hit a free throw to start the second quarter, Bryant had the lead for good. Back-to-back 3's by Cozart and Wilson suddenly pushed the advantage to 15-8.
Terry knocked down an 8-footer for the Wildcats and it stayed a 5-point game for a while. With 3:31 left in the first half, Cozart banked in a trey and, after Laster hit a free throw, Black got into the act with a triple from the corner that produced Bryant's 10-point lead.
Free throws by T.J. Francis and Gary Vines got the Wildcats back within 21-14 at the half.
Watkins scored all the points in North Little Rock's 6-0 start to the second half. Setting the stage for Cozart's clutch 3. Griffin followed with a basket inside off a feed from Black to make it 26-20 but before the third quarter was over, North Little Rock whittled the lead down to 28-27.
Black extended the margin to 3 with a pair of free throws after making a steal. The Wildcats misfired on a pair of shots and the Hornets worked for the last shot. Working a pick-and-roll, Cozart fed Zach Cambron who hung in the air just long enough for a North Little Rock defender to come down off a block attempt, got the bucket and was fouled with :02.8 showing. Though he missed the free throw, Bryant held a 32-27 lead going into the final eight minutes.
A reverse layup by Griffin to start the fourth quarter pushed the lead to 7 before the Cats made their last push to get it down to one.
HORNETS 45, CHARGING WILDCATS 38
Score by quarters
North Little Rock 8 6 13 11 — 38
BRYANT 8 13 11 13 — 45
CHARGING WILDCATS (17-8, 8-5) 38
Player fg-fga ft-fta reb fls pts
o-d-t
Vines 1-3 2-4 2-9 11 2 4
Hollister 1-11 2-2 0-2 2 4 4
Terry 3-6 0-0 5-5 10 2 6
Watkins 7-15 3-4 1-1 2 4 17
Francis 1-1 2-2 2-1 3 1 4
Laster 1-2 1-2 0-0 0 0 3
Eldridge 0-3 0-0 0-0 0 2 0
Holloway 0-0 0-0 0-0 0 0 0
Team 1-1 2
Total 14-41 10-14 11-19 30 15 38
HORNETS (16-9, 8-5) 45
Player fg-fga ft-fta reb fls pts
o-d-t
Cozart 3-10 2-2 0-1 1 0 11
Griffin 3-9 7-10 3-2 5 2 14
Trudell 0-1 0-0 0-0 0 0 0
Royal 0-0 0-0 0-1 1 0 0
Motto 1-2 0-0 2-7 9 4 2
Wilson 1-3 1-2 0-3 3 0 4
Black 3-11 4-4 0-1 1 3 12
Cambron 1-1 0-1 0-1 1 3 2
Giles 0-0 0-0 0-0 0 2 0
Team 1-0 1
Total 12-37 14-19 6-16 22 14 45
Three-point field goals: Bryant 7-24 (Cozart 3-9, Black 2-6, Griffin 1-5, Wilson 1-3, Trudell 0-1), North Little Rock 0-12 (Hillister 0-7, Watkins 0-3, Laster 0-1, Eldridge 0-1). Turnovers: Bryant 10, North Little Rock 11.